An ASL Dictionary
Signing Savvy is a sign language dictionary containing several thousand high resolution videos of American Sign Language (ASL) signs, fingerspelled words, and other common signs used within the United States and Canada.
And Much More!
Signing Savvy is an ideal resource to use while you learn sign language. It includes the ability to view large sign videos, build your own word lists and share them with others, create virtual flash cards and quizzes, print signs, build sign phrases,
...and more
Learning Tips
Posted by John @ Signing Savvy on Tuesday, December 10, 2013 as Learning Tips
The sign for
THANK YOU
can be a directional sign. Directional signs are often verbs and can use the direction that they are signed to show who is doing what to whom. In the case of
THANK YOU
, you will want to sign the normal thank you gesture by moving your open flat hand out and down from your face, but do so in the direction of the person you are thanking. You can remember the sign for thank you because it is similar to blowing someone a kiss when you want to thank them (and just like blowing a kiss, you would do it in the direction of the person you are thanking).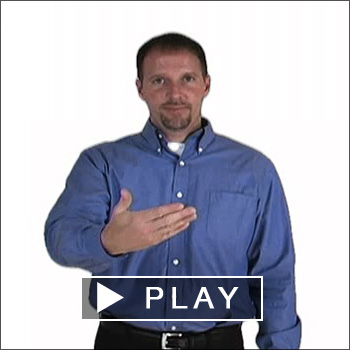 Remember that facial expressions are also important in conveying your message, so have a "thankful" or "happy" face (you can never go wrong with smiling!).
If you are giving
thanks to God
, you will want to use two hands to do the thank you gesture up towards the sky / heaven, gesturing to God.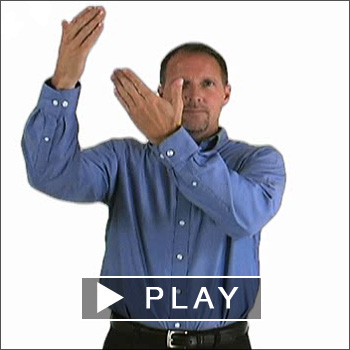 At Signing Savvy, we are always trying to add more features and more information to signs to make it easier to understand how to use the sign. We have begun to mark directional signs with a note indicating that they are to be signed directionally. See the screenshot example of GIVE.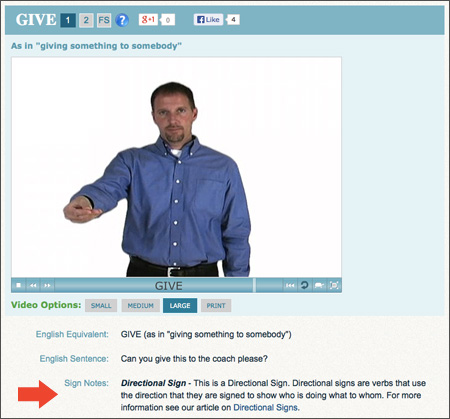 View/Add Comments (0 comments)