An ASL Dictionary
Signing Savvy is a sign language dictionary containing several thousand high resolution videos of American Sign Language (ASL) signs, fingerspelled words, and other common signs used within the United States and Canada.
And Much More!
Signing Savvy is an ideal resource to use while you learn sign language. It includes the ability to view large sign videos, build your own word lists and share them with others, create virtual flash cards and quizzes, print signs, build sign phrases,
...and more
Deaf Awareness Week 2016
Deaf Culture | Sunday, September 18, 2016
Deaf Awareness Week this year is September 19-25, 2016. Deaf Awareness Week, also called
International Week of the Deaf (IWD)
, is celebrated annually and ends with
International Day of the Deaf
on the last Sunday of September. Deaf Awareness Week is celebrated by national and regional associations of the deaf, local communities, and individuals worldwide.
The purpose of Deaf Awareness Week is to increase public awareness of deaf issues, people, and culture. Activities and events throughout Deaf Awareness Week encourage individuals to come together as a community for both educational events and celebrations. Find more information on Deaf Awareness Week.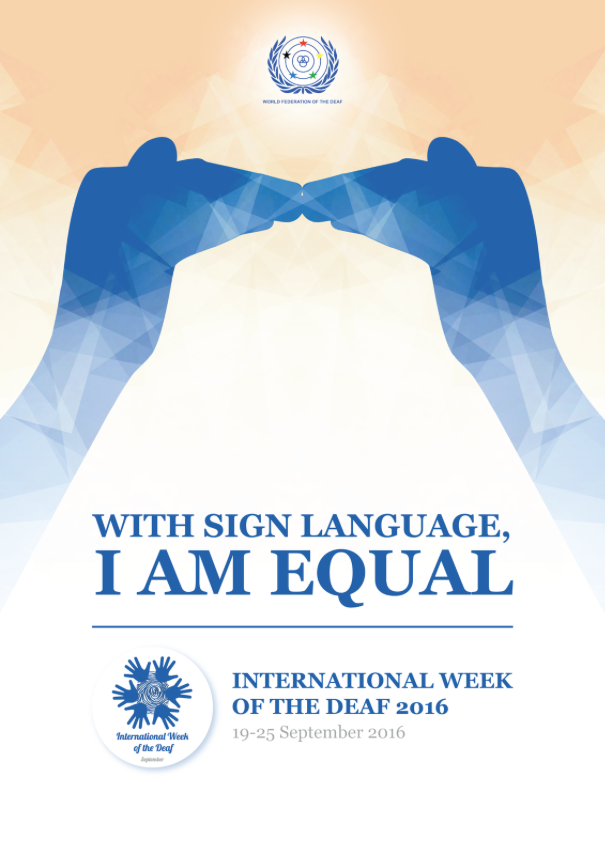 Since 2009, the World Federation of the Deaf has created themes for International Week of the Deaf. The theme for 2016 is "With Sign Language, I am Equal." Find out more about the 2016 International Week of the Deaf on the World Federation of the Deaf website and download their campaign materials.
You can also spread the message using the hashtags: #InternationalWeekOftheDeaf2016 #WithSignLanguageIAmEqual #IWD2016
Save
Save