An ASL Dictionary
Signing Savvy is a sign language dictionary containing several thousand high resolution videos of American Sign Language (ASL) signs, fingerspelled words, and other common signs used within the United States and Canada.
And Much More!
Signing Savvy is an ideal resource to use while you learn sign language. It includes the ability to view large sign videos, build your own word lists and share them with others, create virtual flash cards and quizzes, print signs, build sign phrases,
...and more
Blog Articles by: John Miller
Learning Tips | Thursday, February 14, 2019
Sing it or sign it, either way the Beatles knew what they were talking about when they said, "All You Need is Love!"
We thought it would be appropriate with Valentine's Day this week to share our blog covering all the different ways to show LOVE... in sign language that is!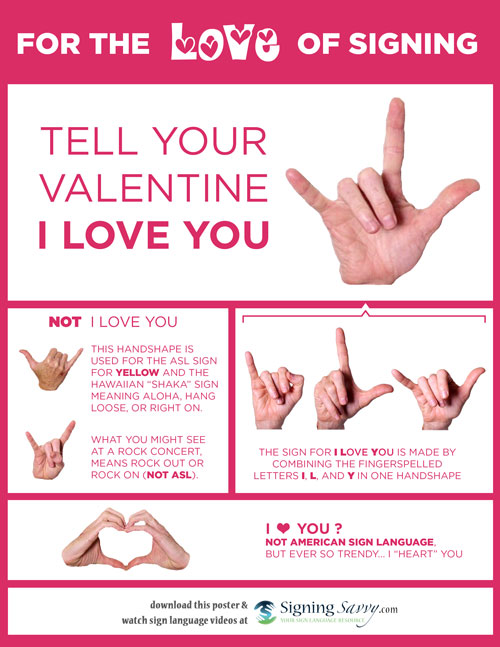 Signing Savvy Member Feature: Download this image / flyer as a printable PDF page.
Many people know and use the sign for I LOVE YOU. This sign is used universally throughout the country and the world. We see it all over television, at sporting events and during "shout outs" to our mothers. The sign is actually the combination of the fingerspelled letters I, L and Y.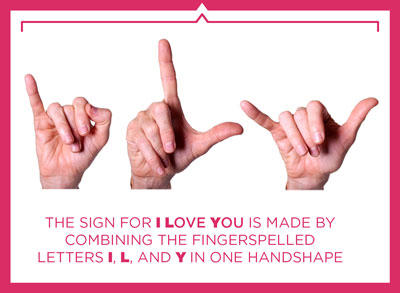 I have had people ask why the sign looks similar to the one that some people hold up at rock concerts, where the thumb is held down and the pointer finger and the little finger are held up. It is NOT the same. Remember, the thumb of the Y hand has to be present in order for you to be signing the I LOVE YOU sign.
Another sign that gets confused with the I LOVE YOU sign is the Hawaiian "shaka" sign meaning aloha, hang loose, or right on. Interestingly, this is also the ASL sign for YELLOW. Again, this is a different sign, as it leaves out the pointer finger. It is basically just shaking the Y hand.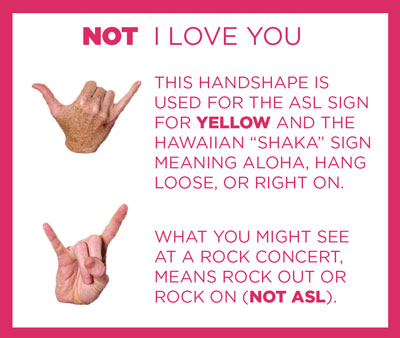 The actual sign for LOVE is both arms folded across the chest. That is to show love or have love for another person or animal, etc.
Another sign for LOVE that you will see on the site is the kissing of the back of the S hand, then pulling it away from the mouth. This is a sign that is generally used to show a passion for something, like a certain type of food or a type of music.
Some people have asked why we don't list the I LOVE YOU sign under the sign for LOVE on our site. It is because they are different signs and we don't want new signers to confuse the single I LOVE YOU handshape with the general meanings and uses of the word LOVE. We don't want you to confuse the signs and use the I LOVE YOU sign in a place where you really mean to just say LOVE.
An example of this would be this sentence: My mother loves to travel. You wouldn't want to say: MOTHER + MINE + I LOVE YOU + TRAVEL (It just doesn't make sense.) You need to use the sign LOVE there.
Another example sentence: I love to eat deep dish pizza! You wouldn't want to say: PIZZA + THICK + I LOVE YOU + EAT. You need to use the kissing the back of the hand version of LOVE in this instance.
I hope that clears up some of your LOVE issues! Spread the LOVE and Happy Valentine's Day from all of us here at Signing Savvy!
Editor's Note: This article was originally published February 12, 2012. It was updated with new graphics and edits on February 14, 2019.