An ASL Dictionary
Signing Savvy is a sign language dictionary containing several thousand high resolution videos of American Sign Language (ASL) signs, fingerspelled words, and other common signs used within the United States and Canada.
And Much More!
Signing Savvy is an ideal resource to use while you learn sign language. It includes the ability to view large sign videos, build your own word lists and share them with others, create virtual flash cards and quizzes, print signs, build sign phrases,
...and more
Deaf Culture | Monday, November 23, 2015
With Thanksgiving this week, this short film from CNN does a nice job of highlighting what many of us are most thankful for - family. The short film, called "All-American Family" shares the story of the Pedersen family, a deaf family with deaf parents, two deaf sons, and one hearing son. It gives a glimpse into Deaf culture and what living in a Deaf family and Deaf community is like. If you're a football fan, you will also like seeing the boys' passion for football. If you have 15 minutes, watch this short film.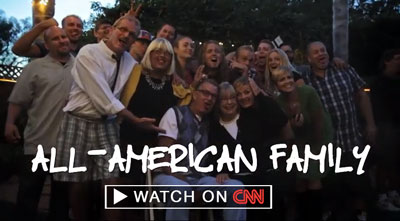 Captions
Unfortunately, the film does not currently include captions. We've typed up a transcript for you below:
Captions for CNN's short film "All-American Family"

0:12 - 0:22 [Cheering]

0:27 - 0:56 Singing: And the rockets red glare,
the bombs bursting in air,
gave proof through the night
that our flag was still there
oh say does that star-spangled banner yet wave

1:06 [Cheering]

1:08 That's a tails and that's a heads. What's your call?
Tails.
The call is tails.
Ok. It is a tails.
You won the toss.
Differ.
You want to differ.
So they want the ball?
They want the ball.
Ok, they want the ball.

1:24 [Cheering]

4:36 I don't think I've ever wished that they could hear.
I think more, I'd wish that I could be deaf.
It's like I feel like the odd one out.
I just didn't get why I wasn't like them.
It's all they've ever known,
and they're such like a community here.
And they like, they have a lot of pride.

Teaching Tips | Wednesday, November 18, 2015
This article is part of our "Cooking Up Language With Signs" series, which features a recipe and accompanying sign language wordlist to get you started on an interactive cooking activity that is great for spicing up language learning at home or in the classroom.
Why is cooking a good language learning activity?
Children find creating things with their own two hands very motivating. They get excited to see how they can be directly involved in the whole process. There is so much that can be taught through cooking activities in your classroom or home - from the choosing of the recipe, the shopping for the products at the grocery store (or a pretend grocery store), the prepping of the food, the actual cooking/baking, the sharing of the creation with others, and the debriefing (talking about what and how they made something).
You don't have to make anything fancy or complex. In fact, using very simple recipes allows the focus of your cooking activity to be on language learning - sequencing and following directions, learning new vocabulary, describing and recalling information, and asking questions. Cooking activities are great one-on-one or as a group activity where everyone takes turns.
"Cooking Up Language with Signs" activities provides teachers and parents with amazing language opportunities through teachable moments. Teachable moments are everyday moments that happen throughout the day that open up prime opportunities for you to teach your students/children valuable language lessons. Hearing people learn so much through incidental learning (just overhearing conversations or discussions), but deaf children don't have these opportunities because of the lack of hearing so we need to use teachable moments to directly teach these types of things.
What's cookin'?
Today I'm cooking up Frozen Fruit Popsicles. These are so healthy AND tasty, kids will LOVE them! The recipe is simple to make and very easy to adjust to your personal preference and allergy/diet needs - just choose any fruit you like, add coconut water, and freeze. Viola! SO sweet, yet SO healthy!
If you want to make these for a baby or young children, but are concerned about the chunks of fruit in the popsicles, you can use the same recipe, but just toss the fruit and coconut water mixture in a blender to create a puree before freezing. You can use mini popsicle molds to make small popsicles that are great for snacks or desserts for little kids or relief for teething babies.


Signing Savvy Member Feature: Download this image / flyer as a printable PDF page.

Teachable Moments

Using Sign Language
Sign throughout the cooking activity. Sign the steps and pick up and sign the ingredients and tools. Because the recipe allows you to pick your fruit, the signs you will use will vary. See the Frozen Fruit Popsicles Recipe Wordlist for the list of signs highlighted from this recipe. Use the wordlist to review the signs and steps of the recipe. You can also use the wordlist to print out the signs as a reference, or have your computer up with the wordlist while you are cooking. After the cooking activity, you can also have the children use the digital flash cards or quizzing option to review the signs from the wordlist. Additionally, you can create your own wordlist if you want to customize the signs for the recipe based on the types of fruit you choose to use.
Health Benefits
Why make your own popsicles? Talk about how regular store bought popsicles have added artificial flavors, coloring, and excess sugar and discuss what that means. Here are a few talking points:
Many store bought popsicles have little or no nutritional value because they contain artificial flavoring instead of real fruit. Making popsicles using real fruit is better because fruit contains essential vitamins and minerals that are good for you.
Many store bought popsicles have lots of added sugar in them to make them extra sweet. Excess sugar isn't good for you and also increases the amount of calories in the popsicles.
Sugar-free store bought popsicles are often sweetened with artificial sweetener instead of fruit juice.
Many store bought popsicles have artificial dye in them to make them bright, bold colors. Artificial dyes can be unhealthy and may also stain your teeth (or clothing).
Many store bought popsicles contain many ingredients that you may not even recognize - Sorbitol, Maltodextrin, Glycerin, Polydextrose, Sucralose, "gums" like Carob Bean Gum and Guar Gum - what are all these things? By making your own popsicles, you can make your favorite flavor and you know exactly what's in it.
Making your own popsicles is a healthy treat. Fruits contain healthy vitamins and minerals like vitamin C, vitamin A, potassium, and fiber. Talk about the health benefits of the fruits you choose to include in your popsicles. Here is an infographic on the health benefits of common fruits to use as a reference.
Recipe
Enjoy making these healthy and tasty frozen fruit popsicles!
Frozen Fruit Popsicles

Ingredients:


Tools:


Directions:
Signing Savvy is a participant in the Amazon Services LLC Associates Program, an affiliate advertising program designed to provide a means for sites to earn advertising fees by advertising and linking signingsavvy.com to Amazon properties. That means Signing Savvy may contain affiliate links. If you make a purchase after clicking on an affiliate link, your cost will be the same but Signing Savvy will automatically receive a small commission. Your support is greatly appreciated and helps us continue to improve Signing Savvy!