An ASL Dictionary
Signing Savvy is a sign language dictionary containing several thousand high resolution videos of American Sign Language (ASL) signs, fingerspelled words, and other common signs used within the United States and Canada.
And Much More!
Signing Savvy is an ideal resource to use while you learn sign language. It includes the ability to view large sign videos, build your own word lists and share them with others, create virtual flash cards and quizzes, print signs, build sign phrases,
...and more
Deaf Culture | Wednesday, September 28, 2016
Charles Jules Henry Nicolle was the first deaf Nobel Prize recipient. The Nobel Prize is awarded annually in Stockholm, Sweden and is widely regarded as the most prestigious award available in the fields of literature, medicine, physics, chemistry, peace, and economics. Nicolle received the Nobel Prize in Medicine in 1928.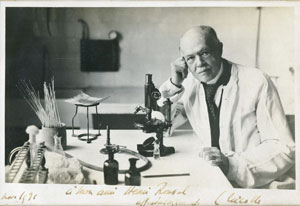 Charles Nicolle at his microscope - the most famous photo of him. (Photo Credit: Henri Roussel [Public Domain], via Wikimedia Commons)
Charles Nicolle was born hearing, in Rouen, France, on September 21, 1866. His father was a physician, and so, in spite of a wide range of interests including history, literature, and philosophy, he followed his father's footsteps and also became a doctor. His choice became a challenge as he experienced a progressive hearing loss, and by the age of 20 was deaf.
Nicolle became the Director of Pasteur Institute in Tunis, Tunisia in 1902. North Africa was a good place to study infectious diseases, including brucellosis, diphtheria, leprosy, malaria, measles, Mediterranean spotted fever, relapsing fever, scarlet fever, tuberculosis, and typhus.
Typhus had been highly communicable and a frequently fatal disease. It devastated armies during wars and prisoners living under unsanitary conditions, it affected displaced populations suffering from famine, floods, and other natural disasters, and in general, it was a disease of poverty. Dr. Nicolle studied this disease for seven years, and discovered that lice were responsible for transmitting the disease. The discovery came about after he observed typhus patients spread the disease to others both inside and outside of the hospital, even their clothes seemed to spread the disease. The patients were no longer infectious after they had a hot bath and clean clothes. Controlling and eliminating lice meant controlling and eliminating typhus. For this life-saving discovery, Dr. Nicolle won the Nobel Prize in Medicine in 1928.
"The disclosure of a new fact, the leap forward, the conquest over yesterday's ignorance, is an act not of reason but of imagination, of intuition."

- Charles Nicolle
Nicolle died in 1936 at the age of 69 in Tunis, where he was still a bacteriologist and Director of the Pasteur Institute. Both of his two sons, Marcelle and Pierre, followed in his footsteps and became well-known physicians. Nicolle has been honored on postage stamps in France, Tunis, and Guyana. He forever changed biomedical science and his discoveries helped to save millions of lives.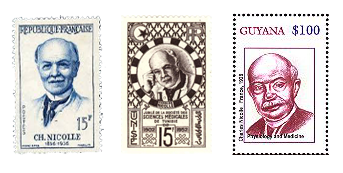 Charles Nicolle Postage Stamps from France, Tunisia (1952), and Guyana.
(Photo Credits: The Postage Stamp Collection Modern Medicine Foundations, Truman G. Blocker, Jr. History of Medicine Collections, Moody Medical Library, UTMB Health, Nobel Stamps)

Site News | Monday, September 19, 2016
We're excited to announce that we are launching a new service where you can practice American Sign Language (ASL) with an ASL expert through video chat. We are calling this new service Savvy Chat. All chats are one-on-one 30 minute sessions using video conferencing software online. You can practice your receptive and expressive ASL skills and/or get help with a specific aspect of ASL.
To use Savvy Chat, you will need a webcam, high speed internet, and a device that will allow you to download and install the Zoom video conferencing software (you can use a Windows or Mac OS X computer, iPhone, or Android device).
We are starting with a limited number of spots for roll out of Savvy Chat to see if there is interest in this service.
Schedule a time for a Savvy Chat before they all fill up!
If a lot of people are interested in Savvy Chat, we will add more availability in the future.