An ASL Dictionary
Signing Savvy is a sign language dictionary containing several thousand high resolution videos of American Sign Language (ASL) signs, fingerspelled words, and other common signs used within the United States and Canada.
And Much More!
Signing Savvy is an ideal resource to use while you learn sign language. It includes the ability to view large sign videos, build your own word lists and share them with others, create virtual flash cards and quizzes, print signs, build sign phrases,
...and more
Interpreter Tips | Sunday, December 3, 2017
This article is part of our "Dear BC, Interpreter Q & A" series, which answers questions on interpreting and Deaf culture from multiple perspectives. This article was also published in the Fall 2017 Edition of VIEWS Magazine from RID. VIEWS is a digital publication distributed quarterly by the Registry of Interpreters for the Deaf (RID) and dedicated to the interpreting profession. The magazine includes RID member spotlights, announcements from the RID board, and engaging stories about issues impacting the interpreting community. See this article and more in the Fall 2017 Edition of VIEWS Magazine from RID.
Dear BC,
A recent phenomenon I have noticed is a growing tendency for ITP students to date Deaf people while they are in the program. What is behind this?
Sincerely,
Curious Spectator
The video features a full interpretation of what is discussed in this article.
An ITP Student's Perspective:
I would say that when ITP students first get acquainted with the Deaf community, it feels like Deaf people are the coolest thing since sliced bread. In an ITP, you're learning all these things about Deaf culture and the language. Then you meet some really awesome people from the community and it's hard not to be star-struck. If you find out a Deaf person is interested in you, it is easy to get swept up in it all. I have even heard some students who are NERDAs (Not Even Related to a Deaf Adult) say that they are jealous of CODAs. I think what they mean is they wish they had that strong connection to the Deaf community. I can see why the Deaf community might question our motives, but as a group of young people, we are all just eager to network and navigate these new and exciting relationships.
An Experienced Interpreter's Perspective:
This may be a natural consequence of getting involved in the community, but students need to make sure their choices will benefit them and their career in the long run. Involving themselves in the community in any way that is unethical will ultimately destroy the relationship. Taking advantage or trying to get ahead with those who an interpreter relies on for their livelihood will seriously jeopardize their ability to continue in the profession.
An Experienced Deaf Consumer's Perspective:
When two people from different cultures begin dating it is easy to overlook some of the power-sharing or cultural exchanges that occur. It is important to recognize that between two cultural groups, things are equally exchanged: ASL is exchanged for English, hearing culture is exchanged for Deaf culture, and so on. If the parties are trying to exchange different things, the dynamic may shift from healthy to oppressive. ASL is a wonderful, vibrant language and the Deaf community embodies an extremely diverse and rich culture. Those in cross-cultural relationships should take care that the languages and people involved are valued and treated with respect.
What's your perspective? Share your thoughts in the comments below.

Site News | Saturday, November 18, 2017
We did a complete rewrite to our Signing Savvy Member App this Fall for both Apple iOS and Android mobile devices. Since then, we have continued to release updates to the app to add more features and make tweaks based on feedback from our savvy members. The current version of the app, as of the date of this article, is version 2.4. The new app is 64-bit compatible (required for iOS 11), now supports the iPhone X display, and includes several new features. Whether you have used the mobile app for years or haven't tried it out yet, we wanted to make sure you knew about some of the cool new things you can do with the new and improved Signing Savvy Member App.
1. Higher quality video and support for both portrait and landscape display.
All of our videos have been updated for the new app, so the videos are higher quality with crisper images. In the past, the app only worked with portrait display, but with the new app, you can turn your mobile device horizontally and the app will switch to landscape mode, which allows you to view sign videos even larger. This is a great new feature for those that want a closer view of what is being signed.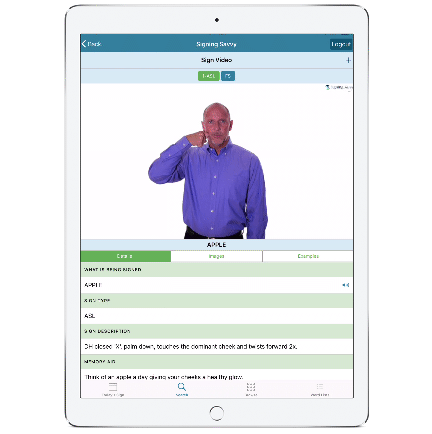 Simply rotate your device to view the app in landscape mode.
2. New Improved Sign of the Day!
Do you love to see our sign of the day everyday? Our sign of the day has evolved in the past few years. Originally, we picked a random sign for the day. Now each sign of the day is thoughtfully selected to be related to something happening on that day, such as a holiday, or a deaf culture tidbit.
If you check the sign of the day on the Signing Savvy website, there is an additional description that gives some context to the sign of the day. For example (warning upcoming SOTD spoilers!)… the sign on November 21st, 2017 will be GAME because it will be "National Game & Puzzle Week"… the sign on November 29th, 2017 will be ROLE because "Linda Bove was born in November. She is a deaf actress and played the ROLE of Linda the librarian on Sesame Street for 31 years."
Although we have had these added descriptions that explain why the sign of the day was selected on our website for some time, they were not in the app, but now they are!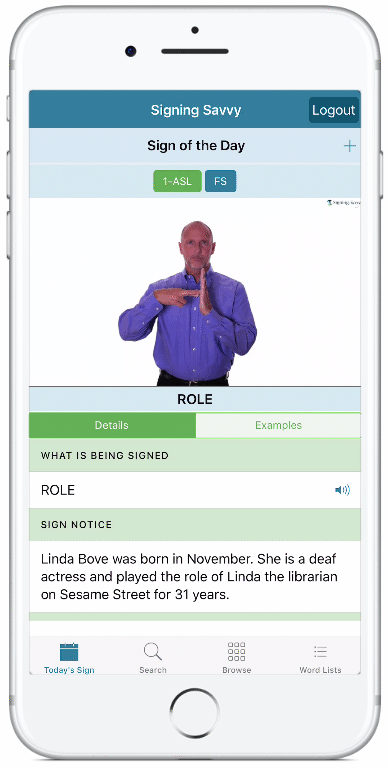 The sign notice explains why the sign is the Sign of the Day.
3. Signed Sentences of the Day!
If you don't already follow us on our Signing Savvy Twitter Feed or "like" our Signing Savvy Facebook Page, you might not have noticed we have signed sentences of the day that go with our sign of the day on the Signing Savvy website. The signed sentences help people see more signed examples and see signs used in context. Now signed sentences of the day are also available in the Signing Savvy Member App!
The sentences can be found in the app by clicking on the "Examples" tab under the sign video. Here is an example of a signed sentence.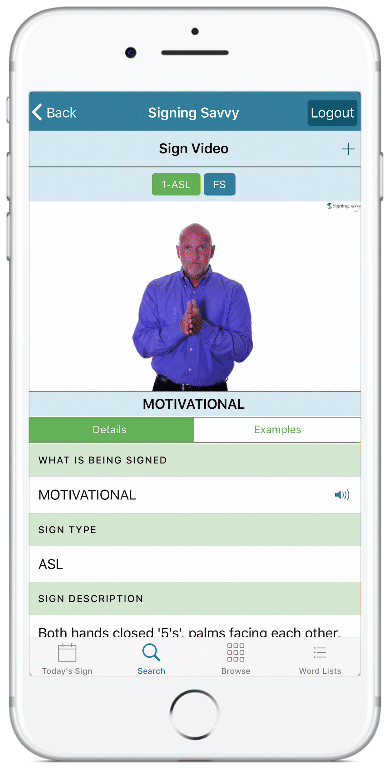 See signed example sentences by clicking on the Examples tab.
4. Images
For the last few years, we have been adding images to signs on the Signing Savvy website, but these images were not shown in the old Signing Savvy Member App. The updated mobile app now includes these images - just click on the image tab to see related images that help you understand the meaning of the sign, particularly for young learners. Images have also been integrated into the word lists and digital flash cards in the app.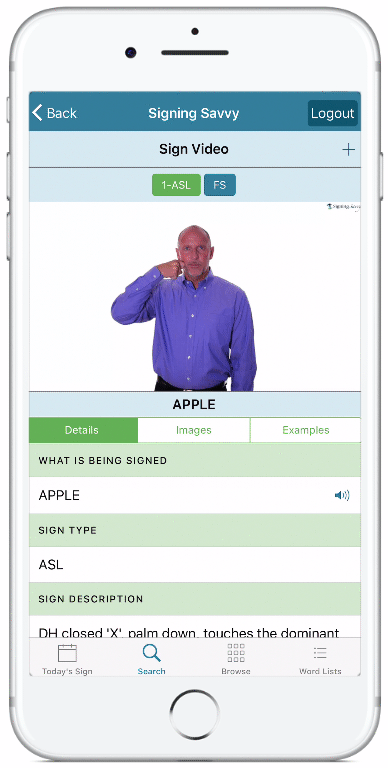 Click on the Images tab to see example images of the sign meaning.
5. Audio to go with signs.
You have probably noticed that our signed videos do not include audio. Signing does include inflections and mouth morphemes, but it's not natural to be speaking as you are signing. However, we've gotten feedback specifically from some teachers that being able to see the sign video, the written word, an image of the word, and have the ability to hear the word would be helpful for hearing students. We have now added this optional feature into the member app.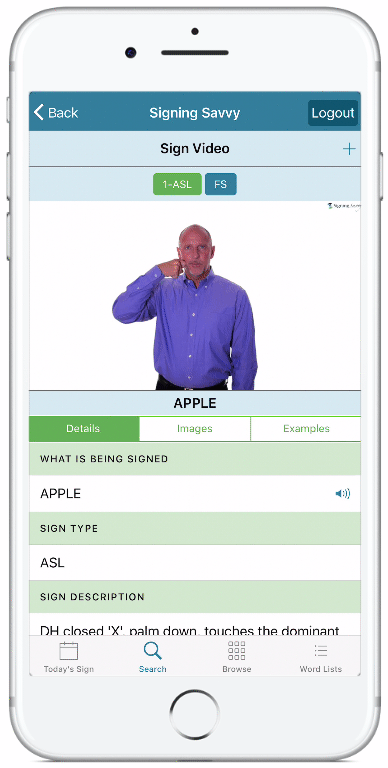 Click on the Sound Icon in the app to hear audio of what is being signed.
And there is more...
We have also added many improvements to the user interface, word lists and digital flash cards in the app, but we're already covered FIVE cool new features in the updated Signing Savvy Member App, so stay tuned for a future article that goes into more detail on the new features of word lists and digital flash cards in the app.
If you are a Signing Savvy member and have an Apple iOS or Android mobile device, make sure to download the latest version of the Signing Savvy Member App today! If you are not yet a member, the Signing Savvy Member App is an excellent reason to become a member so you can access the Signing Savvy learning resources in a streamlined fashion when you are on-the-go.