An ASL Dictionary
Signing Savvy is a sign language dictionary containing several thousand high resolution videos of American Sign Language (ASL) signs, fingerspelled words, and other common signs used within the United States and Canada.
And Much More!
Signing Savvy is an ideal resource to use while you learn sign language. It includes the ability to view large sign videos, build your own word lists and share them with others, create virtual flash cards and quizzes, print signs, build sign phrases,
...and more
Learning Tips | Tuesday, September 9, 2014
Help students get back into the swing of the school year by showing them our 12 special "Back to School" instructional WonderGrove animations featuring sign language. The "Ask the Teacher for Help" animation is great to encourage students to ask for help when they are confused.
Watch the "Ask the Teacher for Help" instructional animation: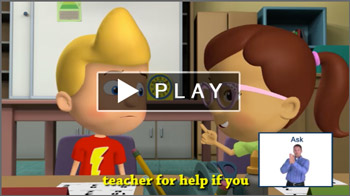 Accompanying the animation, there are extention lessons for Pre-K, Kindergarten, First Grade, and Second Grade, all which have been crafted by educators and align to the common core standards. Download the extension lessons and use them at home or in class for easy activities that reinforce the lesson.
In addition to talking about the lesson in the animation, it's a great idea to talk about the signs used with your students. The signs featured in "Ask the Teacher for Help" are:
You can also use our pre-made Signing Savvy Ask the Teacher for Help word list to go through the signs in the same order that they are shown in the animation.
Get free access to all of the "Back to School" WonderGrove instructional animations featuring sign language while you still can! We are offering 30-day free trial promotion, but you have to sign up by September 12, 2014. Register for the free WonderGrove trial and find out more.

Interpreter Tips | Thursday, September 4, 2014
Interpreters often have just seconds to explain what we do to professional people who don't really care. Say you just entered the elevator with the doctor of the deaf patient on the way up to the appointment. What would you say? What's your "elevator pitch?"
Try it out. Time yourself. Can you get it out in 10 seconds?
Here are some examples:
Hello, I am a certified Sign Language interpreter and I'm here to assist in communication between the hospital staff and the deaf patient. I look forward to working with you.
Hello, I am (your full name), a certified American Sign Language Interpreter. My job is to facilitate communication between you and the deaf patient.
Hello, I'm (your full name), I'm a certified Sign Language interpreter. You can think of my role in facilitating conversations similar to a phone line. Anything I hear will be signed to the patient and anything they sign will be voiced to you.
Hello, I'm (your full name), I'm an interpreter. Anything you say to the client I will interpret into Sign Language. Go ahead and look directly at the client and I will make sure the message is conveyed.
You will want to tweak your elevator pitch for different audiences – always think about who you're talking to and how you will be helping them so you can describe what you do in terms they will understand and in a way that relates to them.
Do you have your 10-second interpreter elevator pitch down pat? We'd love to hear it! Share it in the comments below.