An ASL Dictionary
Signing Savvy
is a sign language dictionary containing several thousand high resolution videos of American Sign Language (ASL) signs, fingerspelled words, and other common signs used within the United States and Canada.
And Much More!
Signing Savvy is an ideal resource to use
while
you learn sign language. It includes the ability to view signs, build word lists and share them with others, create digital flash cards and quizzes, view asl sentences, get tutoring,
...and more

Hearing aids may amplify sound for those with hearing loss, however, a hearing aid is not a miracle device. It is simply a tiny amplifier that makes sounds louder. That's all it can do. In fact it amplifies everything: close sounds as well as far, speech as well as noise. It does not always zero in on the one voice or sound you want to hear more distinctly. It does not make people's speech clearer, only louder. In some cases, amplifying sounds can be helpful, and in other cases it can be distracting.
There are many kinds of hearing aids on the market. Some are better and more costly than others. For example, digital hearing aids typically cost thousands of dollars, which may or may not be covered by insurance.
Unfortunately, hearing aids do not benefit every type of hearing loss. People with severe to profound nerve deafness may not find improved results by wearing hearing aids. Although for many deaf people, hearing aids may be a helpful option.
Many deaf people do wear hearing aids to pick up whatever sounds they can, even if at a minimal level. While they may not hear perfectly or even enough to understand speech, people wearing hearing aids may become more aware of sounds around them (horn honking, baby crying, etc.). If hearing aids are able to help a deaf person navigate their world, that may be a factor for personal consideration. Each person should navigate their own situation and set of circumstances.
How does a deaf person decide if they want a hearing aid or not? Young deaf children usually do not have a choice – they are fitted with hearing aids when they go to school. For deaf/Deaf adults, wearing hearing aids (or not) is a matter of personal preference.
The Manual Alphabet
The alphabet signs used in ASL are called the manual alphabet. The manual alphabet consists of 26 individual handshapes corresponding to each letter of the English alphabet.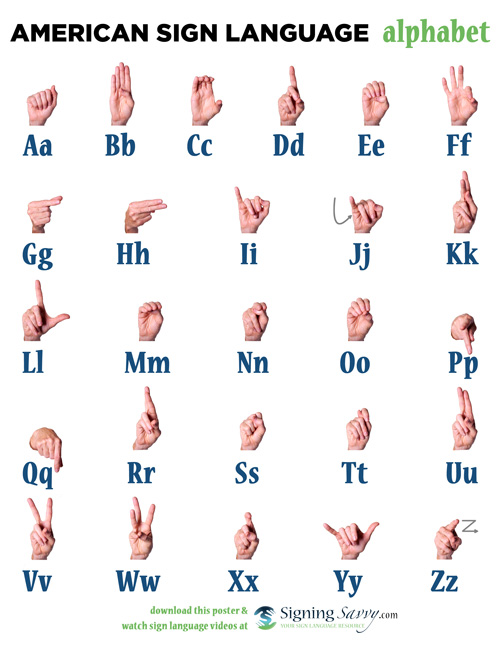 Signing Savvy Member Feature:
Download this image / flyer as a printable PDF page.
Fingerspelling
Fingerspelling is an important part of American Sign Language where individual letters of the manual alphabet are signed to spell out English words.
Fingerspelling has various but specific uses within ASL:
Proper Nouns
Proper nouns such as the names of individual people or organizations are fingerspelled. For Example:
| | | |
| --- | --- | --- |
| To view this video please enable JavaScript, and consider upgrading to a web browser that supports HTML5 video | | To view this video please enable JavaScript, and consider upgrading to a web browser that supports HTML5 video |
Titles
Titles of things like books, plays, movies, and television shows are fingerspelled.
You can see how both the person's name "Howie Seago" and the name of the TV show "Star Trek" are fingerspelled in this example sentence:
English: Howie Seago is a deaf actor and director. He is famous for many roles including acting on Star Trek.
ASL Gloss: H‑O‑W‑I‑E S‑E‑A‑G‑O HIMSELF DEAF ACTOR DIRECTOR. HE FAMOUS MANY ROLES INCLUDING #TV PROGRAM S‑T‑A‑R T‑R‑E‑K.
Specific Terms
There is not a sign for every English word. Fingerspelling is used to indicate a specific English word for something when there is not a sign.
For example, there is a sign for BIRD, but if you want to specifically say PARROT, you would fingerspell it since there is not a sign for it. Another example is that you can sign STARS, but if you want to specifically say CONSTELLATION, there is not a sign, so you would fingerspell the word.
| | | |
| --- | --- | --- |
| To view this video please enable JavaScript, and consider upgrading to a web browser that supports HTML5 video | | To view this video please enable JavaScript, and consider upgrading to a web browser that supports HTML5 video |
When Clarification is Needed
If someone does not understand the sign you used — fingerspell it. When you don't understand a sign someone else used — ask them what they mean and have them fingerspell it. If a sign is used that has a broad meaning and clarification is needed — fingerspell the specific term.
Practicing Fingerspelling
Practicing the alphabet straight through is beneficial when you are first learning the letters, but do not just practice the alphabet in order over and over. Once you are exposed to each letter, start practicing full words. Fingerspelling is more than just individually signing each letter in a precise manner; the letters within words should flow together. The more you fingerspell, the more you will develop a rhythm and pacing to your fingerspelling. We like to equate fingerspelling to penmanship — it should be beautiful to watch.
A great way to practice is by fingerspelling pangrams since a pangram is a sentence that contains all 26 letters of the alphabet.
Here is an example of fingerspelling a pangram:
English: The quick brown fox jumped over the lazy dogs.
ASL GLOSS: T‑H‑E Q‑U‑I‑C‑K B‑R‑O‑W‑N F‑O‑X J‑U‑M‑P‑E‑D O‑V‑E‑R T‑H‑E L‑A‑Z‑Y D‑O‑G‑S.
Writing Fingerspelled Words
You cannot communicate with ASL through written text. ASL has no written form. It has become standard practice to refer to a sign in writing by using all capital letters (CHOCOLATE) and a fingerspelled word by all capital letters separated by hyphens (S‑N‑I‑C‑K‑E‑R‑S). You will also see it written this way in the sign descriptions throughout Signing Savvy. For example:
English: I love Bob.
ASL Gloss: I LOVE B‑O‑B.
Lexicalized Fingerspelling
There is a special subset of fingerspelling referred to as lexicalized fingerspelling. Lexicalized fingerspelling is fingerspelling that looks like a sign. The individual letters blend together, form a shape, or have a movement like a sign, rather than being composed of just the individual letters. There are only certain words that are lexicalized. You will not know which words are lexicalized when you are just beginning to sign. That's okay; it is safe to fingerspell any word and people will understand what you are signing. As you become more experienced and communicate more with fluent signers, you will learn more words that are fingerspelled in a lexicalized fashion. For example:
| | | |
| --- | --- | --- |
| To view this video please enable JavaScript, and consider upgrading to a web browser that supports HTML5 video | | To view this video please enable JavaScript, and consider upgrading to a web browser that supports HTML5 video |

What should you call a deaf person? Easy answer: deaf.
Most deaf people prefer to be called: deaf. It's not a dirty word! Deaf and hard of hearing are the two most widely accepted terms to use when referring to someone with hearing loss.
You could say:
• They are deaf.
• They are hard of hearing.
• They have hearing loss.
• They are someone with hearing loss.
Deaf is also sometimes used to refer to people who identify as Deaf, deaf, deafblind, deafdisabled, hard of hearing, late-deafened, and hearing impaired.
However, some terms such as hearing impaired, deaf-mute, deaf and dumb, hearing deficient, and disabled are considered offensive and should NOT be used.
Deaf-Mute
No. Deaf-mute is no longer an acceptable term. Mute refers to someone who cannot talk. Most deaf people have vocal chords and voices. Some deaf people just prefer to communicate exclusively in sign language.
Deaf-Dumb or Deaf and Dumb
No. Deaf-dumb was the 19th century terminology. Today it is an offensive term.
Hearing Impaired or Hearing Deficient
No. Some people think the term "hearing impaired" is more polite than "deaf," and that "hearing impaired" is not as bad as "deaf and dumb" or "deaf-mute," but the term hearing impaired is still negative/pejorative.
Hearing impaired defines deaf people in terms of having broken or defective ears. It describes something that needs to be fixed in order to be labeled "normal." It focuses on what people can not do. These phrases should NOT be used.
Disabled
No. Similar to calling a deaf person "impaired," describing them as "disabled" is focusing on what they can NOT do. Deaf people are very abled; they can do anything except hear.
There are many institutions, such as government, educational, and medical institutions that use long-established terms that have become outdated. Institutions can be slow to change. If you are looking for best practices, look at the terminology used by organizations run by the Deaf. Ask the deaf person or deaf people how they identify themselves.
Deaf vs. deaf
Being deaf and Deaf are not the same thing.
The word deaf (not capitalized) is the terminology used to describe the audiological condition of hearing loss.
The word Deaf (capitalized) is the terminology used by deaf people who are culturally deaf and identify themselves as members of a Deaf community. In this context, the word Deaf is associated with great pride for one's culture and community. This is sometimes called "big D Deaf."