An ASL Dictionary
Signing Savvy is a sign language dictionary containing several thousand high resolution videos of American Sign Language (ASL) signs, fingerspelled words, and other common signs used within the United States and Canada.
And Much More!
Signing Savvy is an ideal resource to use while you learn sign language. It includes the ability to view large sign videos, build your own word lists and share them with others, create virtual flash cards and quizzes, print signs, build sign phrases,
...and more
Site News | Wednesday, November 22, 2017

THANKSGIVING SALE
THANKSGIVING & Black Friday to Cyber Monday sale

Use promo code: THANKYOU2017

This Thanksgiving, we are thankful for your support!
Thank you for being part of the Signing Savvy community of users. Thank you for using Signing Savvy, giving us your praise, and recommending Signing Savvy to others.

We especially want to thank those with full membership. In addition to accessing the full member features (such as unlimited searching, the ability to create word lists, practice through digital flash cards and quizzes, use of the mobile Apps, etc.), membership helps us continue to add more sign videos, content, and features to the site.
We offer free access to all of our signs.
We are passionate about sign language education and increasing communication through the use of sign language. Any one can visit the Signing Savvy website or create a Registered Guest account for free (we do not ask for any credit card information when you sign up for a free Registered Guest Account). We offer free access to all of our signs through browsing and limited searches because we want everyone to have access to learn sign language.
But, membership provides much more...
Signing Savvy membership provides unrestricted, full access to all Signing Savvy features. There are many benefits to full membership, including unlimited searching, larger videos, the ability to create wordlists, use digital flashcards and quizzing, access to use our mobile app, and more. Learn about all of the features.
Members receive a discount on our newest service Savvy Chat
We've added a new service called Savvy Chat where you can practice ASL one-on-one with an ASL expert through video chat. Members receive a discount when purchasing any Savvy Chat sessions. Learn more about Savvy Chat.
Why is there a cost for membership?
We hope that those that love to use Signing Savvy and want to take advantage of the member features would become full members in order to help support us. We would not be able to offer these features and maintain them (or even have the Signing Savvy website) without charging for membership. There is a cost to creating, maintaining, and growing the website - equipment, software, hardware, hosting, and staff costs. We're always working to improve Signing Savvy, add to our content, and enhance our features - our work is never done!
Love Signing Savvy?
Please consider becoming a member today or purchasing a gift of membership for friends and family this holiday season to support our continued effort to improve Signing Savvy and make it the best sign language resource.

If you can't afford membership at this time, please continue to use the free features of Signing Savvy, consider becoming a member in the future, put membership on your holiday wish list, and help spread the word by recommending Signing Savvy to others.

We have a recommendation program and easy graphic links you can use to link to us. You can also like us on Facebook and follow us on Twitter or Pinterest.
---
Sale valid Thursday, November 23, 2017 12:01 AM through Monday, November 27, 2017 11:59 PM. Use promo code: THANKYOU2017 for individual or gift memberships for 1-year and 3-year terms (if you currently have a membership, the new membership time will be added to your account in addition to any membership time you already have).

Site News | Saturday, November 18, 2017
We did a complete rewrite to our Signing Savvy Member App this Fall for both Apple iOS and Android mobile devices. Since then, we have continued to release updates to the app to add more features and make tweaks based on feedback from our savvy members. The current version of the app, as of the date of this article, is version 2.4. The new app is 64-bit compatible (required for iOS 11), now supports the iPhone X display, and includes several new features. Whether you have used the mobile app for years or haven't tried it out yet, we wanted to make sure you knew about some of the cool new things you can do with the new and improved Signing Savvy Member App.
1. Higher quality video and support for both portrait and landscape display.
All of our videos have been updated for the new app, so the videos are higher quality with crisper images. In the past, the app only worked with portrait display, but with the new app, you can turn your mobile device horizontally and the app will switch to landscape mode, which allows you to view sign videos even larger. This is a great new feature for those that want a closer view of what is being signed.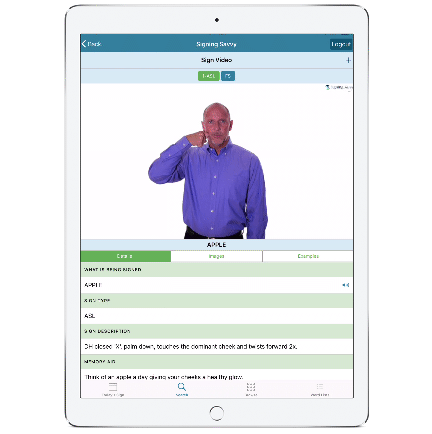 Simply rotate your device to view the app in landscape mode.
2. New Improved Sign of the Day!
Do you love to see our sign of the day everyday? Our sign of the day has evolved in the past few years. Originally, we picked a random sign for the day. Now each sign of the day is thoughtfully selected to be related to something happening on that day, such as a holiday, or a deaf culture tidbit.
If you check the sign of the day on the Signing Savvy website, there is an additional description that gives some context to the sign of the day. For example (warning upcoming SOTD spoilers!)… the sign on November 21st, 2017 will be GAME because it will be "National Game & Puzzle Week"… the sign on November 29th, 2017 will be ROLE because "Linda Bove was born in November. She is a deaf actress and played the ROLE of Linda the librarian on Sesame Street for 31 years."
Although we have had these added descriptions that explain why the sign of the day was selected on our website for some time, they were not in the app, but now they are!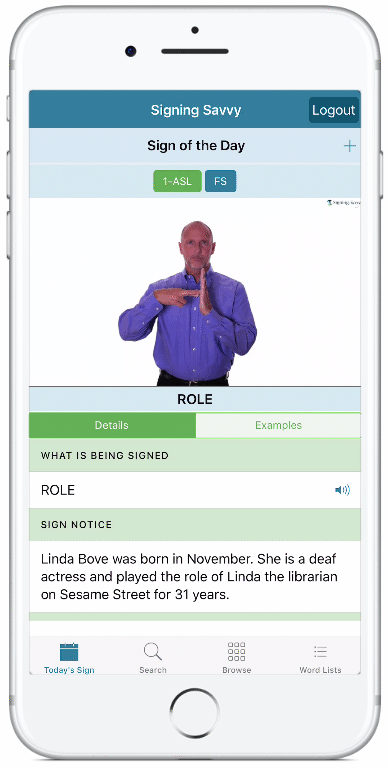 The sign notice explains why the sign is the Sign of the Day.
3. Signed Sentences of the Day!
If you don't already follow us on our Signing Savvy Twitter Feed or "like" our Signing Savvy Facebook Page, you might not have noticed we have signed sentences of the day that go with our sign of the day on the Signing Savvy website. The signed sentences help people see more signed examples and see signs used in context. Now signed sentences of the day are also available in the Signing Savvy Member App!
The sentences can be found in the app by clicking on the "Examples" tab under the sign video. Here is an example of a signed sentence.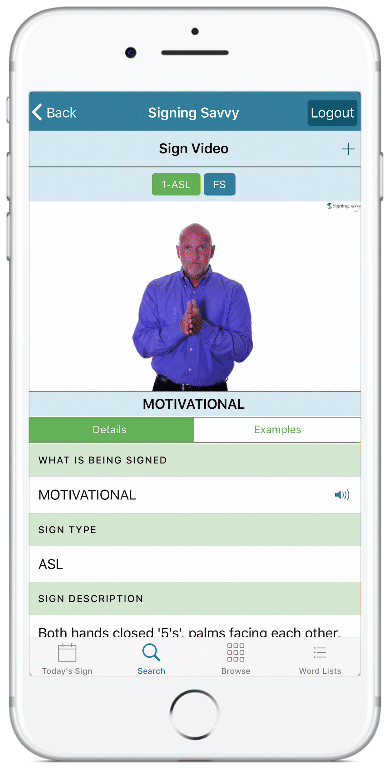 See signed example sentences by clicking on the Examples tab.
4. Images
For the last few years, we have been adding images to signs on the Signing Savvy website, but these images were not shown in the old Signing Savvy Member App. The updated mobile app now includes these images - just click on the image tab to see related images that help you understand the meaning of the sign, particularly for young learners. Images have also been integrated into the word lists and digital flash cards in the app.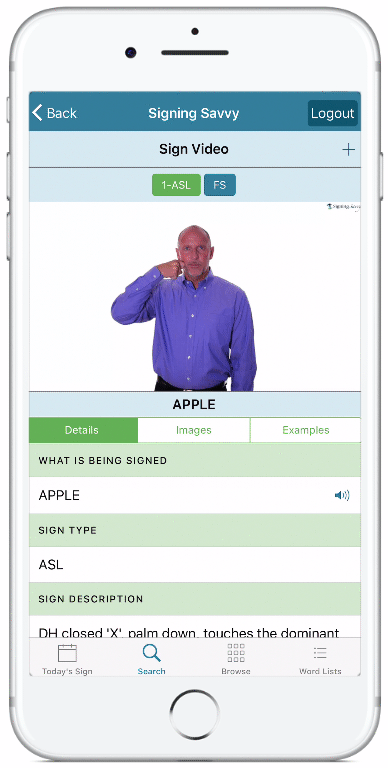 Click on the Images tab to see example images of the sign meaning.
5. Audio to go with signs.
You have probably noticed that our signed videos do not include audio. Signing does include inflections and mouth morphemes, but it's not natural to be speaking as you are signing. However, we've gotten feedback specifically from some teachers that being able to see the sign video, the written word, an image of the word, and have the ability to hear the word would be helpful for hearing students. We have now added this optional feature into the member app.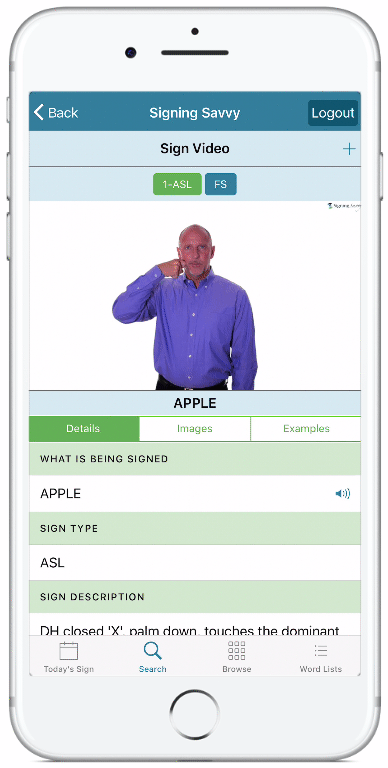 Click on the Sound Icon in the app to hear audio of what is being signed.
And there is more...
We have also added many improvements to the user interface, word lists and digital flash cards in the app, but we're already covered FIVE cool new features in the updated Signing Savvy Member App, so stay tuned for a future article that goes into more detail on the new features of word lists and digital flash cards in the app.
If you are a Signing Savvy member and have an Apple iOS or Android mobile device, make sure to download the latest version of the Signing Savvy Member App today! If you are not yet a member, the Signing Savvy Member App is an excellent reason to become a member so you can access the Signing Savvy learning resources in a streamlined fashion when you are on-the-go.