An ASL Dictionary
Signing Savvy is a sign language dictionary containing several thousand high resolution videos of American Sign Language (ASL) signs, fingerspelled words, and other common signs used within the United States and Canada.
And Much More!
Signing Savvy is an ideal resource to use while you learn sign language. It includes the ability to view large sign videos, build your own word lists and share them with others, create virtual flash cards and quizzes, print signs, build sign phrases,
...and more
Sign of the Day - TAKE
(as in to take an object)

Learning Tips | Tuesday, June 14, 2016
It's easy to start signing with your baby and it's amazing to be able to communicate with them through sign before they are able to talk. To get started, simply use signs when communicating with your child. There isn't a "right" way or specific order to learning or teaching signs, just start by picking signs that make the most sense in the context of your baby's life. There is no limit to how many signs you should introduce at a time, so sign as much as you are comfortable with. In particular, fluent signers and parents with deaf children should sign as much as possible.
This is just one example of how you could introduce signs to a baby that is 4 to 6 months old and comes from the prospective of hearing parents with hearing children.
What's for dinner?
Doctors recommend first introducing food to babies around the age of 4 to 6 months (check with your doctor to see what they recommend for your baby). Because of this, it is a great time to introduce food signs. You can simply introduce the sign for each new food as they try it. Remember that repetition is important in learning language, so sign the food each time you give it to your child.
In addition to specific food signs, you may also want to use EAT (Let's EAT; Do you want to EAT?), DRINK (Take a DRINK; Do you want a DRINK?), HUNGRY, and THIRSTY (Are you HUNGRY/THIRSTY? I am HUNGRY/THIRSTY.). The sign for EAT is a common sign that can also be used to mean food, meal, snack, and dine.
Some basic signs for describing food at this age/stage are HOT, COLD, MORE ("Do you want MORE?") and ALL DONE ("Are you ALL DONE?").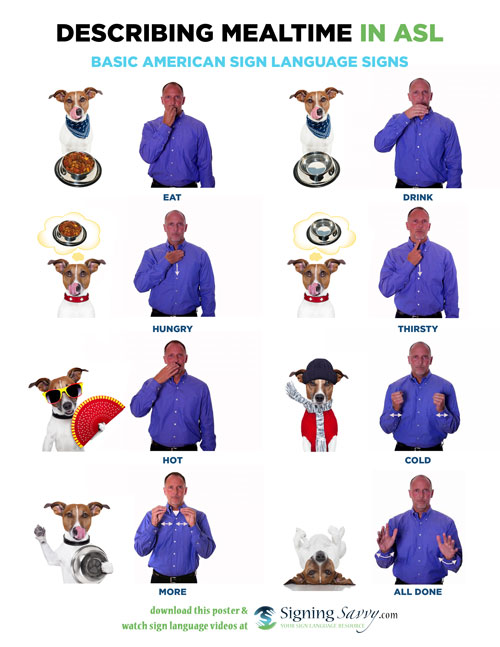 Signing Savvy Member Feature: Download this image / flyer as a printable PDF page.
Don't play with your food? Describing food, including the color.
As soon as your child is born, they are developing their senses. Even introducing food to your little one is a great sensory activity. Children love to look, taste, and feel the world around them, including food. It's actually great for them to play with their food; they learn a lot through play! As they try new foods, encourage them to check it out, pick it up, and feel it in the process of tasting it. One of my favorite and most used items is a good plastic bib with a pocket – it makes cleanup easier when your bib catches fallen food and you can just rinse the bib off in the sink or throw it in the dishwasher (and when cleanup is easier, you're not as worried about your little one making a mess).
Ask them if they like how the food tastes, how it feels and describe it to them – what texture is it, what temperature is it, what color is it? Remember that although your child can't answer your questions, they are learning through play and from your actions, how you describe the food items, and what you sign. This is a great opportunity to introduce color signs (and other descriptive signs) as you talk about the food you give your child.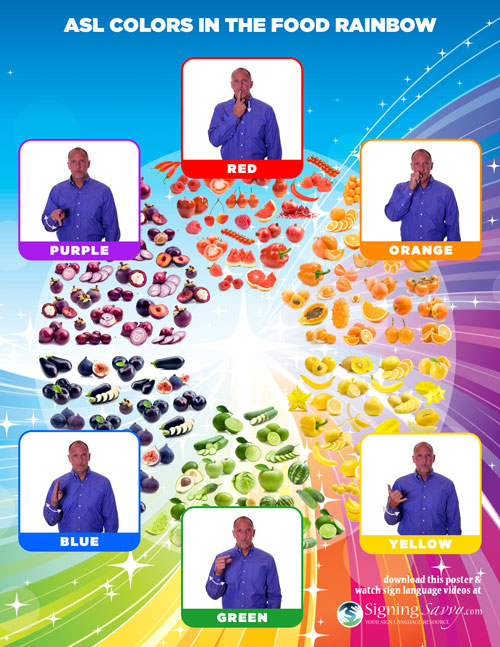 Signing Savvy Member Feature: Download this image / flyer as a printable PDF page.
Reading Time
In addition to signing food and color signs while you are eating, you can sign while reading books that talk about food, like The Very Hungry Caterpillar, where you learn about all the things the very hungry caterpillar ate throughout the week. Reading books that incorporate the same vocabulary/signs that you use throughout the day will increase exposure, reinforce the use of them, and help your little one learn them.
More Resources to Help You Get Started
Signing Savvy Wordlists:
Printable Posters
Book: The Very Hungry Caterpillar
The Very Hungry Caterpillar
Bib: Plastic bib with a pocket to catch food
BABYBJORN Soft Bib, Green/Yellow, 2 Pack

Site News | Tuesday, May 31, 2016
We have added several new members to our advisory board and wanted to take this opportunity to recognize AND THANK all of our board members for their help and expertise. We've made many updates to Signing Savvy because of suggestions provided by this wonderful advisory board! And we have many more updates in the works.
The Sign Language Advisory Board is made up of thought leaders who have a deep subject matter expertise in sign language and deaf culture and are leaders in their respective fields. Our goal is to have a diverse advisory board with various backgrounds and experience to provide a wide range of advice and expertise.
Meet our current board members:
Donalda Ammons

Donalda Ammons, born to all deaf family and raised in Washington D.C., is Professor Emerita at Gallaudet University. She has a doctorate in higher education/foreign language education and taught for 31 years at Gallaudet. She continues to contribute as an author of numerous articles on Deaf culture and sports, published in various professional journals and books. Dr. Ammons has traveled to present papers and conduct workshops relating to human rights for deaf people, deaf sports, and political and educational leadership.
Suellen Bahleda

Across 20 years and several states, Suellen Bahleda became certified, interpreted, taught entry-level and advanced ASL and interpreting classes and presented workshops. She is author of several sign language books. Sue holds a B.A. in Theatre and Communication Arts, an M.Ed in Adult Education, and a M.Div (Master of Divinity), and is currently serving as a pastor for the Evangelical Lutheran Church in America.
Marta Belsky

Marta Belsky is a third generation ASL user. She has been teaching ASL for 20 years and enjoys sharing her native language with new users. Marta is on the Lansing Community College Interpreter Training Program Advisory Board and has also been a board member for the Michigan Registry of Interpreters for the Deaf and the Michigan Chapter of American Sign Language Teachers Association.
Fr. Michael Depcik, OSFS

Fr. Michael Depcik, OSFS, a native of Chicago, is currently ministering to deaf Catholics in the Archdiocese of Detroit. He is among fewer than a handful of culturally Deaf priests worldwide. In 2008, he established a vlog website called Fr. MD's Kitchen Table at www.frmd.org. Fr. Depcik enjoys traveling around the country to give retreats.
Darren Holst

Darren was born into a deaf family and raised in Edmonton, Alberta in Canada. His career includes a wide variety of positions in the field of Education. He has taught primary, junior, middle and high school grades. Currently, he is a pre-school teacher running a Home Visitation Program with the Provincial Schools Branch (identical to Early Intervention programs in the U.S.).
Diane Morton

Diane Dyer Morton, hearing of Deaf parents, has been using American Sign Language on a daily basis for over 50 years in various settings within the Deaf community. She was a School Psychologist and Administrator at the California School for the Deaf, Fremont, and later a full professor in the Counseling Department at Gallaudet University. Certified by RID in 1980, she has also served as an interpreter in local, national and international settings.
R. Ben Roux

R. Ben Roux has a background in advocacy, Information Technology and software development. He is the Advisory Board Chairman of the City of Boston Mayor's Commission for Persons with Disabilities. Ben is committed to advocacy and service to others, especially the deaf, hard of hearing and people with disabilities. These initiatives are particularly meaningful to Ben as he is profoundly deaf.
Together with these thought leaders we will continue improving Signing Savvy. Watch for future blog articles from our advisory board members and for upcoming announcements from us on improvements being made to Signing Savvy based on feedback from them. As always, we welcome suggestions and feedback from you, our members and users.