Project Runway Designer Justin LeBlanc influenced by his deafness
This season's Project Runway, includes Justin LeBlanc, a deaf designer and assistant professor at the College of Design at North Carolina State University.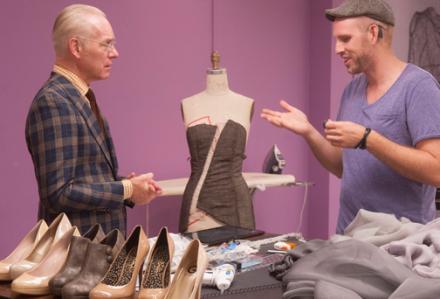 Justin is a talented designer with a background in architecture. He interned for Alexander McQueen and Nick Cave and was awarded a Louis Vuitton Scholarship while studying his master's degree.
Justin was born deaf and says, "My deafness has always influenced my design aesthetic." Being deaf has made him a more visual person - he depends on sight in order to understand people and the world around him. He says being a visual person naturally drew him to design and fashion design allows him to express his creativity.
"I have relied throughout my life on artificial means to provide some semblance of sound. The lack of natural hearing heightened my other senses resulting in a perception of the world that differs from that of a hearing person. I sense the world and all of its wonders through sight, touch, scent, and taste, but sound is often a distraction. This notion inspired the idea and direction of my own work and my artistic explorations."
Justin got his cochlear implant when he was 18 and that was the first time he heard anything. The experience inspired his design aesthetic while working on his master's degree at The School of the Art Institute of Chicago. He described hearing with the cochlear implant "like an invasion into my body and something that is unknown to me." He says he hears things differently because "I only hear on one side, so therefore everything is 2D. I don't have any depth to it, so everything I hear is pretty flat, while most people have depth to the sound." The experience inspired him to play around with the concept of altered states and how people see and respond to things differently in his designs.
Justin is a talented designer who incorporates structural elements from his architectural background and life experiences from being deaf into his designs. In addition to being a great designer, Justin is one of the most endearing cast members on Project Runway - he doesn't get caught up in drama in the workroom and gets along with everyone.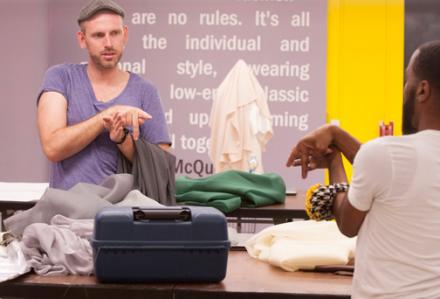 Last week's episode of Project Runway, called "Let's Go Glamping," had the designers go camping for inspiration for their designs. Justin said, "when I'm in the workroom I have the option of listening to everyone or working on my design," so the camping trip was a nice chance for him to connect with the other designers and get to know them better. It was fun to see Justin teach the other designers some signs during the trip. Justin was intrigued by the running water of the nearby river at camp and asked the others, "Do each of you have a specific sound that you like to listen to?" (The funniest response was "quiet children"). Justin was inspired by the river water interacting with the rock and used an innovative glue gun technique to create a lace effect for an illusion of water. Unfortunately, the judges did not like his dress and he was voted off. It was really sad and when Justin walked into the back room and told the other designers he was voted off everyone started crying and came together for a group hug (I have to admit, I got a little fiery-eyed at that point as well!). Luckily, Tim Gunn came to the rescue with his "Tim Gunn Save" - he get's one save for the season and he used it for Justin because, as Tim said, "I believe that the judges made an error… I believe in your talent. You need a little more time here. I'm using my Tim Gunn save."
We hope Justin does well and we look forward to learning more about him and his design aesthetic on the rest of Project Runway this season.

---
Photo Credit: Project Runway Justin LeBlanc Season 12, Episode 6 Photos, Retrieved 8/28/13 from http://www.mylifetime.com/shows/project-runway/season-12/photos/justin-leblanc-episode-6-pictures
Sources: