Remind students to "Ask the Teacher for Help" with our two minute WonderGrove animated Lesson
Help students get back into the swing of the school year by showing them our 12 special "Back to School" instructional WonderGrove animations featuring sign language. The "Ask the Teacher for Help" animation is great to encourage students to ask for help when they are confused.
Watch the "Ask the Teacher for Help" instructional animation: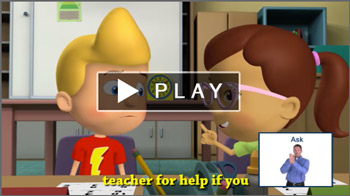 Accompanying the animation, there are extention lessons for Pre-K, Kindergarten, First Grade, and Second Grade, all which have been crafted by educators and align to the common core standards. Download the extension lessons and use them at home or in class for easy activities that reinforce the lesson.
In addition to talking about the lesson in the animation, it's a great idea to talk about the signs used with your students. The signs featured in "Ask the Teacher for Help" are:
You can also use our pre-made Signing Savvy Ask the Teacher for Help word list to go through the signs in the same order that they are shown in the animation.
Get free access to all of the "Back to School" WonderGrove instructional animations featuring sign language while you still can! We are offering 30-day free trial promotion, but you have to sign up by September 12, 2014. Register for the free WonderGrove trial and find out more.