Living Loud: Heather Whitestone - First Deaf Miss America
This article is part of our "Living Loud" series, which in addition to featuring well-known people who are deaf or hard of hearing, also highlights hearing individuals or unique developments that have positively impacted the world.
Heather Whitestone was the first deaf Miss America and the first Miss America with a disability. She competed for the Miss Alabama title three times before winning it, which finally sent her to the Miss America competition. She won Miss America in 1995 in Atlantic City.
Background
Heather was born hearing in 1973. When she was 10 months old, she got sick with a high fever, which left her deaf.
Did you know?

Fevers burn off the hair receptors in the inner ear (cochlear); without those receptors, sound isn't recognized or processed by the ear.

Communication and Education
Heather started out at her local school, using speech and hearing aids, but by 4th grade, she wanted to meet other deaf kids. She attended the Central Institute for the Deaf in St. Louis, which focuses on developing speech and speechreading skills as the primary form of communication. She went back to her local school for high school.
Did you know?

Deaf students can go to schools that teach different methods for communication, including sign language, lip reading, speech, and fingerspelling. Some schools use a mix of methods, some primarily focus on just one. Deaf students can attend the local public school, some go to day schools that have programs specifically designed for deaf students, and there are residential (boarding) schools where deaf students live during the school year and go home during breaks and vacations. Read more about Educational Options for Children that are Deaf or Hard of Hearing
Learning the Ropes
Heather's first experience participating in the Shelby County Junior Miss program (now called the Distinguished Young Women program) gave her confidence to begin entering pageants. She started competing in pageants, including Miss St. Clair, Miss Jacksonville State University, and Miss Alabama. She won Miss Cullman Area in 1994, which sent her on to the Miss Alabama competition and she was also crowned Miss Alabama in 1994. Each pageant helped her to figure out how to communicate with judges and make an impression.
There she is, Miss America!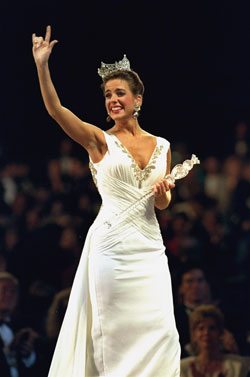 Heather Whitestone signing "I Love You" in ASL after she was crowned Miss America in 1995. (Photo Credit: Tom Costello, AP Photo)
Heather said, "The first time I stood on the stage in Atlantic City and looked out over the empty convention about a year before I won the Miss America title, I was amazed not at its size, but at the fact that I was there. The journey to the Miss America Pageant did not begin four years ago when I first competed in a local pageant. It began when I was eighteen months old, when I lost my hearing." She explained that when her mother was told she was deaf, she was also told that a normal life would be impossible for her because of her deafness. However, her mom had faith and was determined for Heather to have the life she wanted. Heather said she was molded by parents, teachers and speech therapists. When her mom struggled to explain the concepts of rhythm and pronunciation, she enrolled Heather into a ballet class in hopes she could better understand rhythm. She soon developed a love for ballet and danced all the way to the Miss America competition.
The Miss America pageant rules do not allow contestants to have any help (like coaches or interpreters) while competing. For her talent, she did a classical ballet en point to Sandi Patti's "Via Delarosa." She had spent two years preparing it, counting the beats with her hands on the stereo speakers. Once the music started, she did every move according to the memorized count in her head.
Watch Heather's dance:
During her year as Miss America, Heather introduced her five-point STARS program: "Success Through Action and Realization of your Dreams." She traveled to every corner of the country speaking to corporations, non-profit organizations, churches and government, including the FBI and CIA.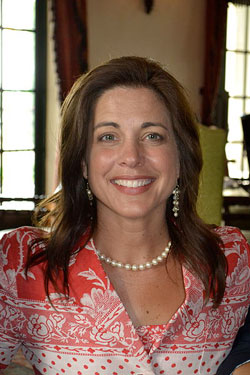 Heather Whitestone, after becoming Miss America, in 2012. (Photo Credit: Heather Whitestone [CC BY-SA 3.0], via Wikimedia Commons)
In the Spotlight Once More
In 2002, Heather elected to get a cochlear implant for her right ear. She had depended on some residual hearing in her left ear in conjunction with the implant, but lost that. In 2006, she got a second implant for her left ear. Her decision to have the implants was big news, and she was featured on several news programs.
She said she decided to get a cochlear implant because she wanted to hear her family's voices, make further strides in achieving her goals, and experience the hearing world.
After the Crown
Heather has traveled nationally and internationally as a motivational speaker and has been a spokesperson for the Starkey Hearing Aid Foundation, the Cochlear Implant Company, and the Helen Keller Foundation.
Heather is an author of four books - Listening with My Heart
, Believing the Promise
, Let God Surprise You
, and Heavenly Crowns
.
She has volunteered her time for Republicans causes and spoke at the Republican National Convention for both Senator Bob Dole and George W. Bush.
She met her husband, John, in Washington, D.C. during her year of service as Miss America when he was working as a Legislative Aide to Speaker Newt Gingrich at the Capitol. They now live in St. Simons Island, Georgia and are raising four sons.
More on Whitestone
Books by Heather Whitestone
Resources
Adapted from: Cartwright, B. & Bahleda, S. (2015). Did You Know? Miss America Heather Whitestone. In Lessons and Activities in American Sign Language (p. 99). RID Press.
Signing Savvy is a participant in the Amazon Services LLC Associates Program, an affiliate advertising program designed to provide a means for sites to earn advertising fees by advertising and linking signingsavvy.com to Amazon properties. That means Signing Savvy may contain affiliate links. If you make a purchase after clicking on an affiliate link, your cost will be exactly the same regardless, but Signing Savvy will automatically receive a small commission. Your support is greatly appreciated and helps us continue to improve Signing Savvy!