Living Loud: K.T. Maviglia - Miss Michigan and Miss America Contestant
This article is part of our "Living Loud" series, which in addition to featuring well-known people who are deaf or hard of hearing, also highlights hearing individuals or unique developments that have positively impacted the world.
As a follow-up to Marta Belsky's recent blog article on Heather Whitestone, we wanted to share the story of another Miss America contestant with hearing loss. K.T. Maviglia was crowned Miss Michigan and competed in the 2015 Miss America pageant. She struggled with insecurity when her hearing loss made her different, but credits the Miss America organization for helping her regain self acceptance and self esteem. She says that along with her mom, her role model is Heather Whitestone, Miss America 1995 who was deaf. She is now using her Miss Michigan platform to help others with hearing loss.
Background
In fourth grade, at the age of 9, K.T. Maviglia was getting confused in the classroom and her teacher noticed she was learning differently than the other students. Her hearing was tested and it was discovered that she had sensorineural hearing loss and auditory discrimination disorder.
Sensorineural hearing loss occurs due to an issue in the inner ear and is most often caused by hair cell abnormalities. Sensorineural hearing loss can range from mild to severe hearing loss, including total deafness. K.T. had moderate hearing loss and opted to wear hearing aids, which amplify sounds at preset frequencies to target the ranges effected by the hearing loss. In addition to wearing hearing aids and a battery pack, her teacher wore a microphone and four speakers were added to her fourth grade classroom.
K.T. struggled with the change. She told TODAY.com, "I went from being the popular kid to the kid who needed special attention. It was hard for me to accept as part of who I was."
She boycotted her hearing aids altogether in high school and tried to compensate by sitting in the front of the classrooms and asking extra questions.
Becoming an Advocate for Hearing Loss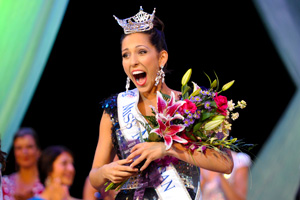 KT Maviglia reacts as she is announced the 2014 Miss Michigan during the final night of the competition Saturday, June 14, 2014. A total of 34 contestants competed for the title of Miss Michigan at the Frauenthal Center for the Performing Arts in Muskegon, Michigan. (Photo Credit: AP Photo/The Muskegon Chronicle, Madelyn Hastings)
Now, at 22, she proudly wears her hearing aids and is using her Miss Michigan and Miss America contestant platforms to advocate for those with hearing loss. She told MLIVE.com, "The Miss America organization is what made me get back into it because I realized that this is a part of the unique me, it's part of who I am and I need to embrace it."
K.T. founded the KT Maviglia Foundation for Hearing Disabilities in 2012 and chose LISTEN UP: Advocating for those with Hearing Disabilities as her Miss America cause. She also co-authored a legislative bill in Michigan which aims to improve services and insurance coverage for children with hearing loss. She hopes to use the Miss Michigan platform to gain support for her bill and wants to work with children with hearing loss similar to her own to help them embrace their differences and encourage them and others, showing that health problems don't need to hold you back. "No matter what adversity you go through, no matter what challenges you have in your life, you can overcome them, you can deal with them and you can be a success."