Voice Contestant Signs the Team She Wants to Be on
When it was time for The Voice contestant Treeva Gibson to choose which coach's team she wanted to be on, she responded, "I'm going to sign this, so my parents can see who I pick." Her parents were anxiously waiting backstage with an interpreter and her mom burst into a huge smile when the interpreter told her Treeva said she was going to sign. Her mom switched her focus from the interpreter to the monitor and watched Treeva sign (and voice), "I PICK" and fingerspell "C-H-R-I-S-T-I-N-A."
The 16-year-old from Frederick, Maryland started singing when she was 11. Both of her parents are deaf and Treeva learned to sign before she could speak or sing. Her mom is a teacher at the Maryland School for the Deaf and her dad teaches at the University of Pittsburgh. As a teenager, Teeva discovered she had a mild hearing loss. She can not hear mid-tones, which makes it difficult for her to hear an artist singing on a track, yet she can hear the instrumental part.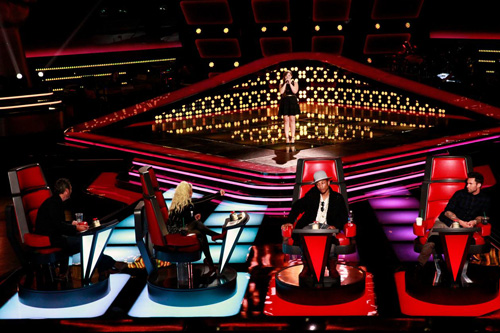 Christina Aguilera and Blake Shelton both turn their chairs for Treeva Gibson during the blind auditions on The Voice. Pharrell Williams and Adam Levine are also pictured. (Photo Credit: Tyler Golden/NBC, "Blind Auditions" Episode 801).
Treeva sang Lana Del Rey's "Young and Beautiful" in her blind audition on Season 8, Episode 1 (801) of The Voice, which aired on February 23, 2015 to 13.97 million viewers. Coaches Christina Aguilera and Blake Shelton both turned their chairs for her before she reached the chorus. After choosing Christina for her coach, she went on to sing the Florence + The Machine song "Addicted To Love" against Katelyn Read in the Battle Rounds on March 10, 2015 and Christina declared Treeva the winner of the round. She was eliminated from The Voice during the Knockout Rounds on March 30, 2015 after performing "Chasing Pavements" by Adele against Rob Taylor.
You can watch Treeva Gibson's "Young and Beautiful" blind audition at the Daily Motion website.