Living Loud: Lou Ferrigno – The Incredible Hulk of acting, bodybuilding, fitness training, and motivational speaking
This article is part of our "Living Loud" series, which in addition to featuring well-known people who are deaf or hard of hearing, also highlights hearing individuals or unique developments that have positively impacted the world.
Lou Ferrigno is an actor, retired professional bodybuilder, fitness trainer, motivational speaker, and deputy sheriff.1 He is most well-known for portraying The Incredible Hulk, but has been in over 35 movies and 65 television shows,4 won the bodybuilding titles of Mr. America and Mr. Universe (twice), and is a Guinness Book world record holder.1
Growing Up: Challenged by Hearing Loss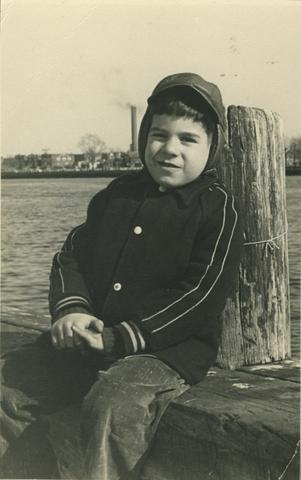 Lou Ferrigno as a child. (Photo Credit: Lou Ferrigno Website)
Louis Jude "Lou" Ferrigno was born in Brooklyn, New York on November 9, 1951. Soon after he was born he suffered from a series of ear infections, which caused him to lose 75% of his hearing.
1
This hearing loss was not diagnosed until Ferrigno was 3 years old and he began wearing hearing aids at age 4. The hearing aids only helped improve his hearing marginally. He learned to understand what others were saying by lipreading. He said because "aids weren't as advanced in those days, I developed very defective speech. That was harder to deal with than the hearing loss, because people assumed I was dumb when they heard me talk. I had difficulty making myself understood. That's why I didn't talk much, just enough to get what I needed."
3
He went to public school and said his dad "made sure that at home I spoke the best I could, and he never gave me special attention. He treated me as though I was normal and my brother and sister accepted me that way. Dad was determined that I be normal, even if I wasn't. That's why I had to work twice as hard at everything." 3
He couldn't hear when he was in class, but was too shy to ask any of his teachers if he could sit up front where he could hear and didn't let anyone know about the problem. He tried to isolate himself from his classmates. 3 "They used to call me 'deaf Louie,' 'deaf mute,' because of my hearing and because of the way I sounded."5 He was teased and bullied, sometimes resulting in schoolyard fights that he would lose.7
Getting Pumped Up: Inspired and Determined to Be Strong
He was skinny, small, and introverted.5 He turned to comic books for comfort. "I felt devastated and emotionally insecure. I would just read the comics and it would give me inspiration and hope."7 Superman and The Incredible Hulk were his favorites. After pretending to be Superman by putting on a red blanket as a cape and jumping off of the second story of his apartment, he hit the cement hard and decided Superman wasn't his favorite anymore.5 He thought of the Hulk as "the green Santa Claus" because of his instinct to protect the good.7 Ferrigno also liked the Hulk because he was obsessed with the feeling of being powerful.5 "I wanted to be so strong, so invincible so I could command the same power the Hulk does... and that's how that connection began."7 He then made it his mission to be strong as well.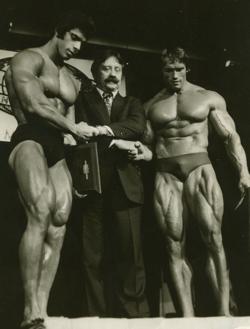 Lou Ferrigno at a bodybuilding competition with Arnold Schwarzenegger. (Photo Credit: Lou Ferrigno Website)
At age 13 Ferrigno started weight training. Bodybuilder and Hercules star, Steve Reeves, was one of his role models.
1
Before he could afford his own set of barbells, he made one out of a broomstick and cement weights.
2
Ferrigno won his first major bodybuilding titles as Mr. America and Mr. Universe in 1973, at the age of 21. His Mr. Universe title was, and still is to this day, a Guinness Book World record for the youngest person to win the Mr. Universe title. Ferrigno competed for the Mr. Olympia competition in 1974 and got second place.
1
Ferrigno worked throughout his early bodybuilding career as a sheet metal worker in a Brooklyn factory. He did not enjoy this dangerous work. He left after a friend and co-worker accidentally cut off his hand. Ferrigno left the competition circuit for a period that included a brief stint as a defensive lineman for the Toronto Argonauts in the Canadian Football League. However, he had never played football and was cut after two games.1
Living a Childhood Dream: Becoming The Incredible Hulk
In 1977 television producers started to seek the right person to portray the larger-than-life comic book superhero, "The Incredible Hulk." They were interested in Ferrigno for the part because he was the biggest professional bodybuilder at that time with his 6'5", 285 lb. frame. When Ferrigno heard about the role he said, "It's mine," and wanted the part more than anything.5 He auditioned for the part of the green-skinned Goliath and he won it over another well-known bodybuilder, Arnold Schwarzenegger.1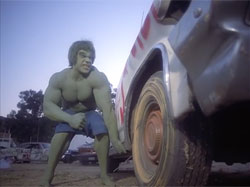 The Incredible Hulk turning over a car. (Photo Credit: CBS, The Incredible Hulk, Season 2: Episode 3 "Ricky" [Originally Aired: October 6, 1978])
Ferrigno was a hulk in real life as well. He has told the story of moving a parked car out of its spot and onto the street so he could make room to park his Volkswagen.
2
Another account happened while on set of
The Incredible Hulk
, where Ferrigno worked long, 16 hour days. He was supposed to flip a car with the aid of a steel cable lift, but it had broken. He was exhausted and annoyed about still being on set at 4 a.m. and didn't want to wait for a new cable. He told them to start shooting and tilted the car up off the road and pushed it down the embankment, and that was a wrap for that shoot!
7
Ferrigno continued playing the Hulk role until 1981. The Incredible Hulk was a huge ratings success and spawned several TV movies after the initial TV series completed. 1
After playing The Incredible Hulk for 5 years, Ferrigno went on to be in over 35 movies and 65 television shows. He followed in the steps of his role model Steve Reeves and starred in Hercules (1983). He has played himself in Surge of Power (2004), I Love You, Man (2009), and the CBS sitcom The King of Queens (2002-2007). He was a competitor on reality TV show The Celebrity Apprentice (2012), where he raised $50,000 for his charity, the Muscular Dystrophy Association. He has also been in multiple documentaries, including Pumping Iron (1977) and Stand Tall (1997). He has performed as the Hulk in 6 TV shows and voiced the Hulk in the movies The Incredible Hulk (2008), The Avengers (2012), and Avengers: Age of Ultron (2015).4
Today: Still Focused on Health, Conquering Challenges, and Being a Real-Life Hero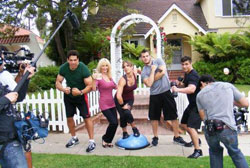 The Ferrigno Family: "The First Family of Bodybuilding" (Photo Credit: Lou Ferrigno Website)
Ferrigno is married to psychotherapist Carla Green, who also was his manager. She later became a personal trainer herself. They live in California and have three children – Shanna, Lou Jr., and Brent. Fitness has always been a family activity and now that their children are grown up, they are also involved in the health and fitness industry. They call themselves "The First Family of Bodybuilding." Ferrigno has been a personal trainer for Michael Jackson, Mickey Rourke, Chuck Norris, and others. He continues to do private training, as does his children Lou Jr. and Shanna. Ferrigno believes the key to health is a balance between mind, body, and spirit. Together, he and his daughter Shanna started Ferrigno FIT – a brand and community focused on healthy living.
1, 8
Ferrigno continues to be a motivational speaker and has been a spokesperson for the Better Hearing Institute for 25 years and a supporter of the Starkey Hearing Foundation. He tells others to try being the best of themselves in life, no matter what problems they might face along the way.2 He says his hearing loss presented him with a challenge in life and his journey has been filled with ups and downs, but you can't be a quitter. "I believe the maxim that you only get out of life what you put into it. I found my courage to persevere because I don't believe in defeat. I am a survivor, and I love challenges. I always say either yes or no, never maybe. And I don't use the word hope. I either do it, or I don't do it; I don't hope to do it."3
"I don't use the word hope. I either do it, or I don't do it; I don't hope to do it."

- Lou Ferrigno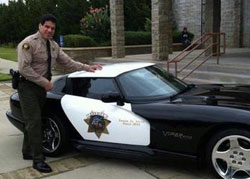 Lou Ferrigno, San Luis Obispo County Sheriff Deputy. (Photo Credit: Lou Ferrigno Website)
Ferrigno has joined forces with several law enforcement agencies, including becoming a reserve sheriff deputy for Los Angeles County, California in 2006, a volunteer member of the sheriff posse for Maricopa County, Arizona in 2010, and a reserve peace officer for the San Luis Obispo County sheriff's office in 2012. Ferrigno has dedicated 20 hours a month to the San Luis Obispo County sheriff's office since 2012. It's not an honorary post. Ferrigno attended the police academy in southern California, is certified, and has police authority. Ferrigno said, "I'm very happy to be a real-life hero, protecting life and property."
6