Interpreter 4-1-1: Self-Care is the New Normal
This article is part of our "Interpreter 4-1-1" series, which includes advice and tips for interpreters.
"Self-care" is a popular topic in recent years, and the trend isn't slowing down. One problem noticed by your authors, however, is that there seem to be competing definitions of this idea and it's causing a breakdown in the discussion about the importance of self-care. Should self-care be understood as indulgence? Eating a piece of chocolate cake because it's been a rough day and this will help you to feel better? Or should self-care be thought of as goal-setting? Training for a marathon because you've always wanted to try it and enjoy testing your limits?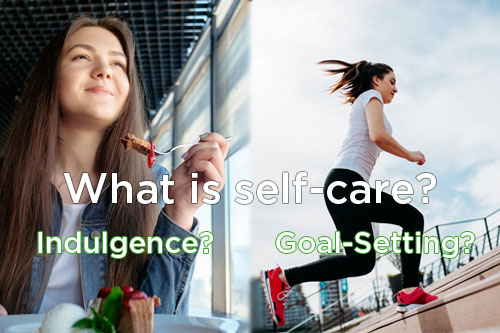 What is self-care? Is self-care indulgence or goal-setting?
The contradiction is stark, and creating a life you don't need to escape from takes hard work, sacrifice, and patience. In reality, maybe self-care is just letting yourself be "normal." Doing things like sitting down and paying your bills, enforcing a morning routine, cooking healthy meals, working out, putting some oil into your bath, turning off your phone, or having a game night with friends.
Being normal/self-care is a process that involves self-reflection. Despairing at the skinny total in your wallet and then going for a $80 pedicure to feel better is a temporary fix, but also worsening the problem. Training ourselves to resist the impatience of seeking an immediate fix is hard. None of life's big challenges have easy solutions; learning a new skill, finding a compatible partner, career advancement, etc. Nobody asks to take the hard road but it is through those challenges and by building inner strength that we are able to move forward. We make sacrifices to become a better version of ourselves; the certified interpreter, the parent, the business owner. Moving toward those goals smartly, proactively, and relentlessly is how each of us achieves self-care.
Work on your skills and communication for a different tomorrow. Set new standards for yourself and actually believe in them. Skepticism in your own goals is not helping you get what you want. Your thought process is everything. Obsessing over temporary set-backs is exhausting and leaves little energy to actually become better. Taking action allows us to focus on movement and increases energy. Start by physically writing down what you want to accomplish; make lists. Learn what each item takes, and expect that it will require hard work and sacrifice to get there. Set specific, measurable goals. Writing a book doesn't happen in one day. But you can write 20 pages. Training for a marathon doesn't happen in a week. But you can increase the distance you've run. Have goals for the day, for the week, for the month, and write them down on paper. Put the paper someplace you'll see it.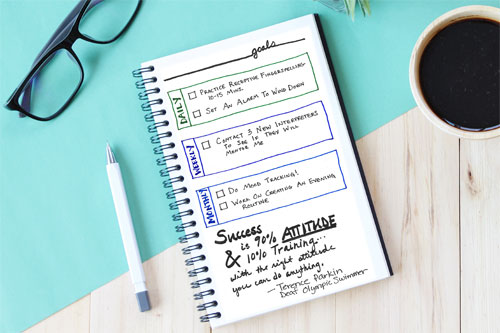 Set goals - daily, weekly, and monthly - and write them down.
Celebrate goals realized, and then get back to it. Self-care doesn't require an audience, either, so don't worry whether everyone is following along. Self-care is an investment of today's time and energy so you can profit tomorrow.