Savvy Tutoring and Savvy Chats: So Much to Sign About, So Much to Learn
We first started our Savvy Chat service over a year ago and have since added Savvy Tutoring. These ASL sessions let you meet online, one-on-one with one of our signing experts, Marta Belsky, through video chat. In that time, Marta has had the pleasure of meeting with people from around the country to chat and practice ASL skills, as well as for tutoring on vocabulary development, receptive and expressive fingerspelling skills, and more.
| | | |
| --- | --- | --- |
| one-on-one | 30 minutes | online |
Each session is unique to meet the needs of the person who scheduled the chat. Future chats with the same person are often very different depending on the person's changing goals and objectives.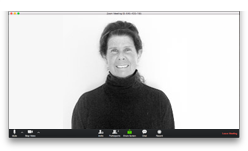 ASL One-on-One Session with Marta
Marta is a third generation ASL user and has been teaching ASL for 30 years. She has Bachelor's degree in Psychology from Gallaudet University and a Masters in Deaf Education from Western Maryland College. She has taught ASL at Michigan State University, Madonna University, and in Lansing Community College's Interpreter Training Program. She enjoys sharing her native language with new users. It is important to her that people learn the language the "right" way and learn about Deaf Culture at the same time. Marta has worked with people who have never signed before as well as experienced signers. When you meet with Marta, she assesses your current ASL fluency and then tailors the conversation or lesson in a way that will fit with your current ASL knowledge and also your goals for the session.

Some people have scheduled Savvy Tutoring with Marta to focus on a specific skill, like preparing for an upcoming test, practicing mouth morphemes and classifiers, and working on using ASL grammar instead of English sentence structure. Others who have had previous ASL knowledge wanted to work with Marta to assess their current fluency and receive suggestions for areas to work on for further improvement. Occasionally people have had a very specific topic they wanted to learn more about, like Deaf culture or a specific message they wanted to learn to sign to someone they care for.

Some people have lacked local resources where they can meet and sign with others, so they use Savvy Chat to practice conversational ASL.
Sometimes a single ASL One-on-One Session has turned into reoccurring sessions where either they simply practice signing through conversation or goals are formed to help the person build specific ASL skills. Regardless of previous ASL skill level, Marta works with you to meet your ever-changing goals.
Here is some feedback from people who have had ASL One-on-One Sessions with Marta:
"Marta was so friendly and easy to talk with! She helped me so much, and was very patient when I had trouble with receptive finger spelling! I was so happy to be able to practice with her and look forward to doing it again!"
"Marta was very helpful with giving me feedback and correction, as needed. I really enjoyed both sessions with her, last week and today, and after working with her felt more confident with my signing."
"I feel like I'm really making some progress. Marta is amazing. She keeps the conversation rolling. We have a lot of similar likes and dislikes. Looking forward to another session!"
"Thank you Marta! I feel like I'm gaining confidence and really enjoy our sessions. So much to sign about! Thank you for your patience. You're truly a gifted teacher."
"So grateful for the time to chat with Marta! I felt so comfortable from the very start!"
"Marta was fun to chat with. She was very helpful and kind. I learned a lot in my short 30 minutes. The time flew by!"
"Thank you for your help, Marta! I enjoyed speaking with you! Thanks for being patient with me and helping me with fingerspelling. You taught me some fun things. Now I know how to sign "cruise"! I'm looking forward to chatting again sometime."
If you want to practice your signing or want help to learn and study ASL, check out our ASL One-on-One Sessions, including Savvy Tutoring and Savvy Chat.