Signing Savvy Anniversary - A Lot Can Happen in 10 Years!
This month is the 10th anniversary of the public launch of Signing Savvy. In those 10 years, nearly 22 million people have used Signing Savvy.
When we set out over ten years ago to create Signing Savvy, we had a vision to create an online sign language resource for educators, parents, interpreters, students, or anyone interested in American Sign Language.
Many people are shocked when they learn that 95% of all deaf and hard of hearing children are born to hearing parents. This means a few things – almost all hard of hearing children are born into families that do not know or use sign language and their parents do not have previous experience with raising and educating a deaf child — many may not have even met a deaf person before.
The number one concern for parents is "how do I communicate with my child?" followed by concerns with how will their child communicate with others, and what is the best way to raise and educate a deaf child. The options and information may be overwhelming for parents, but just like raising any child, each child and family is different and there isn't a "one size fits all" plan to execute. Research shows the key is early exposure and full access to a natural language. For many families, ASL becomes an important part of their journey.
Like any language, the best way to learn is to immerse yourself with other native speakers or take a class. However, overwhelmed by the unexpected challenge of having a deaf child and, like all of us, busy with life (working, going to school, raising other children, etc.), we felt parents needed a resource they could access quickly and easily - for those rare spare minutes when they have a chance to sit down and learn signs, to being able to look up a sign when they or their child is wondering, "How do I sign…" when they are on-the-go.
Since its inception, Signing Savvy has always worked closely with schools, parents, teachers and interpreters in order to provide a quality online sign language resource. Not only did we want to be a resource for parents at home, but we wanted to bridge the gap between home and school, and make it easier for teachers to share with parents what is being taught and what signs are being used at school. We wanted to be that home / school connection piece that had been missing in Deaf Education for years. Signing Savvy and its set of features was the solution we came up with. We created word lists to be a powerful tool to allow teachers to share vocabulary with parents and other stakeholders.

Recently a teacher of the Deaf in Pennsylvania shared how she was using Signing Savvy with us. She said, "I really use this everyday! Love it!" and went on to explain she creates weekly vocabulary lists (Signing Savvy word lists) for her early elementary student. She introduces the next week's words to him on Friday using Signing Savvy. She has the student use the Signing Savvy quizzing tool to quiz himself on the iPad by hitting the next button to see if he is right.
She shares the word lists with his classroom teacher as well, who then teaches the vocabulary words to her regular education students along with the deaf student. The classroom teacher and other support staff are able to look up the words on their Apps independently. The ability to create the lists allows teachers to go in and practice on their own or move ahead to be prepared. She said, "It is a great tool and I would have to say my lessons would be much more difficult if I didn't have access to this great App!"
She also prints sign images for the words and use that to hang a sample of the signs for the kids to see. The whole class learns several signs per week. She also created a book for the teachers and staff to reference with all of the printed signs.
Additionally, they refer to the App multiple times for unknown signs or discrepancies and it helps to serve as their "go to" to answer questions. Of course, the word lists can also be shared with the student's parents so they can learn the vocabulary along with the student.
This testimonial is so rewarding to our team at Signing Savvy, because this is just how we had hoped Signing Savvy would be used when we first created it.
Because of the recent acceptance of American Sign Language as a foreign language for hearing students, high schools and colleges have also joined the ranks of institutions that have found Signing Savvy to be a very helpful resource in their student's educational process.
Working closely with Interpreter Training Programs and Universities in the US that teach sign language has allowed Signing Savvy to even better understand the value of having a mobile tool that can be very individualized, travel with you, and continually educate you and update you with blogs and signs of the day to assist in your sign language journey.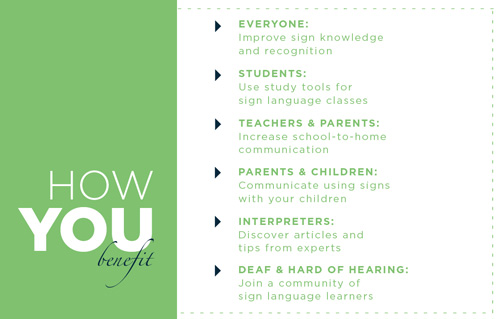 In the last ten years, people have shared many additional heart-warming stories with us about how they use Signing Savvy. From the veteran who lost his hearing after service and used Signing Savvy to learn ASL… to the person that wanted to be able to ask their deaf co-worker how their weekend was… to the parents with hearing babies that wanted to sign with them before they learned to talk… to the person learning church related signs… to the teacher teaching ASL who shared Signing Savvy's quizzing tools with her students so they could review vocabulary and be more prepared for class… to the college students who were able to do better in their ASL classes and learn ASL more easily by using Signing Savvy in conjunction with their classes... Today Signing Savvy is used, not only by parents and teachers, but by both deaf and hearing students, lifelong learners, interpreters, people losing their hearing, children with speech delays, Down syndrome, autism, and apraxia, and anyone wanting a quick ASL reference.
It has been a great 10 years of learning, sharing, and community. A lot can happen in 10 years! We have many exciting things planned moving forward. We hope you will continue on this journey with us to make sign language more accessible. To another great 10 years!