Cooking Up Language with Signs: Frosty the Snowman Oreo Truffles
This article is part of our "Cooking Up Language With Signs" series, which features a recipe and accompanying sign language word list to get you started on an interactive cooking activity that is great for spicing up language learning at home or in the classroom.
What's cookin'?
Today I'm cooking up "Frosty The Snowman" Oreo Truffles. These are some of the easiest no-bake treats I make, and every time I take them anywhere, people go nuts over them! You can make them for any occasion, but you'll see here how I've turned them into snowmen for the perfect holiday treat.
This recipe is great to go along with the Frosty the Snowman book or song. I've also created an article and word list for the Frosty the Snowman book.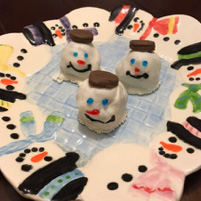 The recipe is simple. Have the kiddo's crush up the Oreos, either in bowl or in a doubled up Ziplock plastic bag, until they are nice and crushed. Mix together in a bowl with the cream cheese.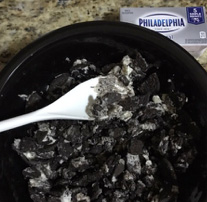 Roll into balls and place in the freezer for an hour.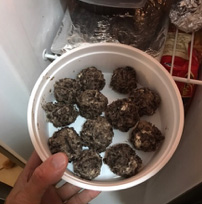 Once nice and frozen, melt your white chocolate (I believe they are calling it crème or cream now). This can be tricky because it goes from good to overcooked really fast, so watch it as you are melting it and only start with 60 seconds, then add like 10-15 seconds at a time. Once melted, just dunk the balls in and set them on a pan with waxed paper or tin foil that you will be placing back in the refrigerator.
Once the outer cream shell has hardened, decorate to look like Frosty with his eyes, button (or carrot) nose, and his big smile! Top him off with a mini Oreo top hat. I chose the ones that were covered in chocolate here but again that is totally up to you! (I've even made them with a Rolo candy on top of the mini Oreo to really make him look fancy!)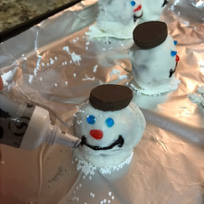 Don't worry if your balls don't come out perfectly round or the faces look a little silly as the kids are decorating… maybe Frosty is melting... it is pretty warm in the kitchen! Melted or not, round or lopsided - they still taste delicious with a cup of hot cocoa!
Recipe
Enjoy making treats that look like Frosty the Snowman. Use the pre-built word list created to go along with the recipe to help you as you make this tasty recipe.
Frosty The Snowman Oreo Truffles

Ingredients:

Tools:

Directions:

Get the Pre-Built Word List for this Recipe!
I hope through the Frosty the Snowman Oreo Truffles word list you will feel confident to cook up some language fun with your children. You can also bring up signs on the Signing Savvy Member App using the pre-built word list as you go through the recipe.
Word List for Frosty the Snowman Oreo Truffles
Signing Savvy is a participant in the Amazon Services LLC Associates Program, an affiliate advertising program designed to provide a means for sites to earn advertising fees by advertising and linking signingsavvy.com to Amazon properties. That means Signing Savvy may contain affiliate links. If you make a purchase after clicking on an affiliate link, your cost will be exactly the same regardless, but Signing Savvy will automatically receive a small commission. Your support is greatly appreciated and helps us continue to improve Signing Savvy!