Living Loud: Mandy Harvey – Singer, Ambassador, and Author
This article is part of our "Living Loud" series, which in addition to featuring well-known people who are deaf or hard of hearing, also highlights hearing individuals or unique developments that have positively impacted the world.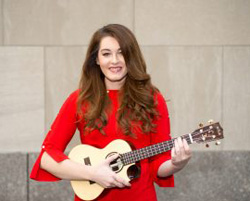 Mandy Harvey (Photo Credit: Noam Galai, Retreived from
Episode 5: Interview with Deaf Singer Mandy Harvey
)
Mandy Harvey was born hearing, but her life took an unexpected turn when she became deaf at the age of eighteen. As a child, Harvey was passionate about music and when she began college she decided to follow her dream to pursue Music Education. However, when Harvey lost her hearing she also lost music, a huge part of her identity. In the ten years since Harvey became deaf, she has overcome emotional and spiritual obstacles and found new ways to pursue her dreams. In 2017, Harvey shocked the world with her singing on the television show America's Got Talent and has since written a book about her experiences in life. She has inspired millions of people with her story and her music.
Growing Up: A Passion for Music
Mandy Harvey was born in Cincinnati, Ohio in 1988 and her family moved to Colorado when she was a young girl. Throughout her childhood and into her teenage years she was passionate about music. She participated in church choir starting at the age of four, and continued in music through high school. In high school, Harvey was in five school choirs, singing with a wide vocal range from tenor to high soprano parts. In an interview with Justin Miller for the Real Talk TV Show, Harvey described herself as a "strong voice in the choir, but not one to ever put [herself] in the spotlight." Although, she wasn't much of a soloist in high school, her passion led her to pursue Vocal Music Education in college. She specifically wanted to teach jazz because of the emotion she would be able to create in others.2 Harvey attended Colorado State University. During her first semester, she began to realize that she was having trouble hearing.3
In Denial About Deafness
Harvey was born with Ehlers-Danlos Syndrome which is a connective tissue disorder that caused her hearing to deteriorate during her first year in college.1 At first, when she noticed a change in her ability to hear, Harvey wrote it off as an ear infection or a perforated ear drum. She didn't want to believe the severity of the problem. Harvey had her hearing tested and the results showed by that time she had already lost 30 decibels of her hearing. Frequent doctor visits over the course of the next nine months showed a steady decrease in her hearing. By Christmas of that year, Harvey had lost 55-60 decibels, making her legally deaf. She was fitted with hearing aids. Harvey still held on to the hope that her music dreams could remain intact. However, the realization of her deafness hit her hard and fast one day in her Music Theory class.2
The class was set up to take a test in which the students had to listen to the piano notes and record what was being played. Harvey was poised with pencil in hand waiting to begin the test, when she looked around and saw that all the other students were writing on their papers. Harvey sat there, unable to hear the test that was being given and one by one the students stood up and walked out of the classroom, leaving her sitting alone.2
Harvey dropped the Music Education program, changed majors, and took different classes. Harvey described the time as a "whirlwind" because of how fast things were changing and she had not yet felt the true impact of the situation. She said she was "still holding on to hope."2 During that transition time, she was walking on a sidewalk and she was hit by a bike. The biker was coming up behind her and had been calling out to her that he was passing on the left, but when she didn't hear him she got hit and her hearing aid was crushed. This was when the realization truly hit her that her hearing loss was real and permanent. "I lost myself that day," Harvey said in the interview.2
Finding Hope: Discovering ASL, the Deaf Community, and Rediscovering Music
After her first year of college, Harvey moved back home. She said, "I would say it felt like I fell down a really dark well."2 She couldn't see any brightness in her future and she didn't know who she was anymore. "I had fed into all of the voices that were around me, which were saying that if you can't hear, you can't do music, and I allowed them to convince me that that was true and so I gave up on music. I didn't even sing in the shower for a year and a half."4 Her own identity was intertwined with her life of being a musician and so when that was taken away from her, she felt all was lost.
This darkness took over Harvey's life for quite a while, but gradually she pulled out of it. She began taking American Sign Language classes, and her sister even skipped her senior year of high school so that they could take classes together. Finding a way to communicate was a crucial step for Harvey to reform her life. She then started to get involved with the Deaf community, made friends, and found people with similar stories to her own. This is what gave her the confidence to allow music back into her life.2
Harvey's father wanted her to play guitar with him, and she agreed to try. They were able to push aside their inability to communicate with one another and just play together. When Harvey's father suggested they try to learn a new song, she didn't think she would be able to, but they pulled up the sheet music anyway. By humming into a small guitar tuner, Harvey was able to see if she was hitting the correct pitches. Learning the song was a long process, but when she sang it through, it brought her father to tears. Harvey didn't believe him when he said it was good so she recorded the song and sent it to a voice coach, someone she knew would be honest. The voice coach responded that she thought the song had been recorded before Harvey lost her hearing. When the voice coach learned the recording was recent, she insisted that Harvey come back and begin taking voice lessons again.2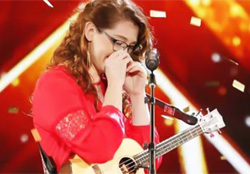 Mandy Harvey on America's Got Talent (Photo Credit: NBC, America's Got Talent, Season 12 (2017). Retreived from Mandy Harvey: Deaf Singer Earns Simon's Golden Buzzer With Original Song - America's Got Talent 2017)
Harvey soon found herself with a slot performing in a local jazz club. She developed her own techniques in being a musician. Harvey takes off her shoes so that she can feel the beat vibrating through the floor. At first, before she became comfortable, she stood at the piano using her hands to feel the vibrations, but gradually she stepped away from the piano.2 She used visual tuners to help her know she was in key and would put her hand on her throat to find where the vibration was the strongest for each note. She would do scales and run through patterns again and again. She can also feel the vibrations of her ukulele when holding it against her body. 4
Her singing career began to flourish, leading to multiple albums, and a tour.1 In 2017, Harvey was a competitor in season 12 of the America's Got Talent television show. She wowed America and the judges and took 4th place in the competition.
Controversy: Promoting Oralism vs. Deaf Can Movement
During the competition, there was some controversy in the Deaf community because Harvey was "promoting a hearing activity," and she still continues to receive some backlash from certain individuals. They accuse her of promoting oralism and she has even received death threats.1 Harvey says it's a very small group of loud voices that are critical and most of the deaf people she has met love what she's doing.4
Harvey explains she understands the criticism is rooted in an effort to protect Deaf culture. "The Deaf community has been so oppressed for such a long time, and it hasn't been until recently that we've even acknowledged that sign language is a language. In fact, I'm pretty sure only 44 states even accept it as a foreign language, which is ridiculous. But, to have a language, to be proud of your culture, it's survival. And it's important." So because she talks and she sings, some criticize her for doing hearing activities, and view it as shunning the deaf community and saying they need to also talk or sing. However, that is not Harvey's point of view at all.4
" Deaf [people] can do anything that they want to do, they can do any job. They can do any activity, they can sing, they can paint, they can climb mountains, they can have kids, they can be teachers, they can be CEOs of major companies. It doesn't matter."
- Mandy Harvey
Singer, Ambassador, & Author
When her hearing loss progressed, she felt loss, like she didn't belong in either the Deaf or the hearing worlds. She says it was learning American Sign Language that really opened the door for communication for her and being part of the Deaf community, feeling a sense of belonging. Harvey says, "There's so many different forms of being deaf… being deaf doesn't mean that you can't speak, being deaf doesn't mean that you don't like music, being deaf doesn't mean that you have to live in one small bubble."4
She also explains this philosophy is part of the "Deaf Can" movement that has been going on for the last 15 years. The movement advocates, "deaf can do anything that they want to do, they can do any job. They can do any activity, they can sing, they can paint, they can climb mountains, they can have kids, they can be teachers, they can be CEOs of major companies. It doesn't matter."4
Following her Passion
Harvey's dedication to following her passion has inspired countless people around America and the world. She continues to sing and encourage others. She is an Ambassador for No Barriers USA, where she travels the country to encourage others, heighten awareness, and challenge stereotypes.5
She now has a book called Sensing the Rhythm: Finding my Voice in a World Without Sound which is about life lessons she has learned. "What story do you think God is trying to tell through your life?" Harvey was asked in an interview with Real Talk TV Show. She responded, "I think that it's pretty simple, that bad things happen and chaos is all around us, but we have to just keep walking down the path, just keep going forward. That you have such a limited amount of time on Earth and it's messy and it's broken and you're surrounded by people who are also messy and broken and we're supposed to encourage each other, hold each other up."
More on Harvey
Book by Mandy Harvey
Music by Mandy Harvey
Signing Savvy is a participant in the Amazon Services LLC Associates Program, an affiliate advertising program designed to provide a means for sites to earn advertising fees by advertising and linking signingsavvy.com to Amazon properties. That means Signing Savvy may contain affiliate links. If you make a purchase after clicking on an affiliate link, your cost will be exactly the same regardless, but Signing Savvy will automatically receive a small commission. Your support is greatly appreciated and helps us continue to improve Signing Savvy!