Signing Children's Books: The Napping House
This article is part of our "Signing Children's Books" series, which highlights children's books and pairs them with pre-built Signing Savvy word lists to help you get started with learning and signing the vocabulary in the book. Reading and literacy is so important. By sharing these pre-built word lists, we hope to cut down on prep time for families that are just beginning to learn ASL and hope you can find more comfort in sharing literacy with our young deaf children.
The Napping House by Audrey and Don Wood is a well-loved children's classic "build upon" book. Kids love these kinds of books, where there is repetition and humor accompanied by beautiful, engaging pictures. This husband/wife team have written and illustrated many wonderful children's books that continue to offer fun and excitement to the genre of Children's literature.
Extension Activities
This book has so many things you can do with it to explore language and keep the conversation going. My students love to act out the book, whether it is physically acting it out with their classmates, or using toys. There is a 3-D storybook version of The Napping House that includes small pieces your children can use to act out the story, but you may also have toys or items around the house that you can use.
I also had an artist friend do some awesome drawings (see below) so the students could work on their sequencing skills after reading the book.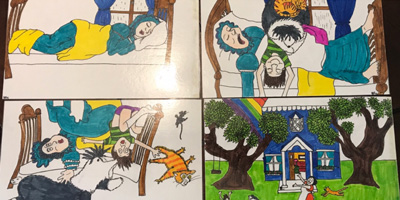 You can take some simple images of a Granny, boy, dog, cat, mouse, and flea, then have your children put them in order, first through sixth, that the characters entered the bed in the story. Have them use their math skills to add up how many characters are in the bed as the story progresses. Here is a great example of how to do this.
The book also has many ways to cover the concept of sleep (slumbering, snoozing, dozing, dreaming, snoring), so it lends itself to a nice discussion about how there can be different ways to show all these concepts through sign, that may involve acting out or some creative drama.
There is even a short, 5-minute video on Amazon Prime that tells the story of The Napping House.
There are many, MANY things to do that are fun and exciting! You can even find free printables and activities from the authors. If you are looking for more ideas, there are a lot of activities on Pinterest that go with The Napping House.
Get the Pre-Built Word List for this Book!
I hope through The Napping House pre-built word list you will feel confident to share this story with your children.
So come explore this house, a napping house, where everyone is sleeping…
Word List for The Napping House
Related Books:
Signing Savvy is a participant in the Amazon Services LLC Associates Program, an affiliate advertising program designed to provide a means for sites to earn advertising fees by advertising and linking signingsavvy.com to Amazon properties. That means Signing Savvy may contain affiliate links. If you make a purchase after clicking on an affiliate link, your cost will be exactly the same regardless, but Signing Savvy will automatically receive a small commission. Your support is greatly appreciated and helps us continue to improve Signing Savvy!