Living Loud: Kitty O'Neil – The Fastest Woman in the World, Stuntwoman, and Racer
This article is part of our "Living Loud" series, which in addition to featuring well-known people who are deaf or hard of hearing, also highlights hearing individuals or unique developments that have positively impacted the world.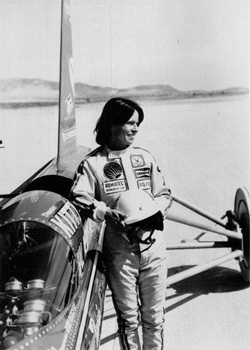 Kitty O'Neil in 1976 with the rocket-powered SMI Motivator vehicle she used to set the land-speed record for women - a record she still holds today. (Photo Credit: Ky Michaelson)
Known as "the fastest woman in the world," Kitty O'Neil was born in Corpus Christi, Texas on March 24, 1946. She became deaf at the age of 4 months. She had a variety of illnesses including measles, mumps and the chicken pox — one or all of which led to her becoming profoundly deaf.
Despite her early illnesses, she became a phenomenal athlete. She said, "My mother pushed me to read lips… but she didn't push me in sports – I did that myself. Because I was deaf, I had a very positive mental attitude. You have to show people you can do anything."
She fell in love with swimming and diving. She finished in twelfth place in the U.S. team trials for the Olympics in Tokyo, where she specialized in diving. Her Olympic dream came to a quick stop in 1964 when she became ill with spinal meningitis. She was told the illness would likely paralyze her. She survived spinal meningitis, only to battle two rounds of cancer by her 28th birthday. However, O'Neil wasn't one to be defeated. "When I was 18, I was told I couldn't get a job because I was deaf. But I said someday I'm going to be famous in sports to show them I can do anything." She lived up to her vow.
" I'm not afraid of anything."
- Kitty O'Neil
After regaining her health, she turned her attention to racing and performing stunts. She was small, at 5ft 2in tall and just 97 pounds, but she said her size made her light and quick and better to withstand impact. Most importantly, she was fearless. "I'm not afraid of anything," she said.
In 1976, at the age of 30, O'Neil was the first woman to be accepted into Stunts Unlimited, an organization of Hollywood's top stunt people. She did stunts in TV shows and movies like Quincy, Baretta, The Bionic Woman, Smokey and the Bandit II, The Blues Brothers, and Airport '77.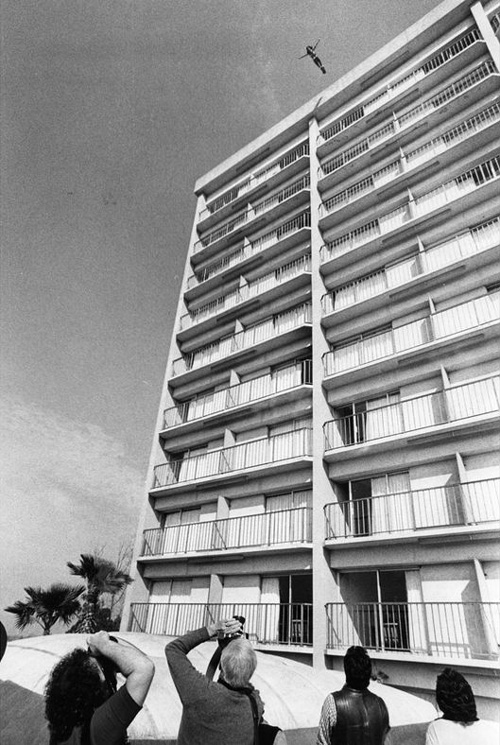 Falling 127 feet as Wonder Woman in 1979, O'Neil set a women's high-fall record. (Photo Credit: IMBd)
Some considered her to be like a real-world Wonder Woman and in 1979 she performed her most famous Hollywood stunt as a double for Wonder Woman. She plunged headfirst down 127 feet from the 12-story Valley Hilton in Sherman Oaks, California onto an inflatable air bag set up on the hotel's pool deck. "If I hadn't hit the center of the bag, I probably would have been killed," she told The Washington Post. With the fall, she set a women's high-fall record, however, she would later beat her own record with a 180 foot fall from a helicopter.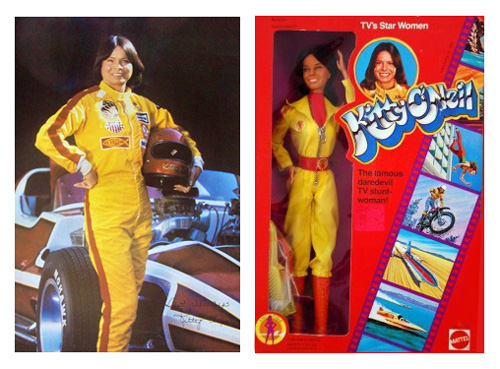 Mattel created a Kitty O'Neil action figure in 1978.
In 1978 Mattel created a Kitty O'Neil action figure and in 1979 a television film was made about her life called Silent Victory: The Kitty O'Neil Story. Stockard Channing stared as O'Neil and, of course, O'Neil did her own stunts. She later commented that about half of the movie was true.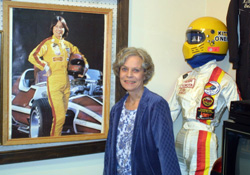 Kitty O'Neil at the Eureka Pioneer Museum in Eureka, South Dakota. (Photo Credit: IMBd)
From racing boats, cars, dune buggies, motorcycles, a three-wheeled machine, and even holding a record for the fastest speed while waterskiing, she set 22 speed records on land and water during her career.
She died November 2, 2018, at the age of 72 in Eureka, South Dakota. The local Museum in Eureka showcases memorabilia from her career as a stuntwoman and racer. She is still the fastest woman driver ever and continues to hold the land-speed record today.
See It Signed - Example Sentence
See this example sentence about Kitty O'Neil signed:
| | | |
| --- | --- | --- |
| English Sentence: | | Did you see the movie about the life of Kitty O'Neil, a deaf stuntwoman and racer? |
| ASL Gloss: | | YOU FINISH SEE MOVIE ABOUT DEAF WOMAN HERSELF FAMOUS S-T-U-N-T WOMAN AND CAR RACER. HER NAME K-I-T-T-Y O'-N-E-I-L. |
Become a Member of Signing Savvy to see more example sentences signed, including example sentences related to Deaf Culture.