Living Loud: Allen Snare – Deaf Pastor, Evangelist, and Missionary
This article is part of our "Living Loud" series, which in addition to featuring well-known people who are deaf or hard of hearing, also highlights hearing individuals or unique developments that have positively impacted the world.
Allen Snare was born Deaf with his hearing twin sister Faye on April 14, 1947. Allen grew up in Huntingdon, Pennsylvania, with his three brothers and three sisters who were all hearing. He attended the Pennsylvania School for the Deaf in Philadelphia and he loved it! He had full access to communication at school. However, access at church was a different story.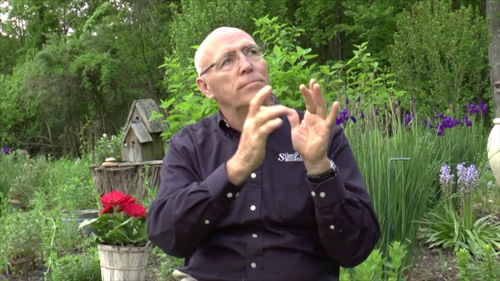 Allen Snare during an interview. (Photo Credit: Jim Bracelin. Testimony of a Deaf Man.)
Allen grew up attending church with no interpreter. He was clueless of what was being said, until one day, in 1968, when he was invited to a church hosting a week-long revival conference. It just so happened they had an interpreter. That was the first time Allen was exposed to an interpreter. Bill Rice III was a visiting Pastor from the Bill Rice Ranch, a ministry with a goal of reaching the deaf through local revival meetings, regional events, and camps. Bill's wife Mary interpreted while Bill preached that day. "When Bill Rice asked me if I was saved I told him 'I never heard of that before'; even though I grew up in church my whole life. Once Bill Rice explained who Jesus was and how he died on the cross to save us from our sins, so that we can go to heaven and not hell, I got saved..."3 Allen finally understood what being saved meant.
Allen was convinced to go to Bible college when he saw an ad for it in the Branding Iron, a newspaper for the deaf from the Bill Rice Ranch. Allen went in 1971, but he felt out of place with only eight other deaf people. In 1975, Allen graduated from Tennessee Temple in Chattanooga. Allen was debating between preaching and becoming a missionary; he felt God called him to be a preacher.
Allen pastored in many deaf churches in Texas, Colorado, Alabama, and Ohio. When Allen was living in Texas, he went to Colorado to host a camp revival for a week. While Allen was there, the interpreter introduced him to a nice deaf woman named Debbie. When Allen returned the following Fall, he asked the congregation after he finished preaching who would like to be saved and Debbie came forward. When Debbie got saved, Allen knew she was the one. He and Debbie started dating and they got married on July 22, 1978.
Allen teamed up with Bill Rice III again, the man who first introduced him to an interpreter and helped him to understand the meaning of being saved, when he played the lead role in the movie When Silence Speaks. The movie was produced by Bill Rice III and released by Bill Rice Films Production in 1994. It was a fictional Christian movie about a deaf man, Gordy, played by Allen, searching to understand the meaning of the cross. Allen's son, John, also was in the movie in the role of a young Gordy.
" My Heart's Desire Is To See More Deaf People Saved."
- Allen Snare
Allen pastored in Pennsylvania for 12 years at Faith Baptist Church in Fairless Hills; he thought he would preach there until he died. However, God had other plans; he was let go from that position.
Allen reached out to Ted Camp, the founder of Silent Word Ministries and told him he was called to serve with him at Silent Word Ministries. At first Ted was hesitant, so they both prayed about it for a week. Allen contacted him a week later stating "God still wants me to join your ministry."3 Ted agreed and Allen and his wife moved to Georgia to start serving for Silent Word Ministries in 2000. Allen is still a full-time missionary with Silent Word Ministries. He travels wherever he is called. He's been to ten different countries for missionaries and to preach at revival meetings.
Sadly, Debbie was diagnosed with colon cancer the year he started with Silent Deaf Ministries. She fought cancer for five years and in 2006, Debbie passed away. Together they raised a wonderful family. They had three children. Their daughter Joy is hearing, and their two sons, John and Justin, are deaf. Allen is now a grandfather of three. He has one deaf granddaughter and a hearing grandson and granddaughter. They all know sign language.
You can find Allen's testimony as well as preaching videos on YouTube. He plans to serve the rest of his days as a deaf evangelist to honor his mission statement: "My Heart's Desire Is To See More Deaf People Saved."