Living Loud: Andrew Foster – Pioneer Missionary, Educator, Mentor, and Advocate for the Deaf
This article is part of our "Living Loud" series, which in addition to featuring well-known people who are deaf or hard of hearing, also highlights hearing individuals or unique developments that have positively impacted the world.
Andrew Foster was the first African-American to earn a Bachelor of Arts from Gallaudet University. He ultimately set up 32 schools for the deaf in Africa. Because of this, he is known as the "Thomas Hopkins Gallaudet" of Africa and the "Father of Deaf Education in Africa."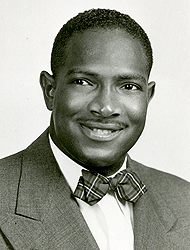 Portrait of Andrew Foster. (Photo Credit: Gallaudet University. Andrew Foster: Visionary Leader - May 2014.)
Foster was born on June 27, 1925 in Ensley, Alabama. His father Wiley was a coal miner and World War I veteran and his mother Veline was a homemaker. He was the oldest of their four children. When he was 11 years old, both he and his brother contracted spinal meningitis and became deaf. Growing up he didn't have access to much education because he was deaf and black. He went to the Alabama School for the Colored Deaf, as schools were segregated in Alabama during this time and education for African Americans was only offered through sixth grade. The only way for Foster to continue his schooling past sixth grade was for him to move to Flint, Michigan with his aunt. He attended the Michigan School for the Deaf, which went to eighth grade. Then Foster took correspondence courses and finally received his high school diploma in 1951 at age 26. It was during his time in Michigan that he went to Bethany Pembroke Church every week and learned about missionary work.
He applied and had been rejected several times to Gallaudet College due to his race, but he finally became the first African American accepted to Gallaudet in 1951. He was given a full scholarship and in 1954 was the first African American to graduate from Gallaudet. The Gallaudet president at that time, Leonard Elstad, encouraged Foster to pursue his dream of becoming a missionary.
In addition to a Bachelor of Arts degree in Education from Gallaudet, he obtained two master's degrees. In 1955 he was the first African American to earn a master's degree from Michigan State Normal College, which is now called Eastern Michigan University. His master's degree was in Education and he earned a second master's degree in Christian Mission from Seattle Pacific College in 1956… that's 3 degrees in six years!
" In that day, the deaf will hear the words of the book."
- Isiah 29:18,
Andrew Foster's
Favorite Bible Verse
He established the Christian Mission for Deaf Africans, now known as the Christian Mission for the Deaf, in 1956 in Michigan. Foster went on to do speaking tours in the U.S., Canada, Mexico, Western Europe, and 25 African nations. His favorite Bible verse was Isiah 29:18 "In that day, the deaf will hear the words of the book." He knew in order to understand the Bible and become saved, the deaf first needed to be able to read. His passion was to educate the deaf to be literate – to read, write, and sign. He used the Total Communication method of using sign language, fingerspelling, speech, speech reading, writing, and more. He was especially an advocate of using visual language and visual learning for teaching deaf children.
In 1957 Foster arrived in Africa. During that time, not only were there no churches for the deaf, there were only 12 schools for the Deaf on the entire continent. School administrators and hearing missionaries told Foster deaf children didn't exist in Africa. Perhaps they even believed these false narratives because the culture was so oppressive of deaf people that parents would keep them hidden at home. In remote villages, some deaf children were thought to be cursed by demons and were abandoned to be eaten by wild animals. Throughout his life he would preach, "Tomorrow may be too late!" He worked steadfast to convince local education officials there were many deaf children and that they had a moral obligation to provide them with opportunities.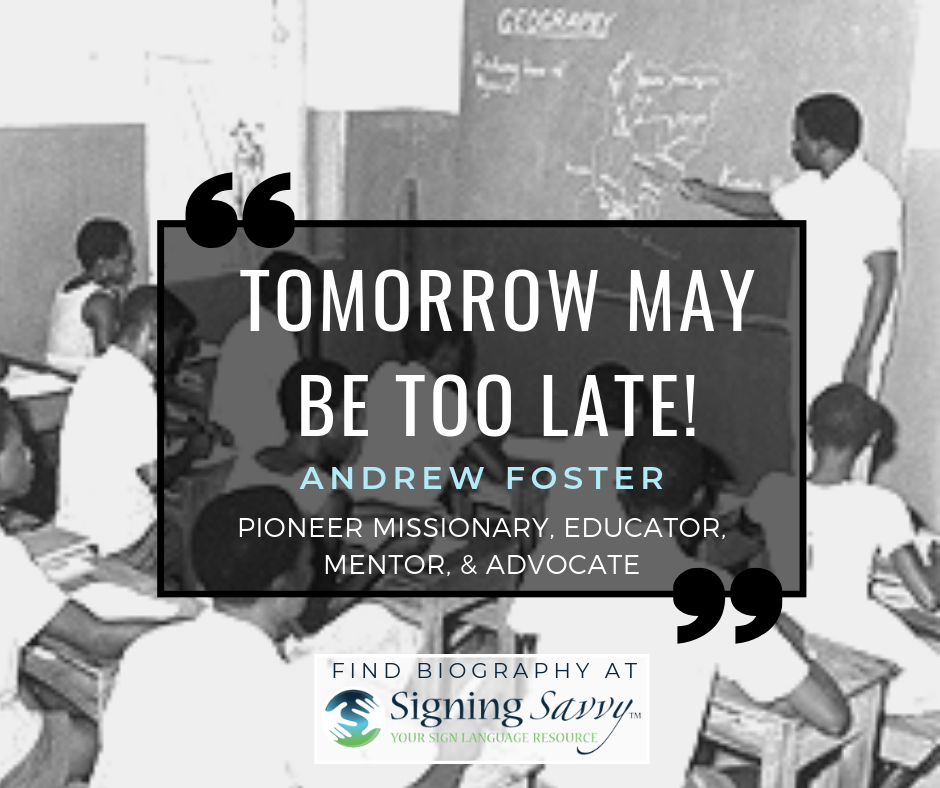 Foster teaching a geography class in Ibadan, Nigeria in 1960.
(Photo Credit: Gallaudet University. Andrew Foster: Visionary Leader - May 2014.)
The first Deaf school he set up was in Osu, which is a suburb of Accra, Ghana; it was held in a borrowed classroom of a Presbyterian church. He later received a donation of a building and land that he used to set up a permanent residential school in Mampong-Akwapim. Shortly after opening the school, it was filled to capacity. The school housed approximately 80 children, as well as some adults. He was the director of the school until 1965.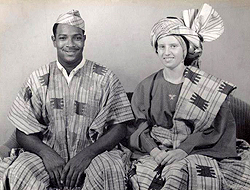 Andrew and Berta Foster dressed in traditional Nigerian wedding fashion. (Photo Credit: Gallaudet University. Andrew Foster: Visionary Leader - May 2014.)
Foster married a deaf German woman, Berta, in 1961 in Nigeria, they had met at the Third World Congress of the Deaf in 1959. They had four sons and a daughter together. With Berta's help, Foster established another 29 schools.
Foster trained teachers, taught students, advised government officials about the need for more schools for the deaf, and educated the public about the needs of Deaf Africans. Due to Foster's efforts Gallaudet welcomed their first generation of students from Foster schools in Africa.
In 1970 Foster earned an honorary doctorate from Gallaudet in Humane Letters. He received the Man of the Year award in 1962 from Alpha Sigma Pi and the Edward Miner Gallaudet Award from Gallaudet College Alumni Association in 1975. He also received alumni awards from his other alma maters: the Alumni Honor Award from Eastern Michigan University in 1980 and the Medallion Award from Seattle Pacific University in 1982.
Tragically, Foster passed away in a small plane crash traveling to Rwanda in December of 1987. The plane suffered from mechanical problems and none of the 13 passengers survived. They are all buried near the crash site near Gisny, Rwanda.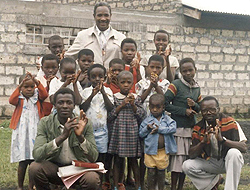 Foster with students and teachers at his mission school in Goma, Congo, in 1985. (Photo Credit: Gallaudet University. Andrew Foster: Visionary Leader - May 2014.)
The Christian Mission for the Deaf continues to carry on Foster's dream of establishing more schools for deaf people in Africa. The National Black Deaf Advocates donated a bust of Foster, sculpted by Virginia Cox, to Gallaudet and established the Andrew Foster Endowment Fund. Gallaudet also established the Dr. Andrew Foster Merit Based Scholarship for students. Gallaudet University renamed and dedicated their auditorium the Andrew Foster Auditorium in October 2004 to recognize his role as "Father of Deaf Education in Africa."
Dr. Foster started more deaf schools than anyone in the history of deaf education. One reason we see ASL used outside of North America is due to missionary's like Andrew Foster. The hundreds of deaf children who have learned to read, write and communicate under Dr. Foster carry on his legacy.