Living Loud: Robert Panara – Pioneer of Deaf Studies, Author, Historian, Poet, and Teacher
This article is part of our "Living Loud" series, which in addition to featuring well-known people who are deaf or hard of hearing, also highlights hearing individuals or unique developments that have positively impacted the world.
Dr. Robert F. Panara was much more than just a member of the Deaf community, he was an author, historian, poet, and a worldwide authority on deaf figures in literature. While these are all notable achievements, his biggest achievement was being a pioneer of Deaf Studies - the first deaf professor at the National Technical Institute for the Deaf (NTID) and founder of both the NTID Department of English and NTID's Experimental Education Theatre program.1, 3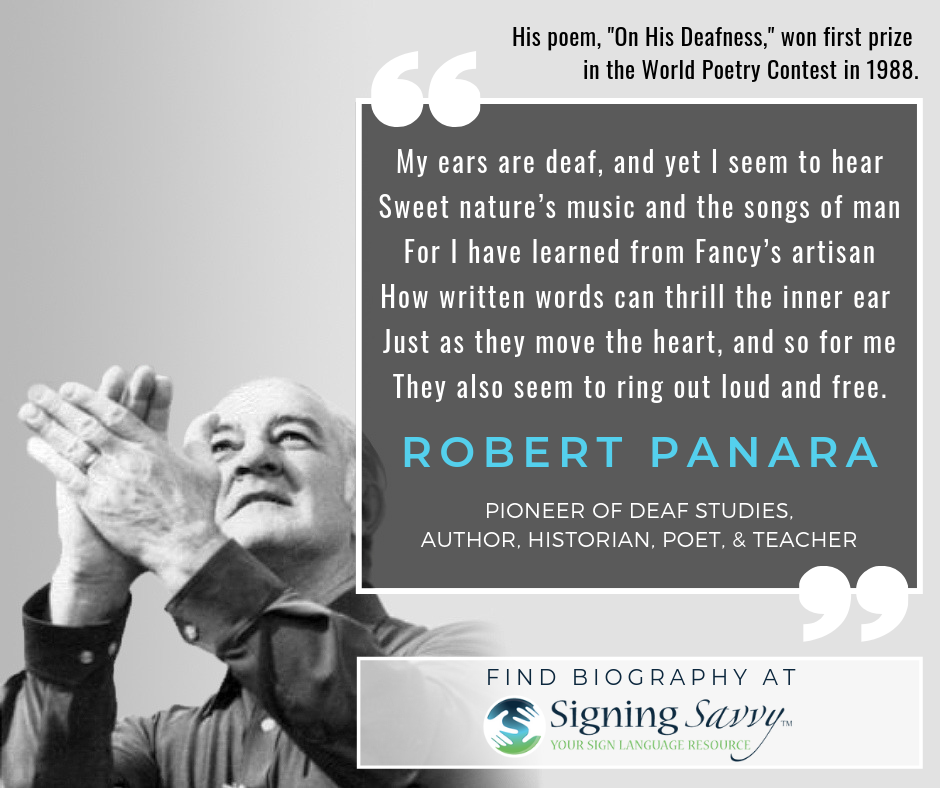 Robert Panara's poem, "On His Deafness," won first prize in the World Poetry Contest in 1988.
(Photo Credit: NTID Performing Arts.)
Early Life
Robert Panara, who went by the name Bob, was born on July 8th, 1920 in The Bronx of New York City, but according to an article in The Economist his life did not start until January 19th, 1931 when, at the age of 10, he became deaf after contracting spinal meningitis on his mother's birthday. The meningitis caused blurred vision, temporary loss of feeling in his arm, and damage to his auditory nerves. It was not until a nurse had attempted to speak with Panara that they realized the illness had caused deafness.2
Finding a Passion for Deaf Studies
" What the world needs today is more teaching that comes from the heart and soul and not of the coldly conservative and somewhat reticent mind."
- Robert Panara
Growing up Panara attended a mainstream school and would rely on fellow students to help him with taking notes. After graduating from DeWitt Clinton High School, he learned American Sign Language in Hartford, Connecticut at the American School for the Deaf. In 1940 Panara started working on his bachelor's degree at Gallaudet University. During his time at Gallaudet, Panara published several papers that helped establish him as one of the pioneers in the deaf education field.1 One paper specifically, "The Significance of the Reading Problem," articulated his views on teaching methods. Panara believed that "what the world needs today is more teaching that comes from the heart and soul and not of the coldly conservative and somewhat reticent mind." This would set the tone of his teaching style in the future.1
Panara graduated from Gallaudet in 1945 and went on to earn a master's degree in English from New York University (NYU). He was the first deaf person to earn a master's degree from NYU.1 He would later have many more achievements just like this one.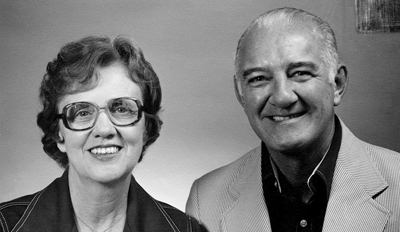 Shirley and Robert Panara. (Photo Credit: NTID Performing Arts.)
Panara met his wife Shirley at a wedding and they got married in 1947. She was a deaf librarian, teacher, coach, sports enthusiast, and even played the drums on occasion. She was the first deaf librarian at the Library of Congress. They had a son, John, and two grandchildren.3
Panera taught at the New York School for the Deaf and then was hired to teach at Gallaudet University in 1948, where he taught for nearly 20 years. Then he joined the newly formed National Technical Institute for the Deaf (part of the Rochester Institute of Technology) and taught and was an administrator there for another 20 years.7
Robert Panara and the National Technical Institute for the Deaf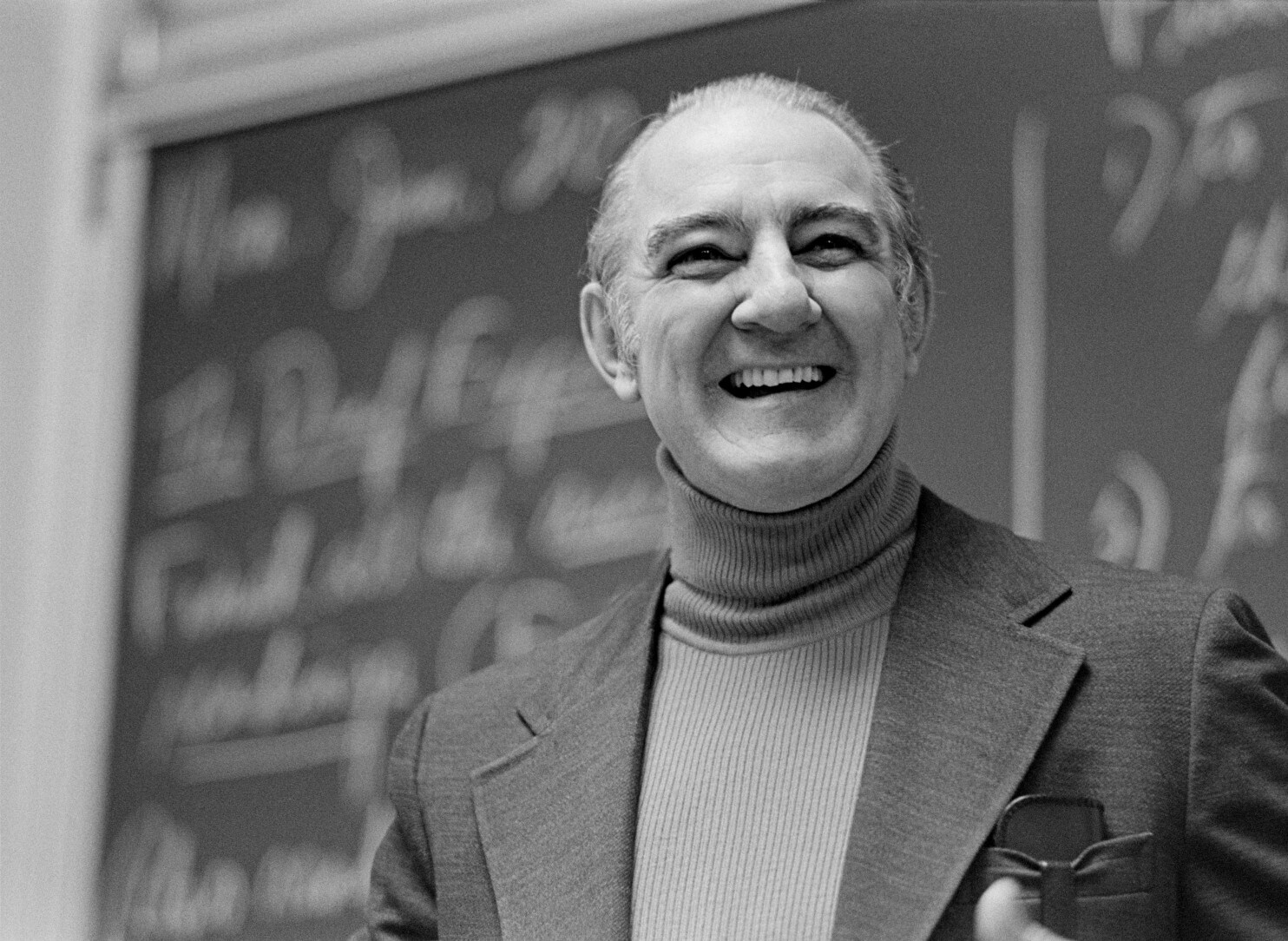 Robert Panara (Photo Credit: RIT/NTID via Washington Post)
As a pioneer of deaf studies, Robert Panara helped change the life of many people in the deaf community. An article in the American Annals of the Deaf stated, "In 1965, he was invited by the Secretary of Health, Education, and Welfare, John W. Gardner to serve on a national advisory board for the establishment of the National Technical Institute for the Deaf (NTID)." That experience would later lead to him being hired as the first deaf faculty member at NTID in 1967.1 He also was the founder and first chairman of NTID's Department of English.3 During his time at NTID he would receive multiple awards and honors, but one of his most notable would be founding the NTID Experimental Education Theatre program as well as being one of the founding members of the National Theatre of the Deaf.1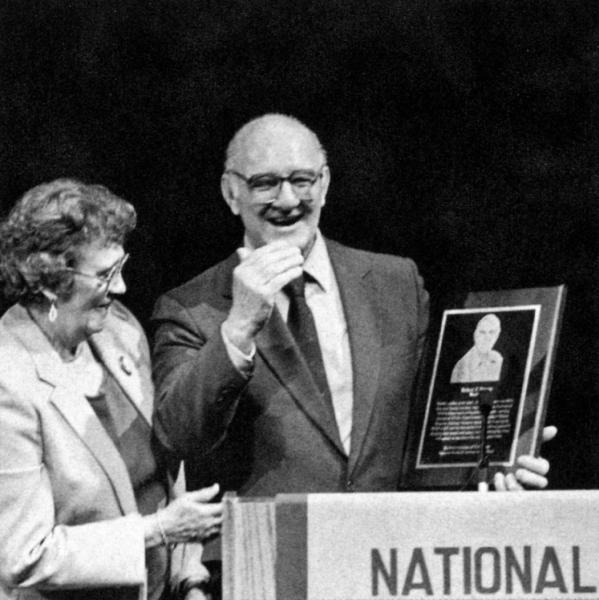 Robert Panara receiving an award in 1988 at NTID with his wife Shirley. (Photo Credit: NTID.)
Panara created a form of production that could be accessible equally for both Deaf and hearing audience members. This would be not only for the audience, but also backstage and on-stage. Alongside the NTID drama club members, he was able to use "experimentation and imagination" as one of the foundations of the productions. They created bodies of art that enriched lives of the thousands of attendees. A 500-seat auditorium was built in his honor in the early 1970's and would open as The Robert F. Panara Theatre on October 3rd, 1974 with the first production taking place in the space being Shakespeare's play Taming of the Shrew. The theatre has hosted famous guests such as Phyllis Frelich, Marlee Matlin, Bernard Bragg, American Deaf Dance Company, Jane Fonda, and many other notable entertainers.6 This was a huge honor for Panara that brought awareness and artistic growth to the Deaf Community.
The Robert F. Panara Theatre was not the only honor Panara was given during his time at NTID. Other awards include: RIT Founders Award, the RIT Eisenhart Award for Outstanding Teaching, and the NTID Student Association Outstanding Staff Award (McGrain, 2014).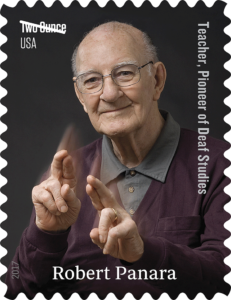 A U.S. stamp was issued in honor of Robert Panara on April 11, 2017 as part of the Distinguished Americans series. (Photo Credit: USPS)
He was even honored with being the subject of a United States Postal Service stamp. The stamp is the 16th in the Distinguished American's series. Robert's son John stated, "I'm very proud to see my dad honored and Deaf culture recognized in this way, and I want to thank the personnel at the USPS Stamp Development Office for all their work in the design process."5 This was a great honor not only for Robert, but also for NTID and the Deaf community.
Leaving a Legacy
Panara died on July 20th, 2014 at the age of 94.2 Friends and colleagues described his positive perspective on life as well as the way he engaged with his students as admirable. In an interview with Harry Lang, NTID professor emeritus, Lang states that "his work [with the NTID drama club] helped the actors show the beauty of American Sign Language and opened minds and doors in so many ways. He had a true talent for translating the most complex of subjects, like Shakespeare, into ASL."1 Lang was not only one of Panara's colleagues, but also a close friend. It is clear that his impact on the Deaf community was influential.
Thanks to his many contributions to NTID and his many publications during his time at Gallaudet which demonstrated his focused teaching methods, Robert was named a pioneer of deaf studies.1 His legacy will live on and his place in the Deaf community will be forever remembered.
More on Panara
Book - Biography About Robert Panara
Books by Robert Panara
Robert Panara Stamps
Signing Savvy is a participant in the Amazon Services LLC Associates Program, an affiliate advertising program designed to provide a means for sites to earn advertising fees by advertising and linking signingsavvy.com to Amazon properties. That means Signing Savvy may contain affiliate links. If you make a purchase after clicking on an affiliate link, your cost will be exactly the same regardless, but Signing Savvy will automatically receive a small commission. Your support is greatly appreciated and helps us continue to improve Signing Savvy!