Living Loud: William Ellsworth "Dummy" Hoy – Major League Baseball Player Credited with Originating the Use of Baseball Signals
This article is part of our "Living Loud" series, which in addition to featuring well-known people who are deaf or hard of hearing, also highlights hearing individuals or unique developments that have positively impacted the world.
William Ellsworth Hoy was born May 23, 1862 on a farm in Houcktown, Ohio. He became deaf after having spinal meningitis or what they called "brain fever" when he was two or three years old.
Hoy started at the Ohio School for the Deaf (then called "the Deaf and Dumb Institute") when he was 10 years old. Around 1870, the Ohio School for the Deaf was the first school for the deaf to introduce baseball, and Edward Joseph "Dummy" Dundon, who graduated one year before Hoy, became the first deaf professional baseball player and the first deaf person to officiate as umpire in a professional game.
Like "Dummy" Dundon and ANY deaf Major League Baseball player during this time period, Hoy was given the nickname "Dummy" and it was used throughout the rest of his life like a first name. Although it was a thoughtless and insensitive nickname, Hoy preferred to be called Dummy over William, Will, or Bill. Even at the age of 95, he wrote to The Sporting News saying, "Tell them to call me Dummy again, like they always did."
A Regular Cracker Jack!
" On the whole I found it no handicap... indeed, my deafness was often an asset. The yelling of the opposition was useless as far as I was concerned, and they soon found that out. As to the yelling of my own coaches, it meant nothing to me."

- William Dummy Hoy
Hoy was smart: he was the valedictorian of his graduating class in 1879. He opened his own business, a shoe store, but when things got a little slow, Hoy joined in the neighborhood kids' baseball games. During a tryout with a professional pitcher, a scout saw him hitting every pitch, and encouraged him to go to Milwaukee. Even though he was short and skinny (5'4", 150 pounds), and yes, by the way, deaf, he was later signed to a baseball team in Oshkosh, Wisconsin.
When asked if his deafness was a handicap or asset during his baseball career, Hoy said, "On the whole I found it no handicap... indeed, my deafness was often an asset. The yelling of the opposition was useless as far as I was concerned, and they soon found that out. As to the yelling of my own coaches, it meant nothing to me."
Major League Career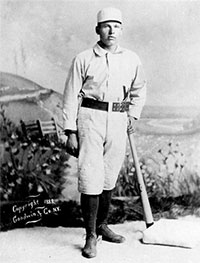 Photo of Hoy taken in 1888, the year he started playing in the Major League for the Washington Senators. (Photo Credit: Goodwin & Co. [Public Domain], via Wikimedia Commons)
Hoy began his Major League career in 1888 when he joined the National League Washington Senators. People might have had doubts about his ability, but in his first Major League year Hoy proved them all wrong. Turns out skinny, short guys can steal a lot of bases: Hoy led the National League with 82 steals his rookie year. Across his career, he became one of the all-time leaders in stolen bases (ranked 13th). Twice Hoy led the league in walks, and once in stolen bases and at-bats. He had a career total 2,054 hits (including 40 home runs) in 1,798 games over 14 years. In one of his most amazing games, he threw out three Indianapolis base-runners at home plate in one game on June 19, 1889... from the outfield. He is one of only three baseball players in history that can claim that accomplishment.
Hoy played on four pennant-winning teams: Oshkosh Club of the Northwestern League in 1887, Chicago White Stockings of the American League in 1900 and 1901, and Los Angeles Looloos of the Pacific Coast League in 1903.
In 1902, a historic game was played as Hoy batted against pitcher Luther Haden "Dummy" Taylor, who was also deaf. It was the only game in Major League Baseball history where two deaf professional baseball players have played against each other.
Retirement
After an outstanding career, Hoy retired in 1903 at age 43. In his retirement, he bought and ran a dairy farm for twenty years before selling it in 1924. During World War I, he was a personnel director for Goodyear Tires. He coached the Goodyear Silents baseball club from 1919 to 1920, and umpired Deaf-team games.
Legacy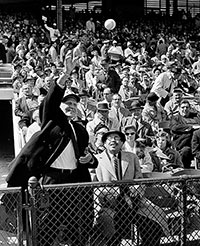 Hoy threw the first pitch at the opening of the national league season in a game between the Reds and Chicago Cubs in Cincinnati, Ohio. (Photo Credit: AP Photo)
When Hoy first started in the Major Leagues, there were no signals and umpires only shouted the calls. According to legend, Hoy asked the umpires to signal strikes and balls and also taught his teammates fingerspelling and signs, which they used to communicate on the field and to avoid collisions during fly balls. Because of this legend, some sources credit Hoy for originating the use of standard baseball signals, such as for strike, ball, safe, and out, now used throughout the world by umpires. However, some also credit Dummy Dundon and umpire Bill Klem for starting the use of baseball signs. A documentary film about this dispute was created called Signs of the Time: The Myth, The Mystery, the Legend of Baseball's Greatest Innovation starring Richard Dreyfuss.
In addition to the documentary Signs of the Time: The Myth, The Mystery, the Legend of Baseball's Greatest Innovation (2008) and an off-Broadway play in Chicago called The Signal Season of Dummy Hoy, a documentary called Dummy Hoy: A Deaf Hero (2007) (also known as I See the Crowd Roar) and a film called The Silent Natural (2019) was created about Hoy's life. There is also a children's book about his life called The William Hoy Story: How a Deaf Baseball Player Changed the Game.
In 1951, the American Athletic Association of the Deaf Hall of Fame honored Hoy by electing him as its first member. He has also been inducted into the Ohio Baseball Hall of Fame, and the Cincinnati Reds Hall of Fame, although efforts to get him elected into the Baseball Hall of Fame in Cooperstown have so far been unsuccessful.
The baseball field at Gallaudet University was named the William "Dummy" Hoy Baseball Field in his honor. Additionally, events have been created in Hoy's honor. Every two years the William "Dummy" Hoy Classic baseball game is held during Deaf Awareness Week. Several cities have proclamations issuing "Dummy Hoy Day" on Hoy's birthday (May 23rd) including Cincinnati, Columbus, Hancock County in Ohio, Buffalo in New York, Louisville in Kentucky, and Oshkosh in Wisconsin.
On October 7, 1961 Hoy threw his last ball at the Opening Day of the third World Series game in Crosley Field (Reds v. Yankees). At 99, he was the oldest living Major League Baseball player. He died just two months later on December 15th, but as a legend of baseball, Hoy lives on in his records.
See It Signed - Example Sentence
See this example sentence about Hoy:
ASL Gloss: W-I-L-L-I-A-M QUOTE D-U-M-M-Y H-O-Y HIMSELF FAMOUS DEAF BASEBALL PLAYER HE HELP SETUP BASEBALL S-I-G-N-A-L-S SAFE OUT.
English Example: William "Dummy" Hoy was a Deaf Major League Baseball player and some say he helped establish the baseball signals for safe and out calls.
Become a Member of Signing Savvy to see more example sentences signed, including example sentences related to Deaf Culture.
More on Hoy
Books
Movies
Resources
Adapted from: Cartwright, B. & Bahleda, S. (2015). Did You Know? William Ellsworth "Dummy" Hoy, Baseball Player. In Lessons and Activities in American Sign Language (p. 19). RID Press.
Camp, Ted (2011, September 22). A Tribute to Andrew Foster. Silent Word Ministries. Retrieved from: https://www.silentwordministries.org/2011/09/22/the-written-word-a-tribute-to-andrew-foster/
MSM Productions, Ltd. (n.d.). Dummy Hoy Homeplate Website. Retrieved from http://dummyhoy.com
Moore, Matthew S. and Panara, Robert F. (1996). Great Deaf Americans (2nd ed.). Rochester, New York: Deaf Life Press.
Baseball-Almanac, Inc. (n.d.). Dummy Hoy Stats. Retrieved from http://www.baseball-almanac.com/players/player.php?p=hoydu01
Craig, Lori. (n.d.). Lobby Display - Hand Signals and Dummy Hoy: Who Created Those Hand Signals? Rochester Institute of Technology: National Technical Institute of the Deaf. Retrieved from http://www.ntid.rit.edu/dummyhoy/lobby-display
Signing Savvy is a participant in the Amazon Services LLC Associates Program, an affiliate advertising program designed to provide a means for sites to earn advertising fees by advertising and linking signingsavvy.com to Amazon properties. That means Signing Savvy may contain affiliate links. If you make a purchase after clicking on an affiliate link, your cost will be exactly the same regardless, but Signing Savvy will automatically receive a small commission. Your support is greatly appreciated and helps us continue to improve Signing Savvy!