Living Loud: Linda Bove - Actress and Activist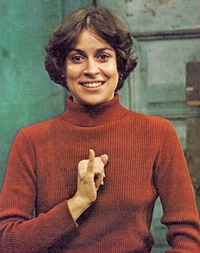 Linda Bove signing the letter I on Seseme Street. (Photo Credit: PBS - Seseme Street)
Linda Bove appeared on the PBS children's television show, Sesame Street, from 1971 to 2002, the longest-running role for a deaf actor in television history. She first appeared as the character, Linda the Librarian.
Background
Linda Bove was born in Garfield, New Jersey on November 30, 1945. She was born deaf, and her parents were both deaf. She went to Gallaudet University, receiving a B.S. in Library Science in 1968, but she also participated in several theatrical productions, and studied in the National Theatre of the Deaf (NTD) Summer School Program during her senior year. As a member of the NTD troupe, she first appeared on Broadway in 1970.
Can You Tell Me How to Get to Sesame Street?
First appearing on Sesame Street in 1971, Linda was the show's first deaf actor. Linda taught the alphabet, and signs for colors, food, animals and family members on Sesame Street, but she also demonstrated what it meant to be deaf and how to manage common, everyday experiences as a deaf person. Linda's role on Sesame Street lasted from 1971 to 2002, and was the longest-recurring role in television history for a deaf actor.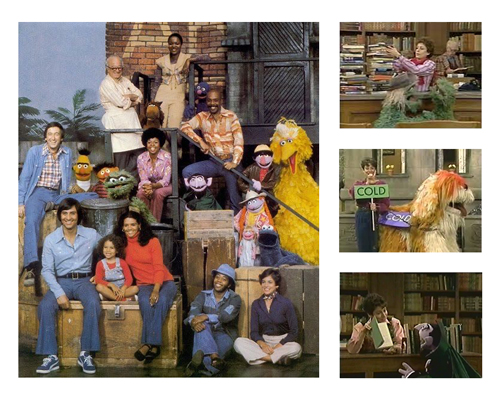 Linda Bove as Linda the Librarian on Seseme Street. (Photo Credit: PBS - Seseme Street)
More Television
Linda made other appearances on television. She appeared in a Happy Days episode as Arthur (The Fonz) Fonzarelli's girlfriend, Allison. She also acted on the soap opera, Search for Tomorrow, as Melissa Hayley Welden in 1973. Linda was the first deaf actress to become a regular in a soap opera. Many of the cast and crew members from Sesame Street and Search for Tomorrow learned sign language from Linda while she was engaged with their show.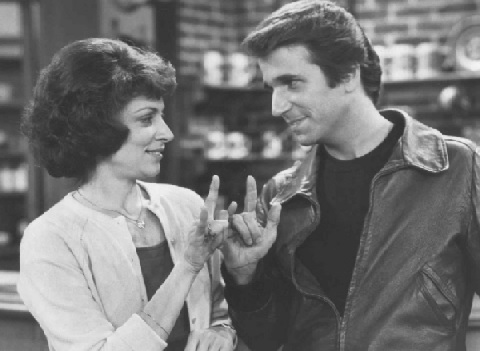 Linda Bove (as Allison) and Henry Winkler (as Arthur "The Fonz" Fonzarelli) signing "I love you" to each othe in ASL on Happy Days in Season 7, Episode 19 called, "Allison." (Photo Credit: ABC - Happy Days)
Let's Put on a Show!
With her husband and fellow deaf actor, Ed Waterstreet, Linda Bove established a sign language theatre company in Los Angeles in 1991, and called it Deaf West Theatre. Deaf West Theatre Company was the first company to be based on deaf actors. Productions, all performed in American Sign Language, have included Children of a Lesser God, Pippin, and Big River. (If you don't know sign language, the theatre provides headphones so you may listen to a translator.)
Deaf West Theatre has recently collaborated with Apple TV+, creating a video to the feature song from the film CODA. They have collaborated with Capitol Records and Atlantic Records to produce music videos with Calum Scott and Kelly Clarkson, as well as partnering with Disney to create performances for the Disney Princess YouTube channel. Deaf West Theatre is all about, "Setting the standard for bold and inclusive entertainment." Their roots were definitively planted by Linda Bove with Ed Waterstreet.
To learn more, go to the Deaf West Theatre website.
Why Not Use the Real Thing?
Linda Bove was a board member of the Alliance for Inclusion in the Arts, formerly called the Non-Traditional Casting Project, which stood for including people of different ethnicities and people with disabilities in theatre, film and television. The Alliance for Inclusion in the Arts works to encourage film producers, directors and casting agents to audition and use deaf actors in deaf roles, rather than having a hearing actor 'act' deaf. In 2009, she said, "A hearing actor playing a Deaf character is tantamount to putting a white actor in blackface." Bove highlights in the article that from the perspective of deaf people with a rich culture and language, hearing actors can never fully master the sign language or begin to approximate what it is like to be a deaf person. She advocates for deaf actors to play deaf roles, thereby adding clarity and bringing a human element and authentic experience to the role.
Signing Books for Kids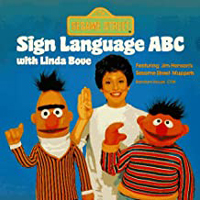 The book "Sign Language ABC with Linda Bove" released in 1985.
Bove was instrumental in getting children interested in learning American Sign Language. Her television presence inspired people to take an interest in communicating with others through sign, and Linda was eager to facilitate learning. She authored a series of Sesame Street books, teaching how to sign words and letters in Sesame Street Sign Language ABC with Linda Bove, and Sign Language Fun. Working with the National Theatre of the Deaf, Linda developed a series of sign language pages for The Sesame Street Treasury.
Far-Reaching Inspiration
Linda Bove's talent for acting and enthusiasm for naturally exemplifying Deaf culture, have helped people all over the world to understand and respect each other. Linda's accomplishments highlight effective ways of respecting differences and honoring equality. Her work epitomizes the ideal that entertainment should be as diverse as its audience.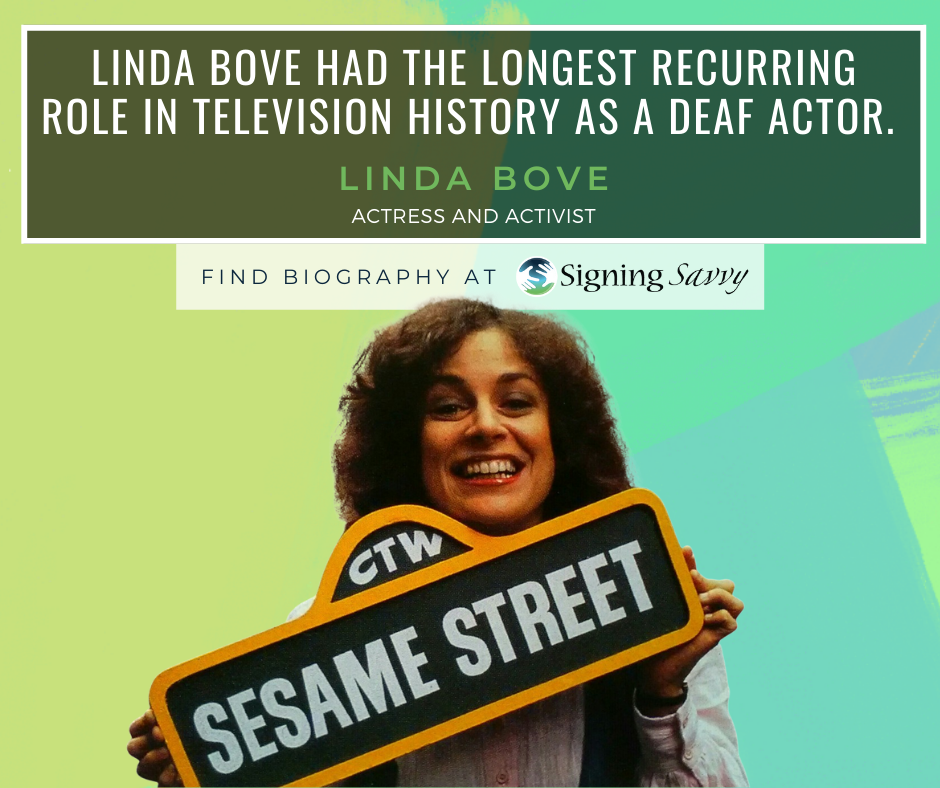 Linda Bove had the longest recurring role in television history as a Deaf actor. (Photo Credit: PBS - Seseme Street)
See It Signed - Example Sentence
See this example sentence about Bove:
ASL Gloss: L-I-N-D-A B-O-V-E HERSELF DEAF ACTRESS. SHE ACT #TV PROGRAM S-E-S-A-M-E S-T-R-E-E-T ROLE WHAT? L-I-N-D-A T-H-E LIBRARIAN CONTINUE 31 YEARS.
English Example: Linda Bove is a deaf actress. She played the role of Linda the librarian on Sesame Street for 31 years.
Become a Member of Signing Savvy to see more example sentences signed, including example sentences related to Deaf Culture.
More on Bove
Books
Resources
Adapted from: Cartwright, B. & Bahleda, S. (2015). Did You Know? Linda Bove, Actress And Activist. In Lessons and Activities in American Sign Language (p. 59). RID Press.
Signing Savvy is a participant in the Amazon Services LLC Associates Program, an affiliate advertising program designed to provide a means for sites to earn advertising fees by advertising and linking signingsavvy.com to Amazon properties. That means Signing Savvy may contain affiliate links. If you make a purchase after clicking on an affiliate link, your cost will be exactly the same regardless, but Signing Savvy will automatically receive a small commission. Your support is greatly appreciated and helps us continue to improve Signing Savvy!