Cooking Up Language with Signs: Fruit Pizza
This article is part of our "Cooking Up Language With Signs" series, which features a recipe and accompanying sign language word list to get you started on an interactive cooking activity that is great for spicing up language learning at home or in the classroom.
What's cookin'?
Today we're cooking up Fruit Pizzas. These are so cute. You can easily customize them to be themed for a special event or holiday. It's also fun to have kids decorate their own.
We especially love these at Spring time because of the bright colors and freshness of the fruit. We like to make them in the shape of an "Egg" around Easter.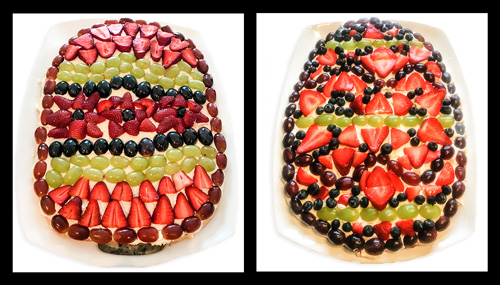 Arranging the fruit is the fun part. You can randomly place the fruit on the cookie or come up with a pattern. You could even place fruit to create a themed design — like creating the USA flag by placing blueberries in the star area of the flag and using strawberries to create red stripes. The possibilities are endless!
Another fun option is to make mini, individual sized fruit pizzas so everyone may create their own. It can be a fun activity, or you can make it into a competition with everyone voting for their favorites.

Regardless of how they end up looking, everyone wins because they taste delicious!
Recipe
Enjoy making these colorful and fun fruit pizzas. Use the pre-built word list created to go along with the recipe to help you as you make this tasty recipe.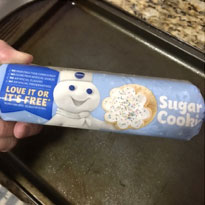 This is a delicious recipe, but if you want to simplify, save time, and focus on the decorating, you can purchase pre-made cookie dough and frosting.
Then just decorate with your favorite fruit.
Fruit Pizza

This recipe goes with the word list Cooking Up Language with Signs: Fruit Pizza.

Prep Time: 45 minutes (plus 1 hour to refrigerate dough)
Cooking Time: 20 minutes
Total Time: 1 hour 5 minutes
Serves: About 16 servings

INGREDIENTS

For the Cookie Dough (Fruit Pizza Crust):

Pro-Tip: This lemony sugar cookie recipe is delicious, but if you want to save time, buy pre-made sugar cookie dough. You can also make the cookie dough recipe below a few days in advance and store it in the refrigerator for when you are ready to make the fruit pizzas. You could also bake the cookie a few days in advance (but we prefer to bake it the day you'll top it and eat it).

For the Frosting:

Pro-Tip: We love this lemon cream cheese frosting on our fruit pizzas, but you may also purchase pre-made frosting to make prep quick and easy.

For the Fruit Topping:

Pro-Tip: You can skip the glaze (jelly and water) and just do the cut fruit on top of the pizza. The glaze helps keep the fruit from wilting, but because the fruit pizza is best enjoyed the day you assemble it, you may skip this step if you are trying to save time or do not have the ingredients.

TOOLS

parchment paper
cling wrap
lemon squeezer
zester / grater
pizza cutter
pastry brush

MEASUREMENTS

DIRECTIONS

Prep:

This is an easy step to forget: Set these items out ahead of time to soften / come to room temperature:

For the cookie dough: 12 tablespoons unsalted butter and 2 eggs
For the frosting: 8 oz cream cheese and 8 tablespoons unsalted butter

Making the Cookie Dough:

Combine the dry ingredients for the cookie dough in a bowl: flour, salt, and baking soda.
In another bowl (or the bowl of a stand mixer with the paddle attachment), start to make the batter by combining the butter, sugar, and lemon zest for about 2 minutes or until light and fluffy.
Add the eggs to the batter, one egg at a time, beat until combined.
Turn your mixer to low and add the dry ingredients, until there are just a few flour streaks left. Stop the mixer and finish stirring by hand and scrape the dough off of the sides of the mixing bowl and shape the dough into a large disc. Wrap the dough in cling wrap. Refrigerate for at least one hour, until firm.

Baking the Cookie Dough:

Preheat the oven to 350 F.
Cover a large baking sheet with parchment paper. Roll out the dough between sheets of parchment or waxed paper until it is a rectangle about 16x12 inches. (This size should give you a think, soft, cake-like cookie; you may make it thinner if you prefer.) Use a knife to trim the rectangle into any shape you like or use a cookie cutter or the rim of a drinking glass to cut the dough into smaller, individual shapes. Put the single, large cookie dough or the smaller, individual-sized cookie doughs onto the baking sheet.
Bake it at 350 F for 16-20 minutes, until it has a light golden color and is puffed in the middle.
Let it cool completely at room temperature.

Making the Frosting:

Note: You can make the cookie dough ahead of time and refrigerate it. You may also bake the cookie(s) ahead of time. However, do not assemble the fruit pizza by putting on the frosting and fresh fruit until the day you want to eat it.

In a bowl (or the bowl of a stand mixer with the paddle attachment), whip together the cream cheese, butter, and lemon zest until smooth and fluffy.

Assemble the Fruit Pizza:

Spread a thin, even layer of frosting on the cookie(s), leaving a small margin around the edges.
In a small microwave-safe bowl, combine the jelly and water, and microwave for 15 seconds. Stir them together until the jelly is fluid and smooth. It should have the consistency of a thin gel—if it's still fairly thick, add a bit more water to thin it out.
Use a pastry brush to spread this glaze on top of your fruit. This gives the fruit pizza a shine, and also prevents the cut fruit from looking wilted and tired at room temperature.

Cookie dough recipe adapted from "Easter Fruit Pizza" by Elizabeth LaBau of Sugar Hero and frosting recipe adapted from "Mini Fruit Pizzas with Lemon Cream Cheese Frosting" by Jaclyn of Cooking Classy (June 9, 2014).

Get the Pre-Built Word List for this Recipe!
I hope by using the Fruit Pizza word list as a starting place, you will feel confident to cook up some language fun with your children. You can also bring up signs on the Signing Savvy Member App using the pre-built word list as you go through the recipe.
Word List for Fruit Pizza