An ASL Dictionary
Signing Savvy is a sign language dictionary containing several thousand high resolution videos of American Sign Language (ASL) signs, fingerspelled words, and other common signs used within the United States and Canada.
And Much More!
Signing Savvy is an ideal resource to use while you learn sign language. It includes the ability to view large sign videos, build your own word lists and share them with others, create virtual flash cards and quizzes, print signs, build sign phrases,
...and more
Signing Savvy Member App now available on Kindle Fire via Amazon App Store
Site News | Saturday, March 9, 2013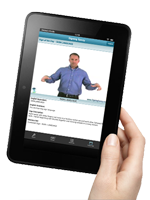 The Signing Savvy Member App is now available on the Amazon App Store. Having the app on the Amazon App Store makes it easier to install the app on Kindle Fire devices. The Signing Savvy Member App has been available on the Apple App Store for iOS devices and Google Play for Android devices for some time, so we are excited to be able to offer it on the Amazon App Store now as well.
The Signing Savvy Member App is for Signing Savvy full members. If you are not yet a full member, you can still use the app to easily check the Sign of the Day on your mobile device.
The Signing Savvy Member App allows full members to search and browse signs and word lists, create word lists, and use digital flash cards.
NOTE: While you can access the full website through the browser on most of the mobile devices, the app presents a more streamlined mobile interface.