An ASL Dictionary
Signing Savvy is a sign language dictionary containing several thousand high resolution videos of American Sign Language (ASL) signs, fingerspelled words, and other common signs used within the United States and Canada.
And Much More!
Signing Savvy is an ideal resource to use while you learn sign language. It includes the ability to view large sign videos, build your own word lists and share them with others, create virtual flash cards and quizzes, print signs, build sign phrases,
...and more
Short Film from CNN Highlights a Deaf All-American Family
Deaf Culture | Monday, November 23, 2015
With Thanksgiving this week, this short film from CNN does a nice job of highlighting what many of us are most thankful for - family. The short film, called "All-American Family" shares the story of the Pedersen family, a deaf family with deaf parents, two deaf sons, and one hearing son. It gives a glimpse into Deaf culture and what living in a Deaf family and Deaf community is like. If you're a football fan, you will also like seeing the boys' passion for football. If you have 15 minutes, watch this short film.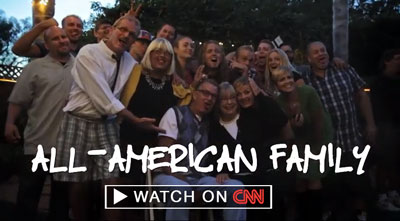 Captions
Unfortunately, the film does not currently include captions. We've typed up a transcript for you below:
Captions for CNN's short film "All-American Family"

0:12 - 0:22 [Cheering]

0:27 - 0:56 Singing: And the rockets red glare,
the bombs bursting in air,
gave proof through the night
that our flag was still there
oh say does that star-spangled banner yet wave

1:06 [Cheering]

1:08 That's a tails and that's a heads. What's your call?
Tails.
The call is tails.
Ok. It is a tails.
You won the toss.
Differ.
You want to differ.
So they want the ball?
They want the ball.
Ok, they want the ball.

1:24 [Cheering]

4:36 I don't think I've ever wished that they could hear.
I think more, I'd wish that I could be deaf.
It's like I feel like the odd one out.
I just didn't get why I wasn't like them.
It's all they've ever known,
and they're such like a community here.
And they like, they have a lot of pride.