ASL in the Classroom: One Thanksgiving Story with Many Titles
Signing Savvy membership is a great tool and has saved me lots of time! I have the wonderful privilege to share ASL with the students at St. Peter's Lutheran School. Together with the classroom teacher, Mrs. Susan Bennett, we wanted to create a project for the students to learn ASL. We picked the topic, Thanksgiving. The goal of the project was for the students to be able to share sign language with their families on Thanksgiving Day. We had six weeks to get it done. Before learning of the potential of a membership with Signing Savvy, I had spent tremendous amounts of time and energy locating printable signs for our projects.
Signing Savvy has great video resources to teach a class signs which are also printable. Using "My List" on Signing Savvy, I created lists with everything this class loved about Thanksgiving. This list included: going to church, inviting friends and family for dinner, favorite holiday foods, the parades, and football. The class gained knowledge and signing skills each week as we practiced their vocabulary on "My Lists." They continued building their sign language vocabulary through the printable signs. They could take them home for reference to practice independently, which further fueled their passion for learning ASL.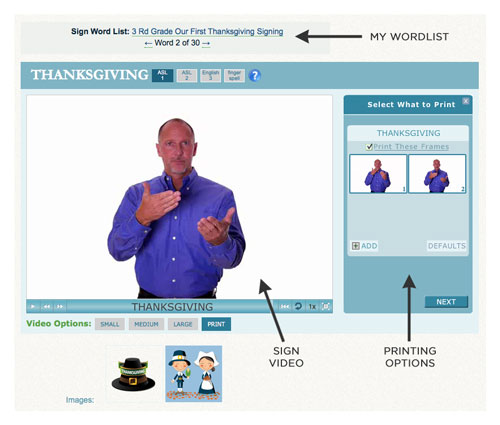 Screenshot of a sign from my wordlist, also shows printing options.
The students were so excited, they decided to create a book for Thanksgiving which was only weeks away. The students were put in groups of two or three. Using printable materials from Signing Savvy; each group designed a page in the book using different signs printed from the website. We decided John Miller would be our guest of honor, because he was "the man in the blue shirt" on every page in their storybook. We compiled all of the pages of literature, drawings and photos of our guest of honor for one great Thanksgiving story. These third graders loved being set free to write and illustrate a storybook. Now they needed a title.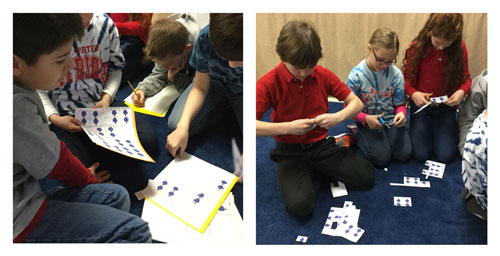 Students working on cutting out printed signs for their book.
Every story needs a good title. With crayons and markers, pictures and pen, each student expressed themselves with their own title and book cover. One story with many different titles: Pass the Turkey, Signing Thanksgiving, Pie Time!, Happy Thanksgiving Praise, John and the Drink Choice, and Our First Thanksgiving Signing.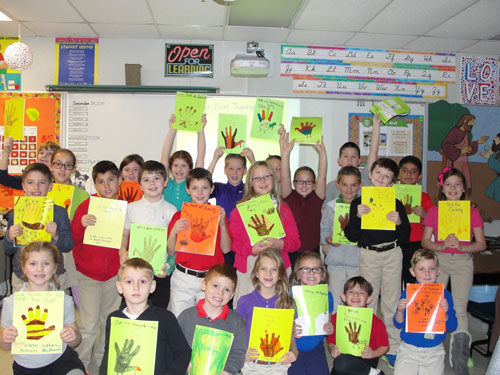 Students with their books: one Thanksgiving story with many titles!
The best part was seeing the entire class proud of their accomplishments. They achieved their goal. They created a great Thanksgiving story filled with the things they love, to share with the people they love on a special Thanksgiving Day. This was a fun learning experience for everyone. Many thanks to Signing Savvy, oh what a fun and enjoyable time we all had!


Students presenting their completed book.
After our Thanksgiving storybook project was completed, we sent a copy of the book to John, the man in the blue shirt, on Signing Savvy. The students were excited when John volunteered to "meet" with us via skype. The class got to practice their signing with him and ask questions about Signing Savvy.


Students meeting with John, the man in the blue shirt from Signing Savvy.
It was a great project that expanded their sign language vocabulary and got them excited about sharing what they learned with their families.
We would love to hear how you use Signing Savvy. Contact us if you would like to share your experience with us