An ASL Dictionary
Signing Savvy is a sign language dictionary containing several thousand high resolution videos of American Sign Language (ASL) signs, fingerspelled words, and other common signs used within the United States and Canada.
And Much More!
Signing Savvy is an ideal resource to use while you learn sign language. It includes the ability to view large sign videos, build your own word lists and share them with others, create virtual flash cards and quizzes, print signs, build sign phrases,
...and more

Living Loud: Juliette Gordon Low - Founder of the Girl Scouts and Philanthropist
Deaf Culture | Thursday, March 10, 2016
This article is part of our "Living Loud" series, which highlights famous people who are deaf or hard of hearing and their impact in the world.
Juliette Gordon Low founded the Girl Scouts and "envisioned an organization that would prepare girls to meet their world with courage, confidence, and character." Started in 1912 when women in the United States couldn't yet vote, Gordon Low grew the first troop of 18 girls into a global movement of nearly 3 million Girl Scouts in 92 countries and with more than 59 million alumae.2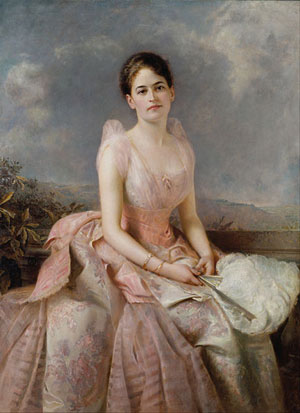 Oil painting of Juliette Gordon Low completed in 1887 by Edward Hughes. This painting is on display in the National Portrait Gallery in Washington, D.C. (Photo Credit: Edward Hughes [Public Domain], via Wikimedia Commons)
Background
Juliette Magill Kinzie Gordon was born on October 31, 1860 in Savannah, Georgia and nicknamed "Daisy."4 She was from a wealthy family and was well educated, attending some of the best boarding schools.6 4
She was born hearing, but started to lose her hearing when she was seventeen10 and had severe hearing loss by her mid-twenties. She was accident-prone as a child and had many injuries and illnesses, including a case of brain fever, frequent ear infections, earaches, and recurring bouts of malaria.7 In January 1885, when she was 24 years old, she got a terrible ear infection in her right ear.5 Antibiotics had not been discovered yet and Daisy persuaded the doctor to try silver nitrate, a new cure she had heard about. The doctor used silver nitrate in her ear, which caused more damage, and she lost part of her hearing in that ear.8
An Incredible Coincidence
On her wedding day on December 21, 1886 (she picked the same day that her parents got married for good luck), a grain of rice thrown in celebration landed in Gordon Low's left ear and got stuck. She ignored the issue until the pain became so great she had to leave her honeymoon to seek treatment. When a doctor worked to remove it, he punctured her ear drum and it became infected. The infection damaged nerves, which made her permanently deaf in that ear.8 4
A Survivor Who Doesn't Hear "No"
Married life wasn't the happily ever after she had hoped for. Her husband drank heavily and cheated on her. She planned on getting a divorce, but her husband died from a seizure in 1905 before it was finalized. They had been married for 19 years, however, in his will, he left most of his money to his mistress.6 4 Gordon Low contested the will, "When my husband died, I found that he had willed his entire estate to another woman. No one was going to get away with that! Against the advice of my friends, I decided to contest the will and eventually I won a $500,000 settlement."12 In addition to an annual income, she received their Savannah Lafayette Ward estate, which included the Andrew Low House and where she would later house the first Girl Scouts headquarters (in the carriage house).6 4 5
Deaf in one ear and with only partial hearing in the other, Gordon Low would use her deafness to her advantage by refusing to hear "No." She knew she needed help to start the Girl Scouts. "The first woman I approached tried to tell me she wasn't interested. I pretended that my deafness prevented me from hearing her refusals… I never heard a word of argument from her again!"12
A Life-Changing Meeting
In 1911, Gordon Low met Lord Robert Baden-Powell, the founder of the British Boy Scouts.6 4 She wanted girls to have the same opportunity to develop self-reliance and resourcefulness, so she created a similar organization for girls. At the age of 51, she brought together 18 girls to form the first registered American Girl Guides troop in her hometown of Savannah, Georgia on March 12, 1912.4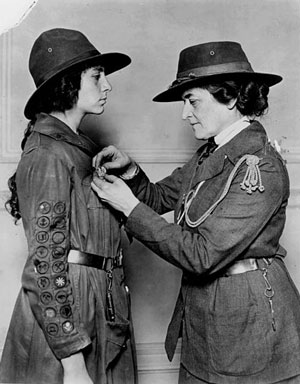 Juliette Gordon Low putting a badge on a girl scout. (Photo Credit: Author Unknown [Public Domain], via Wikimedia Commons)
The name of the organization was changed and the Girl Scouts of the USA became a reality in 1913. The organization was incorporated in 1915 and Gordon Low served as president from its inception until 1920 when she was granted the title of founder and stepped down so that she could focus on promoting the Girl Scouts program on an international scale.4 11
Gordon Low envisioned the Girl Scouts to be inclusive for all girls - open to girls of any race, background, financial situation, and ability.9 She encouraged the girls to be independent, make their own choices, and develop their own talents and skills. Instead of telling Girl Scouts members what to do, she would ask, "What do the girls WANT to do?"9 12
Girl Scouts can earn badges in the areas of art, athletics, citizenship, cooking, first aid, nature and, the Girl Scout way.3 However, Gordon Low explained "This badge is not a reward for something you have done once or for an examination you have passed. Badges are not medals to wear on your sleeve to show what a smart girl you are. A badge is a symbol that you have done the thing it stands for often enough, thoroughly enough, and well enough to BE PREPARED to give service in it. You wear the badge to let people know that you are prepared and willing to be called on because you are a Girl Scout. And Girl Scouting is not just knowing.....but doing.....not just doing, but being."6
The Girl Scouts started selling cookies around 1917 to not only serve as a fundraiser for troops, but to learn real-life lessons about how money is earned.9
The Girl Scout mission is to build girls of courage, confidence, and character who make the world a better place.2 In line with this mission, a famous quote from Gordon Low is, "Right is right, even if no one else does it."12
Death
Daisy remained an activist for the Girl Scouts until her death. She discovered she had breast cancer in 1923, but kept it a secret. She died from the final stages of cancer at the age of 66 on January 17, 1927.7 4 She was buried in her girl scout uniform in Laurel Grove Cemetery in Savannah, Georgia.1 5 4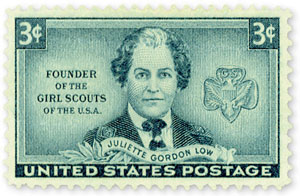 Juliette Gordon Low leaves her "stamp" and a long legacy after her death. In 1948 a three-cent U.S. Postage Stamp was released to commemorate her as the founder of Girl Scouts. (Photo Credit: United States Postal Service [Public Domain])
She left a long legacy in her wake. The Girl Scouts organization continues to thrive with millions of Girl Scouts throughout the world and girls who begin scouting from kindergarten to first grade are called "Daisies," just like Gordon Low was nicknamed. She continues to be remembered over 150 years after she was born with scholarships, camps, and schools named in her honor, in addition to many notable honors including the Presidential Medal of Freedom, being inducted into the National Women's Hall of Fame, having a stamp commemorating her, and much more.1
As Gordon Low said herself, "The work of today is the history of tomorrow, and we are its makers."12
Resources
Juliette Gordon Low. Girl Scouts of the United States of America. Retrieved 3/4/2016 from http://www.girlscouts.org/en/about-girl-scouts/our-history/juliette-gordon-low.html
Our History: The Vision of Juliette Gordon Low. Girl Scouts of the United States of America. Retrieved 3/4/2016 from http://www.girlscouts.org/en/about-girl-scouts/our-history.html
Traditions. Girl Scouts of the United States of America. Retrieved 3/4/2016 from http://www.girlscouts.org/en/about-girl-scouts/traditions.html
Juliette Gordon Low. (2014, August 19). New World Encyclopedia. Retrieved 3/4/2016 from http://www.newworldencyclopedia.org/entry/Juliette_Gordon_Low
Sims, Anastatia. (2004, June 14). Juliette Gordon Low (1860-1927). New Georgia Encyclopedia. Retrieved 3/4/2016 from http://www.georgiaencyclopedia.org/articles/history-archaeology/juliette-gordon-low-1860-1927
Biography.com Editors. Juliette Gordon Low Biography. A&E Television Networks: The Biography.com website. Retrieved 3/4/2016 from http://www.biography.com/people/juliette-gordon-low-20766743#final-years-and-legacy
Cordery, Stacy A. (2012). The Remarkable Founder of the Girl Scouts: Juliette Gordon Low. USA: Penguin Publishing Group. ISBN 9780143122890.
Brown, Fern G (2014). Daisy and the Girl Scouts: The Story of Juliette Gordon Low. Open Road Media. ISBN 1497635896, 9781497635890.
Henry Kleiber, Shannon. (2012, March 9). Juliette Gordon Low, who had no children of her own, started Girl Scouts in 1912. The Washington Post. Retrieved 3/4/2016 from https://www.washingtonpost.com/lifestyle/kidpost/juliette-gordon-low-who-had-no-children-of-her-own-started-girl-scouts-in-1912/2012/02/28/gIQA5CBO1R_story.html
Juliette Low. Gallaudet University. Adapted from: Goodstein, A. & Walworth, M. (1979). Interesting Deaf Americans. Washington, DC: Gallaudet University. Retrieved 3/4/2016 from https://www.gallaudet.edu/tip/english-center/reading-(esl)/practice-exercises/juliette-low.html
Juliette Gordon Low (Last modified: 2016, February 29). Wikimedia Foundation, Inc.: Wikipedia, the free encyclopedia. Retrieved 3/4/2016 from https://en.wikipedia.org/wiki/Juliette_Gordon_Low
Juliette Low Quotes. Scouting Web: Online Resources for Scouting Volunteers. Retrieved 3/4/2016 from http://www.scoutingweb.com/scoutingweb/subpages/juliettelowquotes.htm