An ASL Dictionary
Signing Savvy is a sign language dictionary containing several thousand high resolution videos of American Sign Language (ASL) signs, fingerspelled words, and other common signs used within the United States and Canada.
And Much More!
Signing Savvy is an ideal resource to use while you learn sign language. It includes the ability to view large sign videos, build your own word lists and share them with others, create virtual flash cards and quizzes, print signs, build sign phrases,
...and more
Cooking Up Language with Signs: Peanut Butter Reindeer / Rudolph Cookies
Learning Tips | Wednesday, December 5, 2018
This article is part of our "Cooking Up Language With Signs" series, which features a recipe and accompanying sign language word list to get you started on an interactive cooking activity that is great for spicing up language learning at home or in the classroom.
What's cookin'?
Today I'm cooking up peanut butter reindeer / Rudolph cookies. They are a cute and fun treat that kids love. Here is a pre-built word list created to go along with the recipe.
These cookies are great to go along with the Rudolph the Red Nosed Reindeer book or song. I've also created an article and word list for the Rudolph the Red Nosed Reindeer book.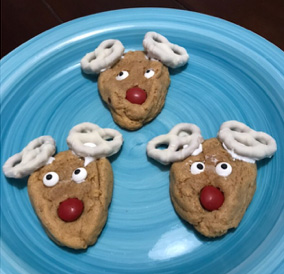 I like to use a peanut butter cookie base for these cookies just because it gives you that nice brown color for your cookie, but I know some people have peanut butter allergies and some schools won't allow you to have it in school. That doesn't mean you can't make these. If allergies are an issue, use a sugar cookie or something else and just frost the cookies with a brown frosting. If you are using peanut butter cookies, I know Sam's Club has a great way to save time by using their big boxed sets that come with a couple bags of all the dry ingredients already mixed together for you, AND because they also have the Hershey kisses in them that you aren't using for this recipe, it's a bonus chocolate treat for you and the kids!
Shape your dough on the pan in more of a triangle shape, rather than a circle. This will give you a nice face of a reindeer.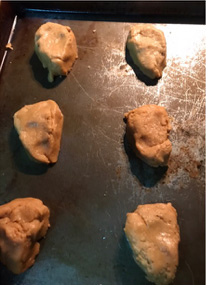 Bake the cookies as directed and then as soon as they are out of the oven, add the eyes (easily found at Walmart or other baking/craft store), a nice red nose for Rudolph (peanut butter M&M's seem to be a good size) and antlers that are pretzels already dipped in white crème/cream, chocolate, or yogurt. (You can buy them this way or dip your own, or leave them just as pretzels if you want.)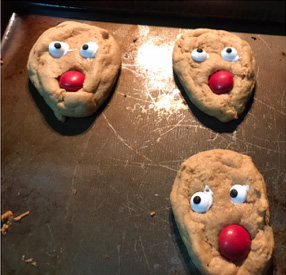 These turn out so cute, it is hard to eat them. But not that hard. They are tasty!
And my little helpers thought of ways to make the whole reindeer team by changing out the nose color using different colored M&M's. Let them have their fun!
Recipe
Enjoy making cookies of Rudolph and Santa's whole team of reindeer. Use the pre-built word list created to go along with the recipe to help you as you make this tasty recipe.
Peanut Butter Reindeer / Rudolph Cookies

Ingredients:


Tools:


Directions:

Shape your peanut butter cookie dough on the pan in more of a triangle shape, rather than a circle. This will give you a nice face of a reindeer.

Get the Pre-Built Word List for this Recipe!
I hope through the Peanut Butter Reindeer Cookies word list you will feel confident to cook up some language fun with your children. You can also bring up signs on the Signing Savvy Member App using the pre-built word list as you go through the recipe.
Word List for Peanut Butter Reindeer Cookies
Signing Savvy is a participant in the Amazon Services LLC Associates Program, an affiliate advertising program designed to provide a means for sites to earn advertising fees by advertising and linking signingsavvy.com to Amazon properties. That means Signing Savvy may contain affiliate links. If you make a purchase after clicking on an affiliate link, your cost will be exactly the same regardless, but Signing Savvy will automatically receive a small commission. Your support is greatly appreciated and helps us continue to improve Signing Savvy!