Kaos Signing Choir and Deaf Percussionist Evelyn Glennie are highlights from the Olympic Opening Ceremony
What was our favorite part of the Opening Ceremony for the London 2012 Olympic Games? It had to be the Kaos Signing Choir for deaf and hearing children and Deaf Percussionist Evelyn Glennie.
Kaos Signing Choir for Deaf and Hearing Children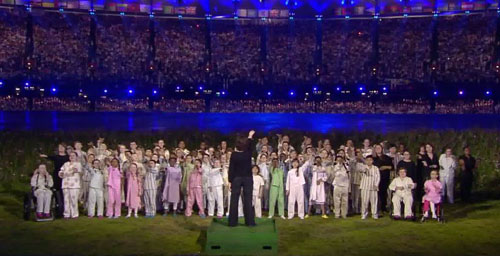 If you saw the opening ceremony for the 2012 Olympic Games, you probably caught the children in pajamas singing and signing the British national anthem, "God Save the Queen." The children were from the Kaos Signing Choir for deaf and hearing children - the only integrated deaf and hearing children's choir in Britain. The choir includes 200 children from 4 to 18 years old, both deaf and hearing children who sing and sign together. The children's choir, from North London, signs in British Sign Language (BSL). Note: British Sign Language (BSL) and American Sign Language (ASL) are different forms of sign language and use different signs.
Deaf Percussionist Evelyn Glennie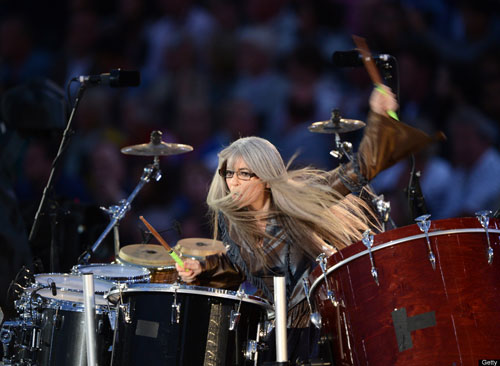 What you may not have realized watching the opening ceremony was that the lead percussionist has been profoundly deaf since the age of 11. Award-winning Dame Evelyn Glennie, arguably one of the best percussionists in the world, was born in Scotland and plays internationally. She owns over 1800 percussion instruments from all over the world and also plays the Great Highland Bagpipe.
Glennie believes that "Deafness is poorly understood in general. For instance, there is a common misconception that deaf people live in a world of silence." She says, "Deafness does not mean that you can't hear, only that there is something wrong with the ears." She explains that hearing is a specialized form of touch that includes hearing sounds, feeling vibrations, and seeing items move and vibrate. She uses parts of her body, other than her ears, to hear. She detects vibrations and has learned to distinguish notes by where on the body she feels the sound and how thick the air feels - low sounds she feels mainly in her legs and feet, while she feels high sounds on her face, neck and chest. She also observes how items move to detect sound. She often plays barefoot in order to feel the music better.
To hear music by the talented Evelyn Glennie, you can find her CDs on Amazon, such as Her Greatest Hits.
To learn more about Evelyn Glennie, watch the documentary about her: Touch the Sound - A Sound Journey With Evelyn Glennie.
Article Sources: