An ASL Dictionary
Signing Savvy
is a sign language dictionary containing several thousand high resolution videos of American Sign Language (ASL) signs, fingerspelled words, and other common signs used within the United States and Canada.
And Much More!
Signing Savvy is an ideal resource to use
while
you learn sign language. It includes the ability to view signs, build word lists and share them with others, create digital flash cards and quizzes, view asl sentences, get tutoring,
...and more

Hearing loss may be gradual or sudden. There are several causes of deafness.
Repeated exposure to noise: Deafness may result from repeated exposure to noise: loud music, factories, construction, etc.

Genetics: It is relatively rare that hearing loss is inherited, but it can be.

Rubella (German measles): Rubella is a contagious illness. It is usually a mild infection, however, complications include deafness, and the risk is especially high for babies born to mothers who had rubella while pregnant. The rubella epidemic of the mid-1960's affected many pregnant women whose children were subsequently deaf. Now there is a rubella vaccine, usually given as a combined measles-mumps-rubella (MMR) vaccine, which prevents rubella.

The RH factor: In addition to having a blood type (A, B, O, AB), humans have a Rh factor which is either positive or negative. A woman and her unborn baby are at risk when she is negative and her partner is positive. It's a blood incompatibility that can lead to Rh disease. Rh disease in babies may affect their health, including causing deafness. However, Rh disease may be prevented even if the mother is Rh negative. Prenatal care now includes a blood type and Rh factor screening test during the mother's first prenatal doctor's visit. If Rh factor is found to be a concern, the mother can get a medicine called Rh immunoglobulin (RhoGAM) to prevent Rh disease.

Other illnesses: Some other illnesses with complications which may cause deafness include chicken pox, cytomegalovirus, mumps, meningitis, sickle cell disease, syphilis, lyme disease, diabetes, hypothyroidism, arthritis, and some cancers.
But the largest category of how someone becomes deaf is unfortunately just: "Unknown"
International Day of Sign Languages
The International Day of Sign Languages is a day to celebrate sign languages and to unite those that use them across the globe.
Each year it is celebrated on September 23rd.
This year's theme for the day is "Sign Language Unites Us!"
The International Day of Sign Languages was created by the World Federation of the Deaf (WFD). They continue to organize and promote the day each year.
The World Federation of the Deaf (WFD) was established to bring together people from around the world to address the need for inclusion, accessibility, and equal human rights for all deaf people. The WFD was established on September 23 in 1951 and the organization then picked September 23rd as the annual day to recognize deaf people, celebrating the first "International Day of the Deaf" in 1958. The day is now recognized as "International Day of Sign Languages."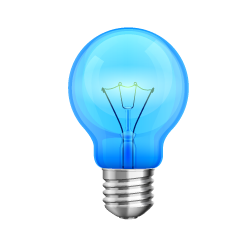 This year, the World Federation of the Deaf (WFD) is inviting all public places, landmarks, official buildings, etc. to be spotlighted in blue on September 23. So, if you see a public building, city hall, or stadium all lit up in blue, let yourself pause and reflect on your community and the world highlighting the need for recognition of the importance of sign languages.
International Week of Deaf People
Building on a great idea, the World Federation of the Deaf (WFD) now also wraps a full week of educational and inspirational themes around the International Day of Sign Languages. This year's International Week of Deaf People is to be observed on Monday, September 19 through Sunday, September 25, 2022. The theme for this 2022 International Week of Deaf People is, "Building Inclusive Communities for All." You may find themes for each day along with important facts related to the needs and goals of raising awareness and creating equity at the WFD website.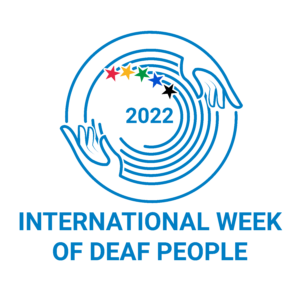 For more information see our page on the International Week of Deaf People.
Share on Social
Take part in spreading the message by using hashtags #IWDP and #IDSignLanguages and #WFDeaf (International Week of Deaf People and International Day of Sign Languages and World Federation of the Deaf).
Signing space is where you form signs. When you fingerspell, the signing space is more contained than when you are signing in general. To achieve the correct fingerspelling signing space, bend your elbow so your dominant hand is in front of your chest, with your palm facing forward. This allows your chest to be a solid background for better readability.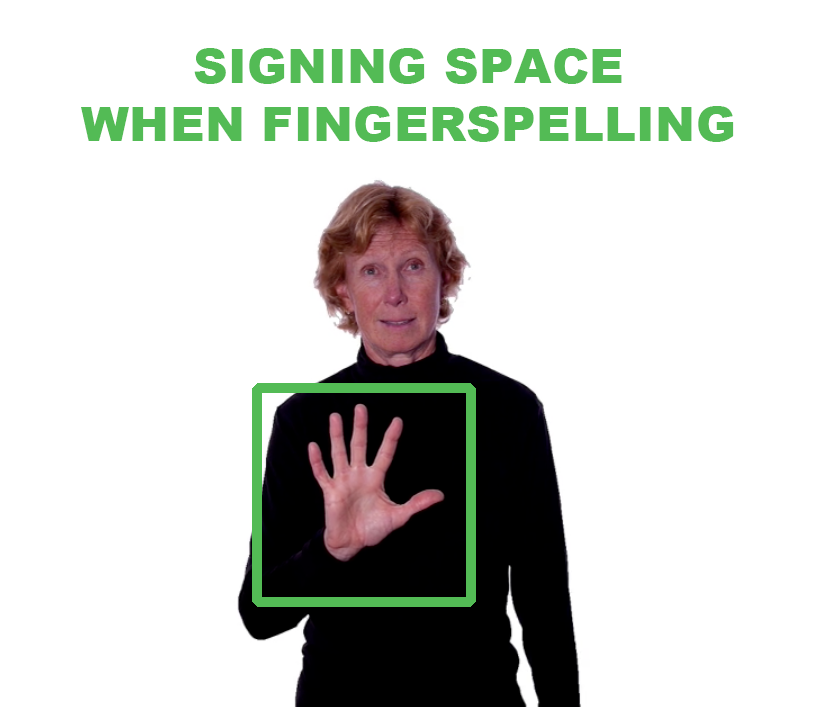 Things to Remember When Fingerspelling:
Use your dominant hand. Do not switch hands or use two hands when fingerspelling.

When you fingerspell, your palm should generally face out toward the receiver, not toward yourself. In group settings, it is not possible to direct your spelling to all receivers.

Keep your elbow close to your waist; do not let it drift away from your body.

Your hand should be shoulder height and centered in front of the body. Research shows that deaf people focus on the chin/throat area when reading signed communication but still see the whole sign space. Your hand should not block your mouth to allow for supplemental lip-reading clarification and non-manual marker grammatical clues.
Resources
Adapted from: Cartwright, B. E., & Bahleda, S. J. (2007). Where Does My Hand Go When I Fingerspell? In Fingerspelling in American Sign Language (2nd ed., p. 9). RID Press.