An ASL Dictionary
Signing Savvy
is a sign language dictionary containing several thousand high resolution videos of American Sign Language (ASL) signs, fingerspelled words, and other common signs used within the United States and Canada.
And Much More!
Signing Savvy is an ideal resource to use
while
you learn sign language. It includes the ability to view signs, build word lists and share them with others, create digital flash cards and quizzes, view ASL sentences, get tutoring,
...and more
Sign of the Day - MAILMAN

Just as athletes warm up and increase their stamina in increments, so should signers. This is especially important when first learning to fingerspell and sign. You should do warm-up stretches before fingerspelling practice. Focused fingerspelling practice is often for extended lengths of time, and will work parts of your body that may not be attuned to that type of exercise. Warming up can limit potential cumulative trauma disorders.
The following warm-up stretches work to reduce the amount of stress the hand, wrist, arm, and shoulder receive while fingerspelling and signing. Before you begin practicing your fingerspelling, begin with a variety of warm-ups.
Fingerspelling Warm-Up Activities:

1. Shoulder Shrugs
Slowly raise and drop shoulders several times.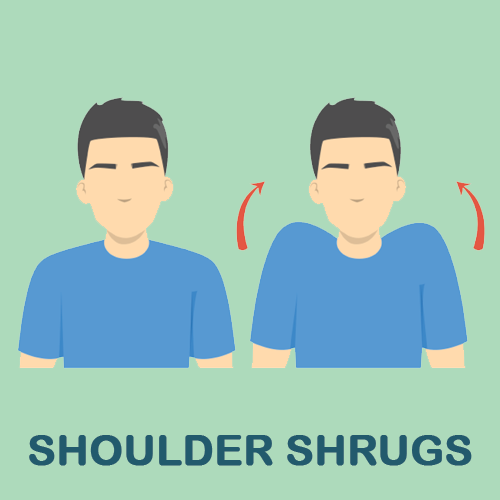 2. Shoulder Press
Slowly stretch arms above your head until they meet with your palms together. Gently lower them to shoulder level, palms together and hands up in front of your head. Repeat.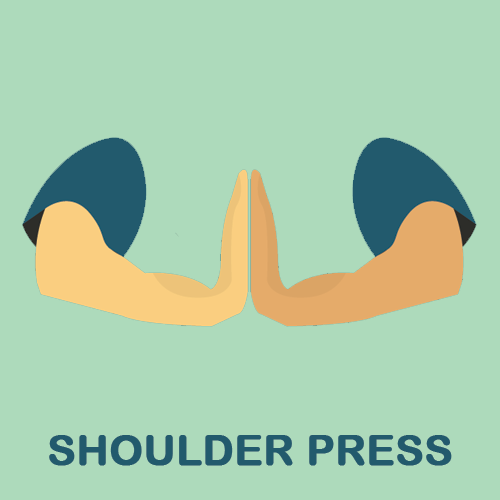 3. Finger Lifts
Place hand palm down on a table or flat surface and slowly raise and lower each finger. Repeat with the other hand.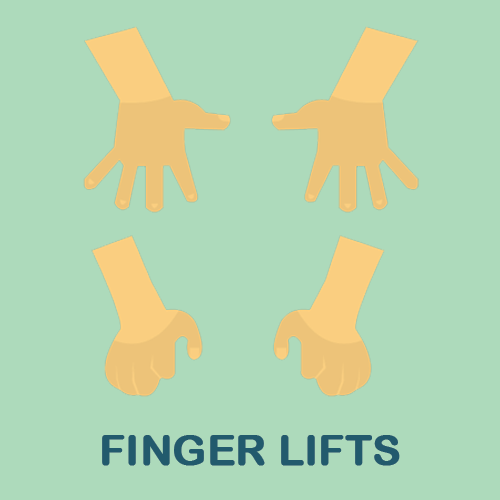 4. Full Arm Stretch
Hold arm out parallel to the floor, palm down. Lock elbow. Raise your hand so the fingertips point to the ceiling. With the other hand, gently press the raised fingers (all at once) back toward your body for a five-count; alternate with the other hand and repeat twice.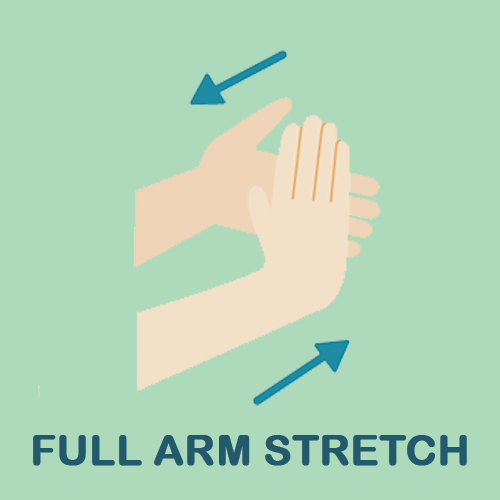 5. Finger Stretch
With arms stretched out in front of you, palms down, slowly open and close hands, stretching the fingers apart as far as possible. Repeat several times.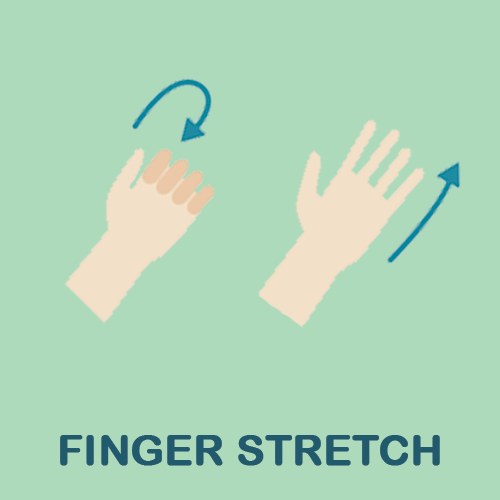 6. Wrist Revolutions
With closed hands, slowly rotate wrists in toward each other several times. Then rotate wrists away from each other several times.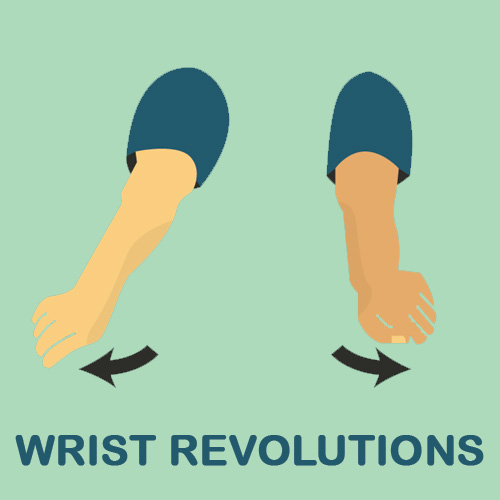 Following this warm-up routine before you begin practicing fingerspelling will help prevent repetitive motion injuries, and will enhance the "fingerspelling muscles" over time!

Today, captioning is an easy option to turn on for most movies and television shows. A remote control makes captions appear with a push of a button, and presto, you are able to see the printed text of the dialog on a television show. In fact, televisions in public places, like airports and bars, generally are set to display captioning by default. But for most of television history, access to captioned programming was nonexistent, or limited and required special equipment.
Captions
are a transcription of spoken dialogue, as well as a description of any relevant non-speech audio content.
Subtitles
is a term used in the United States and Canada for a transcription of a translation when the audio and any on-screen text is in a language the viewer does not understand. Most other countries do not distinguish between subtitles and captions and use one of those terms to encompass the meaning of both.
Consider This
Television programming began July 1, 1941, when the game show Truth or Consequences was broadcast. The first captioned program wasn't aired until over thirty years later, on February 15, 1972, with an episode of The Mod Squad. Deaf people had no access to such cultural touchstones as I Love Lucy, Gunsmoke, Leave It to Beaver, The Guiding Light, Captain Kangaroo, The Dick Van Dyke Show, Rocky and Bullwinkle, or Star Trek.
PBS and ABC Take the Lead
PBS ran some programs with open captions, including The French Chef, beginning in 1972. ABC News would re-run its evening news with open captions... five hours later, on PBS.
Open captions
are captions viewable to all viewers without having to turn them on. They are embedded in the video.
For years, this was the most up-to-date news for deaf and hard-of-hearing viewers.
Closed Captions Arrive in the '80s
However, designers and engineers were working on technology that would broadcast captions that would be decoded and made visible for those with a decoder box. On March 16, 1980, the first closed captioned television programs were broadcast: The ABC Sunday Night Movie Semi-Tough (ABC), The Wonderful World of Disney's feature of the film Son of Flubber (NBC), and Masterpiece Theatre (PBS). To view the captions, viewers had to order the first generation of the closed caption decoder from Sears for $560, which would be equivalent to $1,600 today! It would be two more years before real-time captioning would be available for live events like news, sports events or specials.
Closed captions
are captions the viewer must activate in order to see. They are typically turned on using a remote and/or adjusting the settings in the menu. Closed captions are encoded in the broadcast signal and require a decoder in order to be displayed. Decoders are now built-in to televisions, however, that was not always the case.
A Personal Reflection
Jamie Berke, a deaf writer who was the "Deafness Guide" for About.com for 15 years, wrote in one of her articles:
"
It took me six months to save enough babysitting and allowance money to buy my first closed captioned decoder. At last the day came when we could pick up the decoder from Sears. The parent who went with me to pick it up burst into tears when I finally had it in my hands. To this day I don't know if the tears were tears of joy, or — more likely — tears of relief at the thought that I would no longer have to badger everyone with questions about what was going on on the small screen. As I settled down to watch my first closed captioned program (
Barney Miller
) thoughts of a world in which everything was captioned danced in my head.
"
—
Deaf Writer and Activist, Jamie Berke
Legal Steps Forward in the '90s
In 1990, a law was passed mandating that all televisions 13 inches or larger manufactured for sale in the U.S. contain caption decoders, which meant people did not need to buy expensive decoder boxes any longer. As a result of the Telecommunications Act of 1996, the FCC established rules and schedules related to closed captioning that went into effect on January 1, 1998, and established an eight-year transition period for new programming, mandating 100% of non-exempt new programs must be captioned.
Today
100% of all new video programming, with exceptions, must be closed captioned on televisions. Finally, deaf and hard of hearing people may now click through 234 channels and not find anything good on television, just like everyone else!
Captions, however, benefit more than just the deaf — second language viewers, elderly with hearing issues, children learning to read, and really anyone watching a movie or show with audio that may be unclear at times (like characters speaking quickly or excitedly or with an accent) or when watching in a loud environment. As an article in Time Magazine aptly described, "Deaf advocates won the battle for closed captioning and changed the way Americans watch TV." Everyone wins with closed captioning.
See It Signed - Example Sentence
See this example sentence about closed captions:
ASL Gloss: OUR #TV #CC (captions) ALWAYS #ON.
English Example: The closed captions on our TV are always on.
Become a Member of Signing Savvy to see more example sentences signed, including example sentences related to Deaf Culture.
More on the History of Closed Captioning
Books
Resources
Adapted from: Cartwright, B. & Bahleda, S. (2015). Did You Know? Closed Captioning. In Lessons and Activities in American Sign Language (p. 73). RID Press.
Allen, Scott. (2015, March 15). A Brief History of Closed Captioning. Mental Floss. http://www.mentalfloss.com/blogs/archives/33518#ixzz1ktcG3cwy
Bellis, Mary. (2020, December 31). When Was the First TV Invented? A Historical Timeline of the Evolution of the Television (1831-1996). Thought.Co. https://www.thoughtco.com/the-invention-of-television-1992531
Berke, Jamie. TV Without Closed Captioning. About.com. (No longer available. Used to be at: http://deafness.about.com/cs/captionarticles/a/tvwithoutcc.htm)
First Day of (USA Commercial) TV. (n.d.). Television History - The First 75 Years. TV History. http://www.tvhistory.tv/First%20Day%20of%20TV.htm
National Captioning Institute. (n.d.). History of Closed Captioning. https://www.ncicap.org/history-of-cc
Timeline of Closed Captioning Development. (2009, November 3). Fookem and Bug. http://fookembug.wordpress.com/2009/11/03/timeline-of-closed-captioning-development/
Waxman, Olivia B. (2020, March 16). How Deaf Advocates Won the Battle for Closed Captioning and Changed the Way Americans Watch TV. Time Magazine. https://time.com/5797491/closed-captioning-captions-history/

Because of their deafness, deaf people sometimes feel isolated, especially in public where many people do not know sign language. They may in fact enjoy it if you come up and "say hi" and make small talk using sign language.
Before you approach a deaf person(s) think about the environment and situation at the time. Are two or more deaf people signing with each other? Make sure you are not interrupting them. Does the person seem busy or in a hurry? If so, try not to delay them. These are just common courtesies and likely the same types of things you would notice before going up to a hearing person in public.
It's ok to say, "Hi, my name is" but be prepared to get a full response after that! It's not over just because you have exhausted your vocabulary. At the same time, don't be intimidated. Most deaf people will understand you are not a native signer and will be patient with you.