An ASL Dictionary
Signing Savvy is a sign language dictionary containing several thousand high resolution videos of American Sign Language (ASL) signs, fingerspelled words, and other common signs used within the United States and Canada.
And Much More!
Signing Savvy is an ideal resource to use while you learn sign language. It includes the ability to view large sign videos, build your own word lists and share them with others, create virtual flash cards and quizzes, print signs, build sign phrases,
...and more
Interpreter Tips | Wednesday, February 20, 2019
This article is part of our "Dear BC, Interpreter Q & A" series, which answers questions on interpreting and Deaf culture from multiple perspectives. This article was also published in the Fall 2018 (Issue 35 Volume 4) Edition of VIEWS Magazine from RID. VIEWS is a digital publication distributed quarterly by the Registry of Interpreters for the Deaf (RID) and dedicated to the interpreting profession. The magazine includes RID member spotlights, announcements from the RID board, and engaging stories about issues impacting the interpreting community. See this article (on page 28) and more in the Fall 2018 Edition of VIEWS Magazine from RID.
Dear BC,
During a doctor's appointment I interpreted, the doctor referred the Deaf patient to physical therapy. When we were leaving the office, the Deaf client asked me about my availability to interpret her upcoming physical therapy appointments. I told the Deaf woman my schedule and she said, "Oh well, that's fine, if you can't come, my daughter will come and interpret." Her daughter is a young girl who can sign, but she is not an interpreter. The daughter has no training or certification.
What are our boundaries as interpreters to say something to a Deaf client about their right to request a qualified interpreter? I don't want to look like I'm just trying to make money. My concern is also that her doctors will begin to think that they don't need to hire interpreters for her because she can just bring her daughter for free.
Sincerely,
Concerned Interpreter
The video features a full interpretation of what is discussed in this article.
An Experienced Interpreter's Perspective:
If the patient prefers a relative, that is their choice. At the same time, doctors need to be educated about the hazards of using family members to interpret. Liability issues should compel them to want to avoid lawsuits.
An Experienced Deaf Consumer's Perspective:
The NAD has a position paper on this topic. It explains the cons of using family members to interpret. This is an on-going dilemma, especially in rural and remote areas where there are few interpreters. It is unfair to put the burden to interpret on family members, regardless if they are qualified/certified.
What's your perspective? Share your thoughts in the comments below.
Learning Tips | Thursday, February 14, 2019
Sing it or sign it, either way the Beatles knew what they were talking about when they said, "All You Need is Love!"
We thought it would be appropriate with Valentine's Day this week to share our blog covering all the different ways to show LOVE... in sign language that is!


Signing Savvy Member Feature: Download this image / flyer as a printable PDF page.
Many people know and use the sign for I LOVE YOU. This sign is used universally throughout the country and the world. We see it all over television, at sporting events and during "shout outs" to our mothers. The sign is actually the combination of the fingerspelled letters I, L and Y.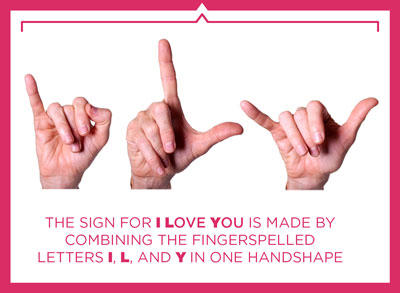 I have had people ask why the sign looks similar to the one that some people hold up at rock concerts, where the thumb is held down and the pointer finger and the little finger are held up. It is NOT the same. Remember, the thumb of the Y hand has to be present in order for you to be signing the I LOVE YOU sign.
Another sign that gets confused with the I LOVE YOU sign is the Hawaiian "shaka" sign meaning aloha, hang loose, or right on. Interestingly, this is also the ASL sign for YELLOW. Again, this is a different sign, as it leaves out the pointer finger. It is basically just shaking the Y hand.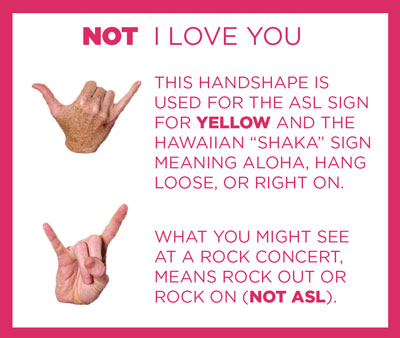 The actual sign for LOVE is both arms folded across the chest. That is to show love or have love for another person or animal, etc.
Another sign for LOVE that you will see on the site is the kissing of the back of the S hand, then pulling it away from the mouth. This is a sign that is generally used to show a passion for something, like a certain type of food or a type of music.
Some people have asked why we don't list the I LOVE YOU sign under the sign for LOVE on our site. It is because they are different signs and we don't want new signers to confuse the single I LOVE YOU handshape with the general meanings and uses of the word LOVE. We don't want you to confuse the signs and use the I LOVE YOU sign in a place where you really mean to just say LOVE.
An example of this would be this sentence: My mother loves to travel. You wouldn't want to say: MOTHER + MINE + I LOVE YOU + TRAVEL (It just doesn't make sense.) You need to use the sign LOVE there.
Another example sentence: I love to eat deep dish pizza! You wouldn't want to say: PIZZA + THICK + I LOVE YOU + EAT. You need to use the kissing the back of the hand version of LOVE in this instance.
I hope that clears up some of your LOVE issues! Spread the LOVE and Happy Valentine's Day from all of us here at Signing Savvy!
Editor's Note: This article was originally published February 12, 2012. It was updated with new graphics and edits on February 14, 2019.
Site News | Sunday, February 10, 2019
If you haven't heard, it's our 10th anniversary! We are celebrating by sharing 10 amazing member features of Signing Savvy.
If you're already a member of Signing Savvy, these are 10 amazing features that you should know about… and use! If you're not a member yet, these are great reasons to consider membership. Although many people have discovered Signing Savvy in one way or another, many have still not fully realized the benefits of becoming a full member, and all the additional features full membership provides. Here is a list of 10 of our most-loved member features.
# 1 View Sign Information

Our sign pages include so much more than just the video! View sign information, such as sign description, memory aid, sign type, special sign notices, images, and sign synonyms for many of the signs.

Memory aids provide tips to help you remember how to sign certain words. Sign descriptions can help you better understand how to form the sign and differentiate between similar signs (your eye might not catch the difference between one movement or two or when similar, but different, handshapes are used, but the sign description will tell you!). Sign synonyms help you better understand the context and meaning of the sign and what other words you can use the sign for.

Below is example of sign information provided to members. You can also see a full example of all sign information that is provided on our Sign of the Day, even if you are not yet a member.

# 2 View Videos of ASL Sentences and Phrases

View example English sentences and accompanying ASL glosses on many words. We've even started adding videos of the ASL glosses, so you can see video of whole phrases signed. We now have hundreds of videos of example sentences and phrases!

Below is an example of a video sentence. This example is also linked from the word SIT, which was used as an example above.




English Example: I like to be active and not sit and watch TV all day.
ASL Gloss: ALL DAY I LIKE ACTIVE NOT SIT WATCH #TV.

If you aren't a member, you can see an example sentence or phrase signed each day by checking out our Sign of the Day, which always links to a related Sentence of the Day.

If you are a full member, in addition to seeing video sentences linked from many words in the dictionary, you can also see our Phrase Lists page for categorized lists of signed phrases.

# 3 Enhanced Video and Video Controls

Access larger, high resolution, members-only videos, plus an enhanced video player that lets you watch full screen video, adjust the speed of the video (you can slow it down or make it faster). Plus, the ability to print images/frames from videos (if you have Flash).

Watch large, high resolution video and slow it down!

# 4 Mobile Member App

The Signing Savvy Member App for iPhone, iPod Touch, iPad, and Android devices, let's you quickly view signs and your word lists on-the-go for a streamlined Signing Savvy experience.



# 5 Create and Share Word Lists

Use Signing Savvy word lists to organize your vocabulary lists, lessons to study, stories, songs, and bible verses. Share your lists and view other shared lists by our community of teachers, parents, students, and interpreters!





# 6 Practice and Study With Digital Flash Cards and Quizzes

Use our digital flash cards and quizzing tools with any word list. This is a great way to study vocabulary on your own. You can customize the settings in a variety of ways, including choosing multiple choice or fill-in-the-blank for answer choices.

See examples of a multiple choice and fill-in-the-blank questions below. These examples are for a quiz from the word list in the example above.

Multiple choice question:

Fill-in-the-blank question:


# 7 Special Tools for Practicing Fingerspelling and Numbers

This may be one of our least known member features! Of course, you could add any fingerspelled words you wanted to a word list and quiz yourself, but we also have special pre-built quizzing tools to help you practice your fingerspelling and numbers.

The fingerspelling quiz settings let you select how many letters you want in the words you are quizzed on and also let you adjust the speed the video is displayed - so if you are new to fingerspelling, you can start with slow video and just short words (or even single letters!), and if you want to test your more advanced skills, you can quiz yourself using longer words and speed up the video so the letters appear more quickly. You can also adjust the numbers quiz if you want to focus on recognizing a smaller range of numbers (like starting with 1 to 100 first).

You can find links to these tools on our Fingerspelling and Numbers pages.

# 8 Handouts

We have single-page handouts that are easy to print and great references that can be used individually or in the classroom. We have a few handouts available to everyone and several additional handouts available for members only. You can see our full list of handouts on our Handouts Page. Look for more of these to come in the future!



# 9 Discount on ASL One-on-One Sessions

Signing Savvy Members receive $5 off ASL One-on-One 30-minutes sessions. Whether you lack local resources where you can meet and sign with others, like the convenience of online sessions to better match your schedule, or want to work with a signing expert who can create a session that best meets your goals and objectives — we are here to help!

We offer one-on-one sessions with one of our signing experts through Savvy Tutoring or Savvy Chat. Each session is 30-minutes long and takes place online through video chat.



# 10 No Advertisements and Access to All Sign Videos and Blog Articles

Last, but not least, as a member of Signing Savvy, you have unlimited access to all sign videos (including signs marked as mature), blog articles, and content on the website. You can remove ads, so you don't see any advertisements. We are always adding signs and new features to Signing Savvy - there are some great things in the works for this year!