An ASL Dictionary
Signing Savvy is a sign language dictionary containing several thousand high resolution videos of American Sign Language (ASL) signs, fingerspelled words, and other common signs used within the United States and Canada.
And Much More!
Signing Savvy is an ideal resource to use while you learn sign language. It includes the ability to view large sign videos, build your own word lists and share them with others, create virtual flash cards and quizzes, print signs, build sign phrases,
...and more

Site News | Saturday, November 18, 2017
We did a complete rewrite to our Signing Savvy Member App this Fall for both Apple iOS and Android mobile devices. Since then, we have continued to release updates to the app to add more features and make tweaks based on feedback from our savvy members. The current version of the app, as of the date of this article, is version 2.4. The new app is 64-bit compatible (required for iOS 11), now supports the iPhone X display, and includes several new features. Whether you have used the mobile app for years or haven't tried it out yet, we wanted to make sure you knew about some of the cool new things you can do with the new and improved Signing Savvy Member App.
1. Higher quality video and support for both portrait and landscape display.
All of our videos have been updated for the new app, so the videos are higher quality with crisper images. In the past, the app only worked with portrait display, but with the new app, you can turn your mobile device horizontally and the app will switch to landscape mode, which allows you to view sign videos even larger. This is a great new feature for those that want a closer view of what is being signed.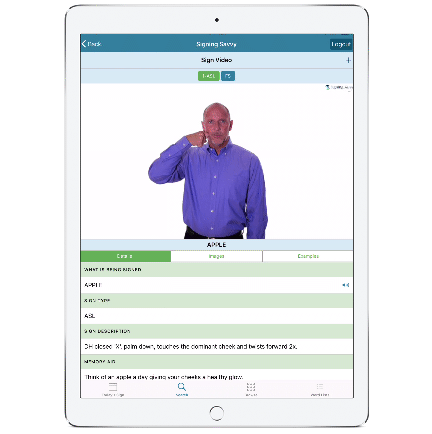 Simply rotate your device to view the app in landscape mode.
2. New Improved Sign of the Day!
Do you love to see our sign of the day everyday? Our sign of the day has evolved in the past few years. Originally, we picked a random sign for the day. Now each sign of the day is thoughtfully selected to be related to something happening on that day, such as a holiday, or a deaf culture tidbit.
If you check the sign of the day on the Signing Savvy website, there is an additional description that gives some context to the sign of the day. For example (warning upcoming SOTD spoilers!)… the sign on November 21st, 2017 will be GAME because it will be "National Game & Puzzle Week"… the sign on November 29th, 2017 will be ROLE because "Linda Bove was born in November. She is a deaf actress and played the ROLE of Linda the librarian on Sesame Street for 31 years."
Although we have had these added descriptions that explain why the sign of the day was selected on our website for some time, they were not in the app, but now they are!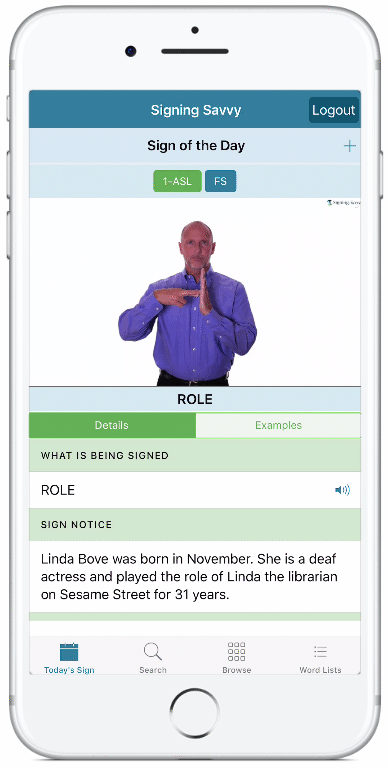 The sign notice explains why the sign is the Sign of the Day.
3. Signed Sentences of the Day!
If you don't already follow us on our Signing Savvy Twitter Feed or "like" our Signing Savvy Facebook Page, you might not have noticed we have signed sentences of the day that go with our sign of the day on the Signing Savvy website. The signed sentences help people see more signed examples and see signs used in context. Now signed sentences of the day are also available in the Signing Savvy Member App!
The sentences can be found in the app by clicking on the "Examples" tab under the sign video. Here is an example of a signed sentence.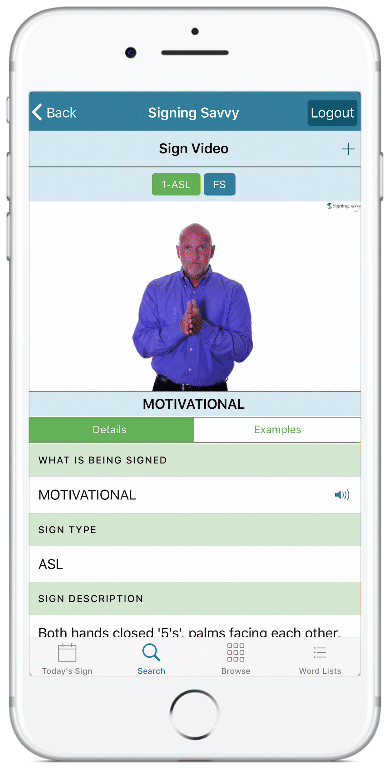 See signed example sentences by clicking on the Examples tab.
4. Images
For the last few years, we have been adding images to signs on the Signing Savvy website, but these images were not shown in the old Signing Savvy Member App. The updated mobile app now includes these images - just click on the image tab to see related images that help you understand the meaning of the sign, particularly for young learners. Images have also been integrated into the word lists and digital flash cards in the app.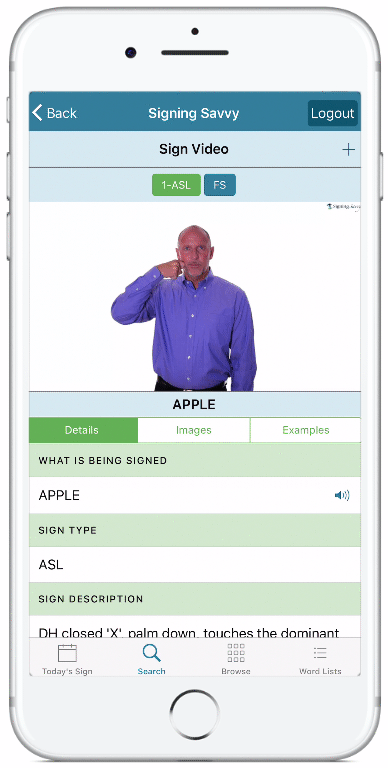 Click on the Images tab to see example images of the sign meaning.
5. Audio to go with signs.
You have probably noticed that our signed videos do not include audio. Signing does include inflections and mouth morphemes, but it's not natural to be speaking as you are signing. However, we've gotten feedback specifically from some teachers that being able to see the sign video, the written word, an image of the word, and have the ability to hear the word would be helpful for hearing students. We have now added this optional feature into the member app.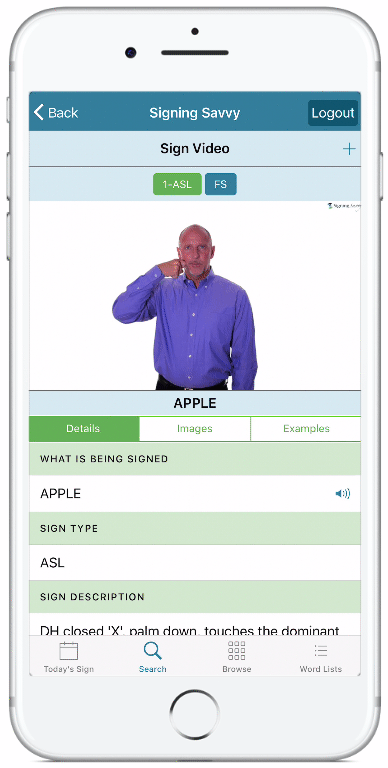 Click on the Sound Icon in the app to hear audio of what is being signed.
And there is more...
We have also added many improvements to the user interface, word lists and digital flash cards in the app, but we're already covered FIVE cool new features in the updated Signing Savvy Member App, so stay tuned for a future article that goes into more detail on the new features of word lists and digital flash cards in the app.
If you are a Signing Savvy member and have an Apple iOS or Android mobile device, make sure to download the latest version of the Signing Savvy Member App today! If you are not yet a member, the Signing Savvy Member App is an excellent reason to become a member so you can access the Signing Savvy learning resources in a streamlined fashion when you are on-the-go.

Teaching Tips | Wednesday, November 1, 2017
Kids naturally learn while they are playing. Introducing activities that allow them to learn through play lets them explore their curiosity, have new experiences, and better connect and retain what they have learned.
Lessons Learned While Playing "Restaurant"
One great example of a learning through play activity is setting up an area to play "restaurant" in the classroom (or at home). Playing restaurant is a very successful way to cover several areas all at the same time – vocabulary, health and nutrition, math, time, professions, and manners.
Think about a restaurant experience, including:
Choosing a restaurant
Getting to the restaurant
Parking the car
Talking to a hostess
Being seated or seating yourself
Looking through the menu and deciding what to eat
Ordering
Setting the table
Where the food comes from and cooking the meal
The people working in the restaurant and what they do
Serving the meal
Table manners and eating
How much things cost and paying
Taking payment and giving change
Feeling thankful and showing appreciation
Many lessons can all be taught through fun and interesting role play that involve tons and tons of lessons and vocabulary. These are all concepts that not only provide education related to curriculum goals, but allow the child to experiment in a safe environment and experience through play, which can help them be better prepared for real world situations.
One example of this is confidence building when ordering at a restaurant. It is not unusual to see young deaf teens that don't feel comfortable enough in a restaurant environment to make their own order. Often their parents jump in and "rescue" them because they naturally want to protect their child from an uncomfortable situation. That is part of what this activity and lesson is all about. The more you educate and familiarize your students with these situations, the more prepared they will be to handle real world situations.
Through a series of blog articles, I will provide example lessons and activities related to playing restaurant. To get started, this article will discuss the first step of introducing food.
Lesson: Introducing Food
Take the time to introduce food through a formal lesson. I like to introduce real food and pretend food together. Allow the students to touch and taste the real food before they interact with the play food. Show them how to prepare it (do you have to peel it? remove seeds? cook it first?), ways to eat it, and examples of how to use it in dishes. You can share nutritional information and health benefits about the food. Anything you can do to expand their experience with the food will help them to remember both the signs and also any facts you teach about the food.
This is a fun activity that students will be excited to share with their parents. Letting parents know the signs used in this lesson will encourage them to keep the discussion through signing going on at home. If you are a member on Signing Savvy, you can create your own word list for this lesson or you can use one of our pre-built word lists (this can help outline your lesson plan also!). Then send the link to the word list(s) home to parents so that they can easily access them and learn them for themselves, or support the learning that happens at school (they don't have to be a Signing Savvy member to view the signs in your word lists). Additionally, Signing Savvy members can use word lists to practice vocabulary through quizzes and digital flash cards.
Below are some posters and word lists to get you started.
Vegetables in ASL


Signing Savvy Member Feature: Download this image / flyer as a printable PDF page.
Corresponding Wordlist: Vegetables in ASL poster wordlist
Fruit in ASL


Signing Savvy Member Feature: Download this image / flyer as a printable PDF page.
Corresponding Wordlist: Fruit in ASL poster wordlist
Supplies Needed
Unfortunately, we can't always have access to a variety of real food to taste test in the classroom! To get students engaged in this activity and to prepare for future restaurant play-based lessons, it is important to establish a good supply of pretend foods that would cover not only the food groups, but also be able to make up meals that would cover breakfast, lunch and dinner. It is good to have a variety of pretend foods, even if there is some overlap, to be able to show your students that the food they consume can come in different colors and sizes (a cut up carrot as opposed to a whole carrot or even a shredded carrot; OR the fact that a whole peach looks much different than a sliced, peeled, or canned peach).
Below is a list of many great options you can purchase directly off Amazon to get you started. Some of them even come with different lesson suggestions and activities you can do with your children as well. We've also created pre-built wordlists of signs to accompany each set of play food.
Peel N' Play Veggies Playset (By Small World Toys)
Farmers Market Color Sorting Set (By Learning Resources)
Cutting Food & Fruit Sets (By Melissa and Doug)
Tote with Fruit & Veggies (By New Sprouts)
Healthy Dinner Set (By New Sprouts)
Grocery Basket with Fruit & Veggies (By Casdon)
Large Variety Pack of Food (By Liberty Imports)
Fast Food & Dessert Play Food (By Liberty Imports)
Burger, Hot Dog, Chips, & Onion Rings Food Set (By Liberty Imports)
Introduce your children to food and establish a good supply of pretend food, then watch for future blogs discussing other play-based lessons for your classroom restaurant.