An ASL Dictionary
Signing Savvy is a sign language dictionary containing several thousand high resolution videos of American Sign Language (ASL) signs, fingerspelled words, and other common signs used within the United States and Canada.
And Much More!
Signing Savvy is an ideal resource to use while you learn sign language. It includes the ability to view large sign videos, build your own word lists and share them with others, create virtual flash cards and quizzes, print signs, build sign phrases,
...and more
Sign of the Day - PURPLE
(as in the color)
Deaf Culture | Sunday, March 24, 2019
This article is part of our "Living Loud" series, which highlights famous people who are deaf or hard of hearing and their impact in the world.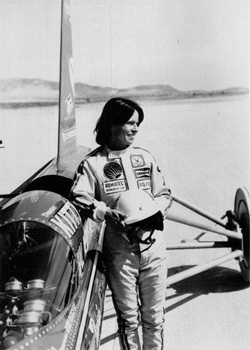 Kitty O'Neil in 1976 with the rocket-powered SMI Motivator vehicle she used to set the land-speed record for women - a record she still holds today. (Photo Credit: Ky Michaelson)
Known as "the fastest woman in the world," Kitty O'Neil was born in Corpus Christi, Texas on March 24, 1946. She became deaf at the age of 4 months. She had a variety of illnesses including measles, mumps and the chicken pox - one or all of which led to her becoming profoundly deaf.
Despite her early illnesses, she became a phenomenal athlete. She said, "My mother pushed me to read lips… but she didn't push me in sports – I did that myself. Because I was deaf, I had a very positive mental attitude. You have to show people you can do anything."
She fell in love with swimming and diving. She finished in twelfth place in the U.S. team trials for the Olympics in Tokyo, where she specialized in diving. Her Olympic dream came to a quick stop in 1964 when she became ill with spinal meningitis. She was told the illness would likely paralyze her. She survived spinal meningitis, only to battle two rounds of cancer by her 28th birthday. However, O'Neil wasn't one to be defeated. "When I was 18, I was told I couldn't get a job because I was deaf. But I said someday I'm going to be famous in sports to show them I can do anything." She lived up to her vow.
" I'm not afraid of anything."
- Kitty O'Neil
After regaining her health, she turned her attention to racing and performing stunts. She was small, at 5ft 2in tall and just 97 pounds, but she said her size made her light and quick and better to withstand impact. Most importantly, she was fearless. "I'm not afraid of anything," she said.
In 1976, at the age of 30, O'Neil was the first woman to be accepted into Stunts Unlimited, an organization of Hollywood's top stunt people. She did stunts in TV shows and movies like Quincy, Baretta, The Bionic Woman, Smokey and the Bandit II, The Blues Brothers, and Airport '77.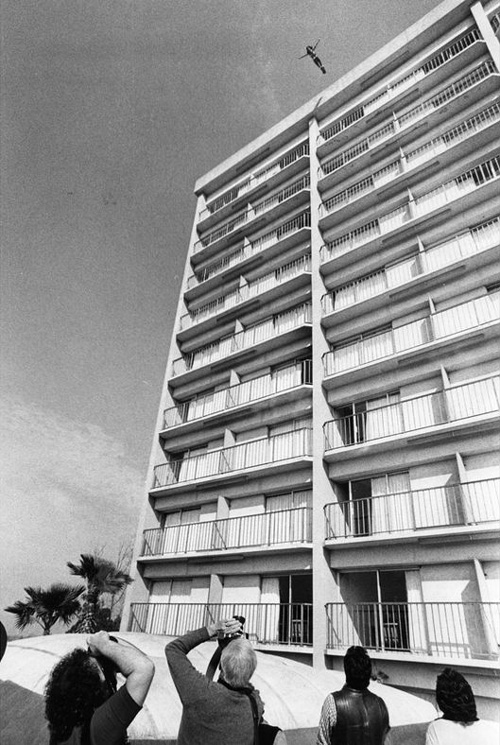 Falling 127 feet as Wonder Woman in 1979, O'Neil set a women's high-fall record. (Photo Credit: IMBd)
Some considered her to be like a real-world Wonder Woman and in 1979 she performed her most famous Hollywood stunt as a double for Wonder Woman. She plunged headfirst down 127 feet from the 12-story Valley Hilton in Sherman Oaks, California onto an inflatable air bag set up on the hotel's pool deck. "If I hadn't hit the center of the bag, I probably would have been killed," she told The Washington Post. With the fall, she set a women's high-fall record, however, she would later beat her own record with a 180 foot fall from a helicopter.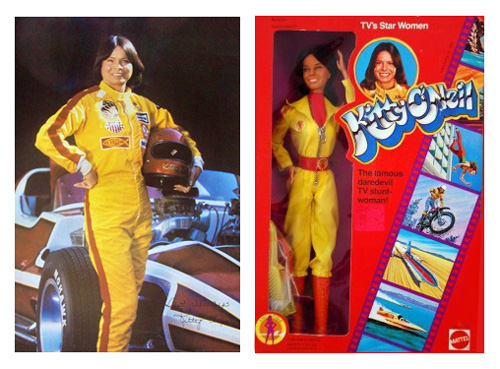 Mattel created a Kitty O'Neil action figure in 1978.
In 1978 Mattel created a Kitty O'Neil action figure and in 1979 a television film was made about her life called Silent Victory: The Kitty O'Neil Story. Stockard Channing stared as O'Neil and, of course, O'Neil did her own stunts. She later commented that about half of the movie was true.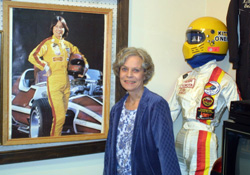 Kitty O'Neil at the Eureka Pioneer Museum in Eureka, South Dakota. (Photo Credit: IMBd)
From racing boats, cars, dune buggies, motorcycles, a three-wheeled machine, and even holding a record for the fastest speed while waterskiing, she set 22 speed records on land and water during her career.
She died November 2, 2018, at the age of 72 in Eureka, South Dakota. The local Museum in Eureka showcases memorabilia from her career as a stuntwoman and racer. She is still the fastest woman driver ever and continues to hold the land-speed record today.
See It Signed - Example Sentence
See this example sentence about Kitty O'Neil signed:
| | | |
| --- | --- | --- |
| English Sentence: | | Did you see the movie about the life of Kitty O'Neil, a deaf stuntwoman and racer? |
| ASL Gloss: | | YOU FINISH SEE MOVIE ABOUT DEAF WOMAN HERSELF FAMOUS S-T-U-N-T WOMAN AND CAR RACER. HER NAME K-I-T-T-Y O'-N-E-I-L. |
Become a Member of Signing Savvy to see more example sentences signed, including example sentences related to Deaf Culture.

Interpreter Tips | Sunday, March 17, 2019
All of us have heard "little voices" in our head. There may be a voice when you do something you shouldn't, when you receive praise or when you're trying to stay motivated. It could be the voice of a parent, a coach, a teacher, a friend, or anyone.
This chorus of voices is sometimes referred to as "The Committee" by interpreters. It represents our minds talking to us while we're working, playing and living life. Think about what you hear when you're interpreting. Is your Committee nice? Are they supportive? Do any Committee members have a louder voice than the rest? Below are examples of possible Committee members:
Mr Worry
Ms Confident
Ms Positive
Mr Wet Blanket
Debbie Downer
The Lifeguard
The Cheerleader
The Saucy One
The Judge
The Critiquer
The Exaggerator
The Discourager
The Analyst
The Chairperson
The Optimist
The Compromiser
The Perfectionist
The Critic
Do you need to silence or fire someone? Do you need to add someone to your Committee?
Who is on your committee? Share your thoughts in the comments below.
Learning Tips | Thursday, March 14, 2019
This article is part of our "Signing Children's Books" series, which highlights children's books and pairs them with pre-built Signing Savvy word lists to help you get started with learning and signing the vocabulary in the book. Reading and literacy is so important. By sharing these pre-built word lists, we hope to cut down on prep time for families that are just beginning to learn ASL and hope you can find more comfort in sharing literacy with our young deaf children.
Olivia by Ian Falconer is a popular children's book. It's a New York Times #1 bestseller and it is an Caldecott Honor Book, one of the most prestigious American children's book awards.
This is a cute little tale of a young pig named Olivia. She is a very confident little pig that looks at life through a very interesting lens. Children love this book and the author has gone on to expand the character into many books exploring all kinds of adventures. This first book takes you through Olivia's day, introducing you to her family, and shows you how she interacts with her surroundings. It's a great introduction to a very loveable character.
Interestingly, 2019 is the Chinese year of the pig. So if you are looking for some activities and literature related to pigs, this is a great, classic children's book to check out.
You can find printable pages and activities related to the book Olivia, as well as activities about the Chinese year of the pig on Pinterest.
I hope through the Olivia word list you will feel confident to share this story with your children. You can also bring up signs on the Signing Savvy Member App using the pre-built word list as you go through the book.
Word List for Olivia
Related Items
Signing Savvy is a participant in the Amazon Services LLC Associates Program, an affiliate advertising program designed to provide a means for sites to earn advertising fees by advertising and linking signingsavvy.com to Amazon properties. That means Signing Savvy may contain affiliate links. If you make a purchase after clicking on an affiliate link, your cost will be exactly the same regardless, but Signing Savvy will automatically receive a small commission. Your support is greatly appreciated and helps us continue to improve Signing Savvy!