An ASL Dictionary
Signing Savvy is a sign language dictionary containing several thousand high resolution videos of American Sign Language (ASL) signs, fingerspelled words, and other common signs used within the United States and Canada.
And Much More!
Signing Savvy is an ideal resource to use while you learn sign language. It includes the ability to view large sign videos, build your own word lists and share them with others, create virtual flash cards and quizzes, print signs, build sign phrases,
...and more

Interpreter Tips | Sunday, March 17, 2019
All of us have heard "little voices" in our head. There may be a voice when you do something you shouldn't, when you receive praise or when you're trying to stay motivated. It could be the voice of a parent, a coach, a teacher, a friend, or anyone.
This chorus of voices is sometimes referred to as "The Committee" by interpreters. It represents our minds talking to us while we're working, playing and living life. Think about what you hear when you're interpreting. Is your Committee nice? Are they supportive? Do any Committee members have a louder voice than the rest? Below are examples of possible Committee members:
Mr Worry
Ms Confident
Ms Positive
Mr Wet Blanket
Debbie Downer
The Lifeguard
The Cheerleader
The Saucy One
The Judge
The Critiquer
The Exaggerator
The Discourager
The Analyst
The Chairperson
The Optimist
The Compromiser
The Perfectionist
The Critic
Do you need to silence or fire someone? Do you need to add someone to your Committee?
Who is on your committee? Share your thoughts in the comments below.
Learning Tips | Thursday, March 14, 2019
This article is part of our "Signing Children's Books" series, which highlights children's books and pairs them with pre-built Signing Savvy word lists to help you get started with learning and signing the vocabulary in the book. Reading and literacy is so important. By sharing these pre-built word lists, we hope to cut down on prep time for families that are just beginning to learn ASL and hope you can find more comfort in sharing literacy with our young deaf children.
Olivia by Ian Falconer is a popular children's book. It's a New York Times #1 bestseller and it is an Caldecott Honor Book, one of the most prestigious American children's book awards.
This is a cute little tale of a young pig named Olivia. She is a very confident little pig that looks at life through a very interesting lens. Children love this book and the author has gone on to expand the character into many books exploring all kinds of adventures. This first book takes you through Olivia's day, introducing you to her family, and shows you how she interacts with her surroundings. It's a great introduction to a very loveable character.
Interestingly, 2019 is the Chinese year of the pig. So if you are looking for some activities and literature related to pigs, this is a great, classic children's book to check out.
You can find printable pages and activities related to the book Olivia, as well as activities about the Chinese year of the pig on Pinterest.
I hope through the Olivia word list you will feel confident to share this story with your children. You can also bring up signs on the Signing Savvy Member App using the pre-built word list as you go through the book.
Word List for Olivia
Related Items
Signing Savvy is a participant in the Amazon Services LLC Associates Program, an affiliate advertising program designed to provide a means for sites to earn advertising fees by advertising and linking signingsavvy.com to Amazon properties. That means Signing Savvy may contain affiliate links. If you make a purchase after clicking on an affiliate link, your cost will be exactly the same regardless, but Signing Savvy will automatically receive a small commission. Your support is greatly appreciated and helps us continue to improve Signing Savvy!

Deaf Culture | Sunday, March 10, 2019
This article is part of our "Living Loud" series, which highlights famous people who are deaf or hard of hearing and their impact in the world.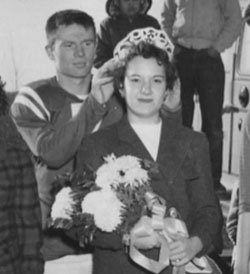 Phyllis Frelich was crowned homecoming queen in 1958 at the North Dakota School for the Deaf. (Photo Credit: North Dakota School for the Deaf Legacy of the Frelich Family)
Phyllis Frelich was born on February 29, 1944 (on Leap Day) in Devils Lake, North Dakota and was the oldest of her 9 siblings. Like both of her parents and all of her siblings, she was deaf and attended the North Dakota School for the Deaf. Her parents Philip and Esther were leading members of the Deaf community. They were actively involved with events at the North Dakota School for the Deaf and in the local Deaf community, and also both served as state officers for the North Dakota Association of the Deaf. She was a cheerleader and Homecoming Queen at the North Dakota School for the Deaf.
A Love for Acting
When Phyllis showed a dramatic flair in school in North Dakota in the 1950's, there wasn't a lot of opportunity or call for Deaf actors. When she went to Gallaudet College (now called Gallaudet University), there was no drama or theatre degree offered, she was discouraged from pursuing acting, and was told repeatedly there wasn't a future in acting for deaf performers, so she got a degree in Library Science.
Her graduation gift, however, was connecting with others who had talent, imagination, and desire, including the group who founded the National Theater for the Deaf in 1967. This led to her first TV role on NBC's nationally syndicated Theater of the Deaf, which was the first television show with deaf actors using sign language rather than mime.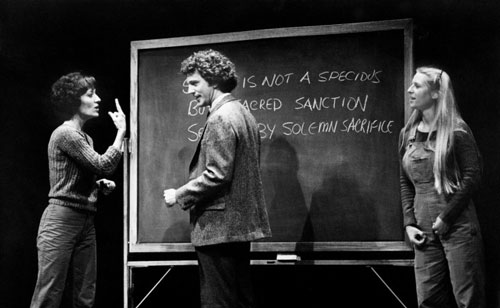 Frelich starred as Sarah Norman in 887 performances over more than two years while Children of a Lesser God was on Broadway. It was the longest running play in the Longacre Theatre. (Photo Credit: Playbill: What 41 Shows Ran the Longest in Each Broadway Theatre?)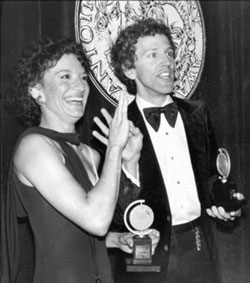 Frelich with co-star John Rubenstein with their Tony Awards in 1980. (Photo Credit: North Dakota School for the Deaf Legacy of the Frelich Family)
Her theatre work reached a zenith in 1980, when she played the leading female role in the Broadway production of Children of a Lesser God, written by Mark Medoff. It was about the romantic relationship between a deaf student and her teacher and it has been said that Medoff was largely inspired by the relationship of Phyllis and her hearing husband when he wrote the play. The play won the Tony award for Best Play, and Frelich became the first Deaf person to win a Tony award, for Best Actress. She was also nominated for an Emmy Award for her performance in the 1985 television movie Love Is Never Silent.
She made several television guest appearances, on shows including Barney Miller, ER, L.A. Law, and CSI: Crime Scene Investigation. She performed the ASL interpretation of Jewel's rendition of the national anthem at Super Bowl XXXII.
She toured all over the world with the National Theater of the Deaf as well as with Deaf West, where she performed in shows like "Big River" and "The House of Bernarda Alba." She also took on gender-switching performances in "The Gin Game" (playing Weller Martin) and "Equus" (playing Dr. Dysart).
Activist and Trailblazer
" We are a cultural minority. We feel we are different by language, not by physical disability."
- Phyllis Frelich
Frelich didn't take a back seat or give up when she was told there weren't opportunities for deaf performers. Instead, she led the way, trailblazing a path for others, and became an activist for the rights of deaf actors. Frelich said she did not consider deafness a handicap and explained, "We are a cultural minority. We feel we are different by language, not by physical disability."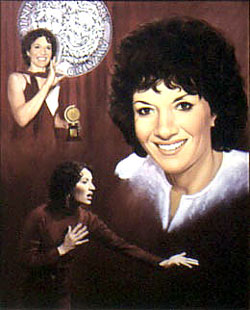 This portrait of Frelich was painted by Vern Skaug and is displayed in the North Dakota Rough Rider Hall of Fame in Bismarck, ND. She was presented with the Theodore Roosevelt Rough Rider Award by the Governor of North Dakota in 1981. (Photo Credit: North Dakota School for the Deaf Legacy of the Frelich Family)
Though she and others paved the way for deaf actors and actresses, Frelich said "There are fewer stereotypes about deaf people than there used to be but Hollywood still tends to believe that deaf characters are either angry and bitter and/or victims; maybe that's why deaf actresses work more than deaf actors, at least on TV. They're women, they're deaf, they're victims. What we need are more deaf writers writing about our experiences truthfully."
Phyllis Frelich died April 10, 2014, at the age of 70. Her obituary in the Washington Post called her "one of the most prominent deaf actresses of her generation," citing not only her awards but also her work as the first deaf member to serve on the board of directors of the Screen Actors Guild and her advocacy for the rights of deaf actors.
See It Signed - Example Sentence
See this example sentence about Phyllis Frelich signed:
ASL Gloss: P-H-Y-L-L-I-S F-R-E-L-I-C-H HERSELF DEAF ACTRESS FAMOUS WHY? WIN T-O-N-Y AWARD FOR PLAY "CHILDREN O-F A L-E-S-S-E-R GOD."
English Example: Phyllis Frelich was a deaf actress and famous for winning the 1980 Best Actress Tony Award for the play "Children of a Lesser God."
Become a Member of Signing Savvy to see more example sentences signed, including example sentences related to Deaf Culture.