An ASL Dictionary
Signing Savvy
is a sign language dictionary containing several thousand high resolution videos of American Sign Language (ASL) signs, fingerspelled words, and other common signs used within the United States and Canada.
And Much More!
Signing Savvy is an ideal resource to use
while
you learn sign language. It includes the ability to view signs, build word lists and share them with others, create digital flash cards and quizzes, view asl sentences, get tutoring,
...and more
The manual alphabet used in ASL consists of 26 individual hand shapes corresponding to letters of the English alphabet and has its historical roots in Spain.
The hand shapes of the manual alphabet were originally taken from a book of prayers written by a Franciscan monk, Melchor Yebra in 1593. Each letter of the alphabet had a prayer associated with it; if a monk was too ill to recite the prayer, he could indicate his prayer intent by making the corresponding hand shape (Lane, 1984). Use of the hand shapes to form whole words and messages evolved, allowing monks to communicate without violating their vows of silence (Schein, 1984).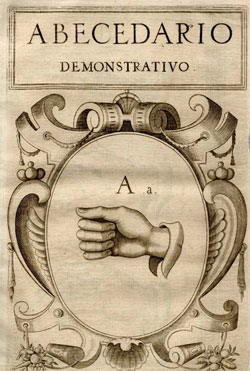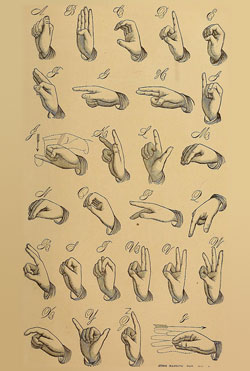 PLEASE NOTE: THESE ARE HISTORICAL GRAPHICS. YOU SHOULD ALWAYS FINGERSPELL WITH YOUR LETTERS / PALM FACING FORWARD.
On the left: Lengua de Signos by Juan Pablo Bonet in 1620. The manual alphabet was included in this first book on deaf education. In the Public Domain CC PD-Old.
On the right: Public document from the legislature of Connecticut in 1882. In the Public Domain CC PD-Old.
The concept of a hand shape to represent letters of the alphabet was then borrowed for use in educating the deaf at the National Institution for Deaf-Mutes in Paris, where Laurent Clerc was a pupil and an instructor. In 1817, when he and Thomas Gallaudet established the American Asylum for the Education and Instruction of Deaf and Dumb Persons in Hartford, Connecticut, fingerspelling was an integral component of signed language.
In the 1950s and 60s, the Rochester Method of educating deaf students required both teachers and students to speak English and fingerspell each word simultaneously. Everything from daily lessons to the school play was done this way.
While fingerspelling in other countries is not used in all sign languages to the same extent it is used in ASL, most national sign languages have developed some kind of fingerspelled alphabet. One-handed or two-handed, most of these alphabets correspond to those of the spoken or written languages used in those countries.
Fingerspelling, as used in the United States, is a direct, letter-by-letter representation of English words. As an incorporated component of sign language communication, fingerspelling has various but specific uses within ASL.


Signing Savvy Member Feature: Download this image / flyer as a printable PDF page.
Resources
Adapted from: Cartwright, B. E., & Bahleda, S. J. (2007). Fingerspelling History. In Fingerspelling in American Sign Language (2nd ed., p. viii). RID Press.
Lane, H. (1984). When the mind hears: A history of the Deaf. New York: Random House.
Schein J. D. (1984). Speaking the Language of Sign: The Art and Science of Signing. Doubleday Books.

In the past, we have shared holiday-themed signs around Thanksgiving (See our article: 10 signs to know for Thanksgiving), but we feel strongly that what's more important than learning to sign a few signs like turkey and pie, is conversational signs.
| | | |
| --- | --- | --- |
| To view this video please enable JavaScript, and consider upgrading to a web browser that supports HTML5 video | | To view this video please enable JavaScript, and consider upgrading to a web browser that supports HTML5 video |
If you check out the Sign of the Day each day, you will notice the Sign of the Day for Sunday, November 20 is CONVERSATION (as in "talk to someone in sign language") because this week is recognized as "Better Conversation Week." Better Conversation Week is always the week of Thanksgiving and it is the perfect time of year for all of us to focus on having better conversations.
Sometimes our deaf family and friends feel excluded when they come home for the holidays. If everyone isn't signing, they may feel excluded and feel like they don't have a place at the table. In honor of Better Conversation Week, in honor of Thanksgiving, and, most of all, in honor of our deaf family and friends, let's try to sign. Signing is hard and it can be intimidating to sign with a fluent signer when you are feeling insecure about your signing skills, but the number one thing you can do is simply just TRY to sign.
To encourage and support everyone to sign this week, we have unlocked all of our member full example sentences for this week only. This is a member feature, but will be unlocked and freely accessible to everyone this week.

Click on the "Sentences" tab on the Signing Savvy website to get started. We suggest looking at the section on "Conversational Sentences." There are lots of great examples of how to sign full sentences. We hope that before you know it, you are feeling comfortable signing "How have you been?" and "It's good to see you."
| | | |
| --- | --- | --- |
| To view this video please enable JavaScript, and consider upgrading to a web browser that supports HTML5 video | | To view this video please enable JavaScript, and consider upgrading to a web browser that supports HTML5 video |
Signing Savvy Advisory Board member Mary Klein (age 65) passed away Sunday November 6, 2022. Mary (MK to most) was a gifted artist, beloved teacher and loyal friend to those who were fortunate enough to know her well.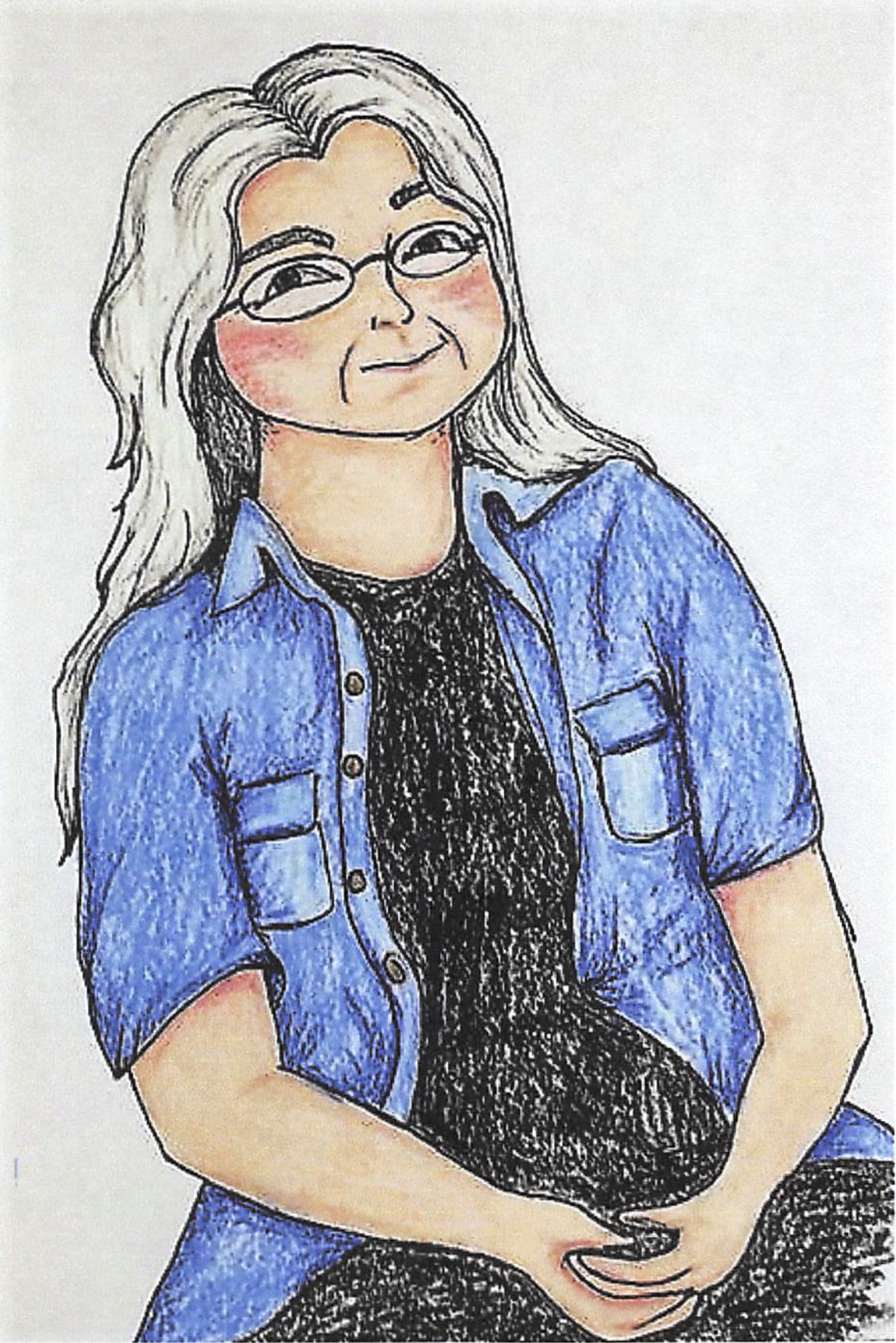 Drawing of Mary Klein, gifted to her by a previous student and alumni of LCC's ITP Program, Mandy Mann.
Signing Savvy will profoundly miss Mary Klein for her expert knowledge, intuitive advice, incredible artistic talent, and dependability. She was also a personal friend that will be greatly missed.
I met MK on August 14, 1987 when I was Director of Lansing Community College's Interpreter Training Program and she stopped by my office to introduce herself. For years she would recount our initial meeting in incredible detail from what I said (I'm from Indiana and my parents were deaf) to what I was wearing (a yellow Izod sweater, a plaid skirt and penny loafers). I was struck by her impromptu visit but what I vividly remember was her clear signing style. At that time MK was working as an ASL tutor for our Program but it wasn't long before I was able to convince her to make the transition to adjunct faculty member. MK taught a wide variety of classes (ASL 1-3, Deaf Culture and History, Linguistics, Fingerspelling) and the students loved her. As the years went by MK became our most senior adjunct faculty member and willingly mentored everyone who joined our faculty. I considered MK to be the backbone of LCC's ITP Program. She was fiercely loyal not only to me but to our Program's goal of being the best we could be in our little corner of the world. MK contributed numerous illustrations/artwork for our Program, our textbooks and for Signing Savvy.
Our friendship (inside and outside of work) spanned over 35 years. I like to think I'm the one who got her hooked on cycling. I built her two custom Klein bicycles.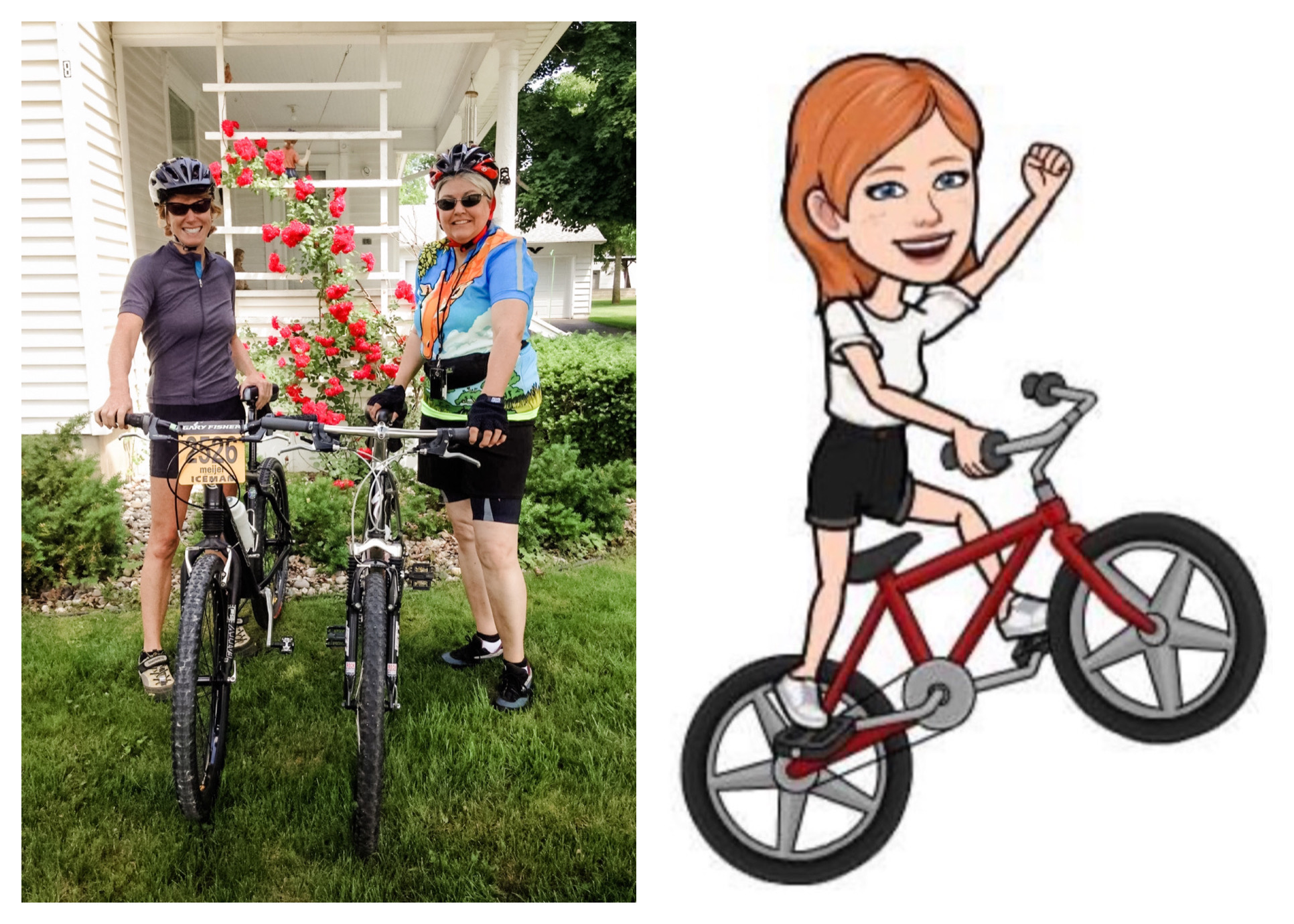 On Left: Brenda Cartwright and Mary Klein;
On Right: Drawing by Mary Klein of Brenda Cartwright that she gifted to her on her birthday.
Her laugh was as distinctive as her huge smile. Note: She never had one cavity in her entire life! MK leaves behind many close family members who loved her and cared for her until the very end. She may be gone but her legacy in Michigan and in our hearts lives on forever.