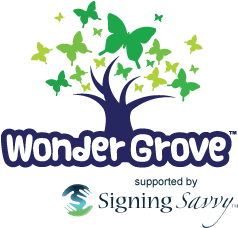 Animated Learning Supported by ASL
Signing Savvy is proud to announce our collaboration with WonderGrove to bring you the first ever animated learning episodes supported by American Sign Language (ASL). The use of sign language in the episodes reinforces learning objectives. In addition to helping children that are hard of hearing, incorporating sign language with the animation helps those with communication delays. We are excited to offer these special animations to increase accessibility and benefit a wider audience.
From "Respect Others on the Playground" to "How to Order a Balanced Meal," the WonderGrove series provides parents and teachers with a well-rounded selection of animated learning episodes to help children prepare for the daily challenges of life both inside and outside of school.
Six areas of growth are essential for every child's success.
WonderGrove is unique because they focus on the total development of the child, not just specific skills alone. WonderGrove goes beyond academics to teach the other areas of learning important to positive development. WonderGrove uses engaging animated characters immersed in fun stories to target these six areas of growth:
| | |
| --- | --- |
| Health | Nutrition |
| Safety | Citizenship |
| Fitness | Functional Life Skills |