Word List: RECIPE: Peanut Butter Reindeer / Rudolph Cookies
Created By: Signing Savvy
List Details
This is an official Signing Savvy members-only word list. Since you are not currently a full member of Signing Savvy, you can only preview some of the features of this word list. Become a Signing Savvy Full Member to access all the word list features.
This word list goes with the blog article Cooking Up Language with Signs: Peanut Butter Reindeer / Rudolph Cookies.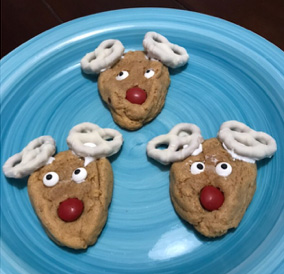 Ingredients:
Tools:
Directions:
Shape your peanut butter cookie dough on the pan in more of a triangle shape, rather than a circle. This will give you a nice face of a reindeer.