Word List: Recipe: Double Chocolate Candy Cane Cookies
Created By: John @ Signing Savvy
NOTE: As a non-member, you can preview some of the member tools below. Full membership provides full access to all the tools.
Recipe: Double Chocolate Candy Cane Cookies
This word list goes with the blog article Cooking Up Language with Signs: "Homemade" Double Chocolate, Candy Cane Cookies.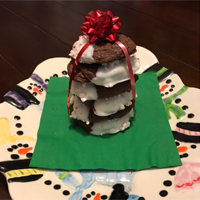 Tools:
Directions:
Preheat the oven to 350 degrees. Follow the directions on the package for the Betty Crocker Double Chocolate Chunk Mix and make the cookies. (The directions say to stir the cookie mix, oil, water, and egg in a medium bowl. Roll the cookie dough into round balls and then put in the oven and bake.)
Once done baking, remove the cookies from the oven and let them cool. Remove the cookies from the pan and set aside.
Unwrap candy canes and place in a Ziplock plastic bag (sometimes it helps to use 2 Ziplock plastic bags together so if you get a hole in the bag, the pieces won't fall out). Crush the candy canes with a small hammer, or roll with a rolling pin.
Melt white chocolate / crème in the microwave as directed on the package and dip the cooled cookies ½ way in. Lay the cookies on waxed paper or tin foil. Before the chocolate cools completely, sprinkle with the candy cane pieces.
Once all cooled, stack the cookies and tie them up with ribbon and a bow for a great looking gift!