Cooking Up Language with Signs: Frozen Fruit Popsicles Recipe
This article is part of our "Cooking Up Language With Signs" series, which features a recipe and accompanying sign language word list to get you started on an interactive cooking activity that is great for spicing up language learning at home or in the classroom.
What's cookin'?
Today I'm cooking up Frozen Fruit Popsicles. These are so healthy AND tasty, kids will LOVE them! The recipe is simple to make and very easy to adjust to your personal preference and allergy/diet needs - just choose any fruit you like, add coconut water, and freeze. Viola! SO sweet, yet SO healthy!
If you want to make these for a baby or young children, but are concerned about the chunks of fruit in the popsicles, you can use the same recipe, but just toss the fruit and coconut water mixture in a blender to create a puree before freezing. You can use mini popsicle molds to make small popsicles that are great for snacks or desserts for little kids or relief for teething babies.


Signing Savvy Member Feature: Download this image / flyer as a printable PDF page.
Health Benefits
Why make your own popsicles? Talk about how regular store bought popsicles have added artificial flavors, coloring, and excess sugar and discuss what that means. Here are a few talking points:
Many store bought popsicles have little or no nutritional value because they contain artificial flavoring instead of real fruit. Making popsicles using real fruit is better because fruit contains essential vitamins and minerals that are good for you.
Many store bought popsicles have lots of added sugar in them to make them extra sweet. Excess sugar isn't good for you and also increases the amount of calories in the popsicles.
Sugar-free store bought popsicles are often sweetened with artificial sweetener instead of fruit juice.
Many store bought popsicles have artificial dye in them to make them bright, bold colors. Artificial dyes can be unhealthy and may also stain your teeth (or clothing).
Many store bought popsicles contain many ingredients that you may not even recognize - Sorbitol, Maltodextrin, Glycerin, Polydextrose, Sucralose, "gums" like Carob Bean Gum and Guar Gum - what are all these things? By making your own popsicles, you can make your favorite flavor and you know exactly what's in it.
Making your own popsicles is a healthy treat. Fruits contain healthy vitamins and minerals like vitamin C, vitamin A, potassium, and fiber. Talk about the health benefits of the fruits you choose to include in your popsicles. Here is an infographic on the health benefits of common fruits to use as a reference.
Recipe
Enjoy making these healthy and tasty frozen fruit popsicles. Use the pre-built word list created to go along with the recipe to help you as you make this tasty recipe.
Frozen Fruit Popsicles

Ingredients:


Tools:


Directions:

Get the Pre-Built Word List for this Recipe!
I hope through the Frozen Fruit Popsicles word list you will feel confident to cook up some language fun with your children. You can also bring up signs on the Signing Savvy Member App using the pre-built word list as you go through the recipe.
Word List for Frozen Fruit Popsicles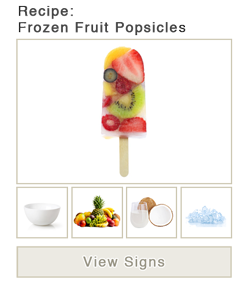 Signing Savvy is a participant in the Amazon Services LLC Associates Program, an affiliate advertising program designed to provide a means for sites to earn advertising fees by advertising and linking signingsavvy.com to Amazon properties. That means Signing Savvy may contain affiliate links. If you make a purchase after clicking on an affiliate link, your cost will be exactly the same regardless, but Signing Savvy will automatically receive a small commission. Your support is greatly appreciated and helps us continue to improve Signing Savvy!