Cooking Up Language with Signs: "Homemade" Double Chocolate, Candy Cane Cookies
This article is part of our "Cooking Up Language With Signs" series, which features a recipe and accompanying sign language word list to get you started on an interactive cooking activity that is great for spicing up language learning at home or in the classroom.
What's cookin'?
Today I'm cooking up "Homemade" Double Chocolate, Candy Cane Cookies. These cookies look like a million bucks and taste even better, yet they are so easy to make (you start with a cookie mix from a bag). They are fun to create with your kiddos as a gift for parents, teachers etc..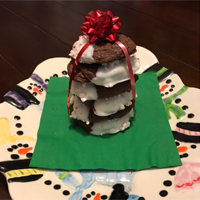 Betty Crocker makes a great tasting Double Chocolate Chunk cookie mix that comes in a bag and are very easy to make with just limited ingredients to add. You can find the cookie mix at many grocery stores. After making the cookies, I dip them in white chocolate / crème and crushed candy canes to transform them into an irresistible holiday treat that everyone loves.

Recipe
Enjoy making these quick and easy holiday treats. Use the pre-built word list created to go along with the recipe to help you as you make this tasty recipe.
"Homemade" Double Chocolate, Candy Cane Cookies

Tools:

Directions:

Preheat the oven to 350 degrees. Follow the directions on the package for the Betty Crocker Double Chocolate Chunk Mix and make the cookies. (The directions say to stir the cookie mix, oil, water, and egg in a medium bowl. Roll the cookie dough into round balls and then put in the oven and bake.)
Once done baking, remove the cookies from the oven and let them cool. Remove the cookies from the pan and set aside.
Unwrap candy canes and place in a Ziplock plastic bag (sometimes it helps to use 2 Ziplock plastic bags together so if you get a hole in the bag, the pieces won't fall out). Crush the candy canes with a small hammer, or roll with a rolling pin.
Melt white chocolate / crème in the microwave as directed on the package and dip the cooled cookies ½ way in. Lay the cookies on waxed paper or tin foil. Before the chocolate cools completely, sprinkle with the candy cane pieces.
Once all cooled, stack the cookies and tie them up with ribbon and a bow for a great looking gift!

Get the Pre-Built Word List for this Book!
I hope through the "Homemade" Double Chocolate, Candy Cane Cookies word list you will feel confident to cook up some language fun with your children. You can also bring up signs on the Signing Savvy Member App using the pre-built word list as you go through the recipe.
Word List for "Homemade" Double Chocolate, Candy Cane Cookies
Signing Savvy is a participant in the Amazon Services LLC Associates Program, an affiliate advertising program designed to provide a means for sites to earn advertising fees by advertising and linking signingsavvy.com to Amazon properties. That means Signing Savvy may contain affiliate links. If you make a purchase after clicking on an affiliate link, your cost will be exactly the same regardless, but Signing Savvy will automatically receive a small commission. Your support is greatly appreciated and helps us continue to improve Signing Savvy!