Cooking Up Language with Signs: Banana Monkey Bread
This article is part of our "Cooking Up Language With Signs" series, which features a recipe and accompanying sign language word list to get you started on an interactive cooking activity that is great for spicing up language learning at home or in the classroom.
What's cookin'?
Today I'm cooking up Banana Monkey Bread. I chose this recipe as I was working on the article and word list for Signing Children's Books: Five Little Monkeys Jumping On The Bed. This is a great recipe to pair with the book Five Little Monkeys Jumping on the Bed. I LOVE Monkey Bread, but you can also find plenty of different activities to do online that can easily be connected to the Five Little Monkeys book series.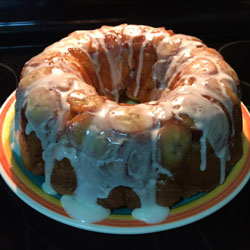 Start by spraying a bundt cake pan with cooking spray and then arrange the sliced bananas in the bottom of the pan. The bananas you just put in the bottom of the pan, will become the top of the monkey bread when you flip it after baking! This always confuses and amuses the kids!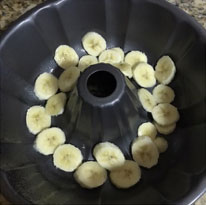 The recipe I use calls for 2 cans of Pillsbury Grands biscuits, however, I ended up using one can of Pillsbury Grands Flaky Layers biscuits and then one can of Pillsbury Cinnamon Rolls. Using the can of cinnamon rolls gave me frosting to drizzle over the bread ring after it finished baking.
Open the biscuits and cinnamon rolls and pull them apart into separate biscuits / rolls. Cut them into quarters (or 4 pieces each). This can also be a little math lesson. You can work together to figure out how one biscuit / roll can be divided into 1/4, 2/4 (1/2), 3/4, and 4/4 (whole).
Now you'll coat your biscuits / rolls in cinnamon sugar. Make the cinnamon sugar in a large bowl by stirring together 1 cup of granulated sugar and 2 teaspoons of ground cinnamon. Roll each biscuit / roll piece in the sugar mixture. Then arrange the cinnamon sugar coated dough evenly over the bananas in your pan. Top with the remaining 1 1/2 bananas sliced.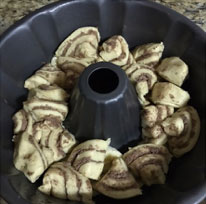 In a medium, microwavable bowl, microwave 1 cup of butter on high until melted. Add 1/2 cup of the leftover cinnamon sugar mixture and 1/2 cup light brown sugar and beat with a whisk until combined. Pour mixture evenly over the biscuit pieces in the pan.
Bake 30 minutes or until golden brown and thoroughly cooked. Let stand at least 5 minutes.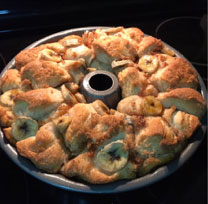 Place large plate on top of the pan and flip over and let the bread slide out of the pan. Put frosting from the can of cinnamon rolls on top of the monkey bread. ENJOY!!
Recipe
Enjoy making this tasty Banana Monkey Bread. Use the pre-built word list created to go along with the recipe to help you as you make this recipe.
Banana Monkey Bread

Ingredients:

Tools:

Directions:
Get the Pre-Built Word List for this Book!
I hope through the Banana Monkey Bread word list you will feel confident to cook up some language fun with your children. You can also bring up signs on the Signing Savvy Member App using the pre-built word list as you go through the recipe.
Word List for Banana Monkey Bread
Signing Savvy is a participant in the Amazon Services LLC Associates Program, an affiliate advertising program designed to provide a means for sites to earn advertising fees by advertising and linking signingsavvy.com to Amazon properties. That means Signing Savvy may contain affiliate links. If you make a purchase after clicking on an affiliate link, your cost will be exactly the same regardless, but Signing Savvy will automatically receive a small commission. Your support is greatly appreciated and helps us continue to improve Signing Savvy!